Which auto makes get in the most fatal crashes? (2020 Case Study)
Ford, Chevy, and Toyota are the makes most involved in fatal crashes according to the NHTSA. Need auto insurance for your vehicle? Compare rates below.
Free Auto Insurance Comparison
Secured with SHA-256 Encryption
UPDATED: Jul 14, 2021
It's all about you. We want to help you make the right coverage choices.
Advertiser Disclosure: We strive to help you make confident auto insurance decisions. Comparison shopping should be easy. We are not affiliated with any one auto insurance provider and cannot guarantee quotes from any single provider. Our partnerships don't influence our content. Our opinions are our own. To compare quotes from many different companies please enter your ZIP code on this page to use the free quote tool. The more quotes you compare, the more chances to save.
Editorial Guidelines: We are a free online resource for anyone interested in learning more about auto insurance. Our goal is to be an objective, third-party resource for everything auto insurance related. We update our site regularly, and all content is reviewed by auto insurance experts.
← VIEW THE UPDATED RESULTS HERE
Be honest, how do you shop for a car? There's a lot of advice out there on the topic and endless options at your fingertips. It is certainly an overwhelming purchase, but with around 17.2 million vehicles sold in the U.S. in 2018, you know it's one Americans like to make. So, how will you choose your next car?
J.D. Power conducted a study in 2017 to find out how modern-day American shoppers choose what car to buy. This massive study involved 18,393 individuals who bought or leased 2015 to 2017 model cars. Here's four key takeaways:
56 percent of shoppers did their research on mobile devices—42 percent on smartphones.
Shoppers spent an average of 13 hours researching vehicles online.
Out of 35 websites, three have been the most popular for this research since 2012: Kelley Blue Book, Edmunds, and Consumer Reports.
Don't miss this: Over 53 percent of online researchers knew what make and model they wanted to purchase before they started to car shop in person.
The Good News: The majority of car shoppers these days are deciding what car they want to buy via online research they do on their time. This new way of shopping results in a more informed buyer. Online reviews and ratings are much more honest and reliable than the average car salesman fueled by his commission.
The Bad News: This online vehicle research being done isn't focusing on all the facts. The three most common websites used by car shoppers focus on price, design, and performance not crash ratings, defects, or historical death totals.
It's easy to be distracted by how a car looks and feels, but with an average of 3,287 people killed in car crashes every day, you cannot forget to research how well that vehicle will protect you, your friends, and your loved ones in the all-too-common event of a deadly crash.
This is an easy problem to solve. You can start at being a smarter car shopper right now with this article. And, while you're at it use our free comparison tool to make sure you have the best auto insurance to protect you and the new, shiny (hopefully safe) vehicle you choose.
The 10 Vehicles Involved in the MOST Fatal Crashes
This article is going to lay out some pretty important (and troubling) facts you really should know about the most popular vehicles on U.S. roads today.
This is the perfect "before you buy" quick read to add to your 13 or so hours of scrolling the web before strolling the dealership for your hot new wheels.
We are going to count down from ten to one according to the number of deadly crashes each auto make is involved in: one being the most. Click here for how we calculated the stats to formulate the ranking. Brace yourselves the results are quite alarming.
Please Note: This countdown is based on fatal crashes so it's essential that you understand – as unbelievable as this may seem – the fatal crash total is smaller than the actual death count. By "fatal crash" we mean a car accident that resulted in one or more deaths. The regrettable reality: one fatal crash usually equals multiple injuries and deaths.
#10 – Chrysler
Home to the Most: Florida – 87 fatal crashes
Home to the Least (Tie): Hawaii & Vermont – 0 fatal crashes
There were 952 fatal crashes in the U.S. in 2017 involving a Chrysler. That's a lot of deadly car crashes with many victims left wounded or dead.
Here's an even scarier fact: Chrysler is a top ten vehicle for getting in the most fatal car crashes in the U.S., and Florida is the state where Chryslers crashed the most, BUT (here's the scary part) Chrysler fatal crashes only made up 2.26 percent of all the fatal crashes in the state of Florida in 2017.
Chrysler might be top-10 bad, but there were 10 other brands that were involved in more fatal crashes in Florida than Chrysler that made up a monstrous total of 2,877 deadly traffic accidents in The Sunshine State alone in 2017.
We don't want to ruin the surprise, but let's just say there was one particular auto brand involved in 601 fatal crashes in Florida that same year. Can you guess which one? Keep reading to find out. 601 makes Chrysler's 87 not seem that bad, huh?
Not only were there zero fatal crashes in Hawaii and Vermont involving Chryslers, but there weren't any in Washington D.C. either. Plus in North Dakota and Wyoming, there was only one each.
We like to see those low numbers when it comes to deadly car crashes. The news isn't so good as you scroll down. None of the other vehicle brands in this countdown have even one state where they weren't involved in a fatal crashes.
#9 – Hyundai
Home to the Most: Florida – 191 fatal crashes
Home to the Least (Tie): N. Dakota, S. Dakota, & Vermont – one fatal crash
Hyundais were involved in 1,229 fatal crashes on American roads in 2017.
Like Chrysler, the state that had the most deadly car crashes involving Hyundais was Florida—only there were 104 more for Hyundai. Hyundai made up five percent of Florida's fatal crashes, which more than doubled Chrysler's percentage.
Considering in 2017 Hyundai was the 7th most popular car brand in the U.S. with 664,961 of them sold that one year, we're glad the fatal crash count for Hyundai didn't surpass 1,229 in our country. It could have been much worse.
Did you know? Hyundai owns the largest vehicle production plant in the world. This plant, called the Ulsan factory, is located in South Korea and produces one car every 10 seconds—8,640 cars a day. In 2016 this one factory manufactured 1.53 million vehicles. Pretty amazing.
Unlike Chrysler, Hyundai didn't have any states where it wasn't involved in a fatal crash, but it did have three states (plus D.C.) where the total was just one.
#8 – Jeep
Home to the Most: Texas – 108 fatal crashes
Home to the Least (Tie): N. Dakota, S. Dakota, & Wyoming – one fatal crash
Jeeps were involved in less fatal crashes than both Hyundai and Chrysler in Florida. Even in the state with the most, Texas, the total fatal crash count for Jeeps was 108, which was only 2.5 percent of the total in The Lone Star State.
What made Jeep rank 8th on this countdown was its nationwide deadly crash total. In 2017, there were 1,401 total car crashes resulting in deaths in America that involved a Jeep.
Again the nationwide crash total could have been worse for this American favorite. In June 2017, Jeep had not just one but two winners of Cars.com's "American-Made" competition. The Jeep Wrangler and Jeep Cherokee won first and second place for being the most American thanks to being built in the U.S. and having the highest percentage of parts originating in the states.
Despite being involved in 172 more deadly crashes than Hyundai overall, Jeep managed to do better than Hyundai in the states with the least crashes. This auto make managed to have three states with just one fatal Jeep crash each and wasn't involved in any in Washington D.C. for the whole year.
#7 – GMC
Home to the Most: Texas – 156 fatal crashes
Home to the Least (Tie): Hawaii & New Hampshire – one fatal crash
Texas was the state with the most GMC fatal car crashes in 2017. The 156 GMC deadly crashes made up 3.6 percent of all the fatal crashes across the state that year. The even bigger issue was how frequently this auto brand got in deadly car crashes across the U.S. GMCs were involved in 4.6 percent of the nation's fatal crashes, which totaled 1,580 for 2017.
The good news is that GMCs were involved in fewer Florida fatal car crashes than Hyundai. It wasn't just a few less either; it was over half the amount—a commendable 100 less.
Being a 2017 top-five best-selling truck in America and having its headquarters in the U.S. (Detroit) we feel being involved in under five percent of the nation's fatal crashes isn't too bad. Again, it could have been much worse.
#6 – Nissan
Home to the Most: Texas – 302 fatal crashes
Home to the Least: Vermont – one fatal crash
The states where the most Nissans crashed was in Texas, but sadly the 302 deadly Nissan crashes were only 7 percent of Texas' total. The worst news for Nissan though is how often vehicles under this name crashed across the country.
There were 2,650 Nissan vehicles involved in fatal crashes across the U.S. in 2017, which amounted to nearly eight percent of our nation's total.
Nissan had not just one, but three vehicles that were top 25 best-sellers in the U.S. in 2017: the Altima, Rogue, and Sentra. This helps to explain why Nissan had over 1,000 more fatal crashes than any other vehicle on this countdown (so far).
Being so popular in the U.S., it's good that Nissan managed to only be involved in one fatal crash in Vermont and just two in the District of Columbia and North Dakota.
#5 – Dodge
Home to the Most: Texas – 380 fatal crashes
Home to the Least (Tie): Rhode Island & Vermont – four fatal crashes
This is the fourth, but not the last time we have a vehicle's worst state be Texas. Dodges fatally crashed the most in Texas, and although we are just at number five in our countdown, there have already been major increases:
Dodge deadly crashes made up over three times the amount of Texas' total compared to Jeeps. There were 380 Dodge fatal crashes – 78 more than Nissan – which was nearly nine percent of Texas' total.
Across the U.S., Dodge vehicles crashed in 3,308 fatal accidents in 2017. Dodge deadly crashes made up almost ten percent of our nation's total that year.
Dodge's success has a strong history dating back to the early 1900s. Most people don't know that Dodge built the engines and transmissions for the first affordable cars (Ford Model T and A) made in the U.S. in 1903. And, the first Dodge vehicle – the Model 30 released 1914 – was an improved version of the Model T. Dodge has been making standout American cars for well over 100 years.
With those deep roots and its trusted American name, we're glad Dodge didn't land higher in this countdown with more deaths. Fortunately, there were three areas that Dodge managed to have under five fatal crashes (each): D.C., Rhode Island, and Vermont.
#4 – Honda
Home to the Most: California – 554 fatal crashes
Home to the Least: South Dakota – five fatal crashes
Now that we've reached the top four, the number of crashes and death totals are downright shocking. For the remainder of the countdown, every brand's fatal crash percentage out of the U.S. total will be in the double digits.
Honda's fatal crashes made up 11.08 percent of all the deadly accidents in our country in 2017. But that's just a percentage; the actual number is haunting: Hondas were involved in 3,796 car crashes that killed people in the U.S. alone in 2017.
This is the first (but not the last) auto brand on our countdown whose worst state is California. Honda's 554 fatal crashes in Cali amounted to 13 percent of the state's total.
It's no big surprise that the most deadly crashes involving a Honda occurred in the Golden State since the Civic is the most-purchased car by Californians. There were already 43,857 Honda Civics newly registered in California in the first half of 2018—more than any other vehicle for the state.
Cali drivers don't just love the Civic either; three Honda models made their top ten best-seller list. Here are those favored models, their ranking, and the total number that were sold in California in the first six months of 2018:
Honda Civic: 1st – 43,857
Honda Accord: 3rd – 28,201
Honda CR-V: 8th – 21,062
The most happened in California, but Hondas was involved in fatal crashes all over the United States. Honda is the only auto brand on our top-10 list that got in at least five deadly car crashes in every single state.
None of the other brands on this most-crashed list got in more than three deadly crashes in D.C., while Hondas were involved in over three times that amount. In fact, Honda made up 29 percent of the total fatal crashes in our nation's capital in 2017.
#3 – Toyota
Home to the Most: California – 711 fatal crashes
Home to the Least: South Dakota – four fatal crashes
The second-most popular car in California, crashed even more than the Honda both in California and around the country. Here's the comparison between the two brands:
| | Honda | Toyota |
| --- | --- | --- |
| Ranking | 4th | 3rd |
| Fatal Crashes in California | 554 | 711 |
| Percent of the Total in California | 13% | 17% |
| Fatal Crashes in the U.S. | 3,796 | 4,260 |
| Percent of the Total in the U.S. | 11% | 12% |
| Total Sold in the U.S. | 1,486,827 | 2,129,383 |
| | #blank# | #blank# |
Past reports show that there have been more Civics sold in Cali than Camrys, but more Toyota models made Cali's top ten bestseller list than Honda. Below are the total sales (first half of 2018) and rank for each Toyota model:
Toyota Camry: 2nd – 31,496
Toyota Corolla: 5th – 25,911
Toyota RAV4: 6th – 25,547
Toyota Tacoma: 7th – 21,206
This auto brand is one of the most popular brands in the United States (and around the world) for many reasons. Part of Toyota's success comes from its mastery of speed both on and off the road.
Since 2013 Toyota has maintained unprecedented manufacturing speeds with one Corolla built and sold every 27 seconds, and the 2019 Camry – known for its safety and sensibility – is one of the fastest V6s available, which can get from zero to 60 mph in only 5.8 seconds.
Toyota got in more fatal crashes than Honda overall, but (unlike Honda) Toyota did manage to have two areas with under five fatal crashes for all of 2017: South Dakota with four and D.C. with only two.
#2 – Chevrolet
Home to the Most: Texas – 816 fatal crashes
Home to the Least: Hawaii – eight fatal crashes
Chevy is the fifth auto brand on our countdown that had the most fatal car crashes occur on Texas roadways, only there were 436 fewer for Dodge. What's also unsettling is how Chevrolet compares to the car one spot below it. Even though there were 63,500 more Toyotas sold in the U.S. in 2017, there were 2,866 more fatal crashes involving Chevys.
The side-by-side stats are eye-opening:
| | Toyota | Chevrolet |
| --- | --- | --- |
| Ranking | 3rd | 2nd |
| Fatal Crashes in Texas | 405 | 816 |
| Percent of the Total in Texas | 9% | 19% |
| Fatal Crashes in the U.S. | 4,260 | 7,126 |
| Percent of the Total in the U.S. | 12% | 21% |
| Total Sold in the U.S. | 2,129,383 | 2,065,883 |
| | #blank# | #blank# |
This isn't just a list of the most popular cars in the U.S. crashing the most . . . the results are not always what you'd expect. Chevy only had two models on the top 20 bestseller list for 2017, while Honda and Nissan each had three and Toyota and Ford each had four.
Even with lower sales and less best-selling models, Chevrolet still managed to earn second on this most-crashed list and was the vehicle involved in the most fatal crashes in a whopping 20 states.
It's not good news in the five states where Chevys got in the lowest number of deadly car crashes either. Those five states alone had a combined total of 59 Chevy traffic accidents resulting in deaths.
Free Auto Insurance Comparison
Enter your ZIP code below to view companies that have cheap auto insurance rates.
Secured with SHA-256 Encryption
#1 – Ford
Home to the Most: Texas – 875 fatal crashes
Home to the Least: Vermont – 10 fatal crashes
With four models on the 2017 best-seller list, Ford was the top-selling brand in America for the eighth year in a row. What's even more impressive: the F-Series has been the best-selling pickup truck in the nation for 41 straight years.
Clearly, Ford is used to winning . . . only this time it isn't a good accomplishment. Ford was the auto brand that got in the most fatal car accidents on American roads with a distressing total of 7,377 in 2017.
This one beloved brand made up 22 percent of the nation's fatal crashes, was ranked first as the most-crashed brand in 23 states, and made up just under 21 percent of Texas' deadly crashes.
I guess we could focus on the bright side. There were 409,673 more Fords sold than Chevys in 2017, but there were only 251 more fatal crashes for Ford that year. So, it could have been much worse.
Free Auto Insurance Comparison
Enter your ZIP code below to view companies that have cheap auto insurance rates.
Secured with SHA-256 Encryption
How much have these vehicle brands crashed in the past?
Although the totals, percentages, and best/worst states have all fluctuated, the 10 auto brands with the most fatal crashes have remained the same since three years ago when we started this study.
Here's a visual comparison of the total crashes per brand and percentage each one made of the country's total deadly accidents for 2016 and 2017: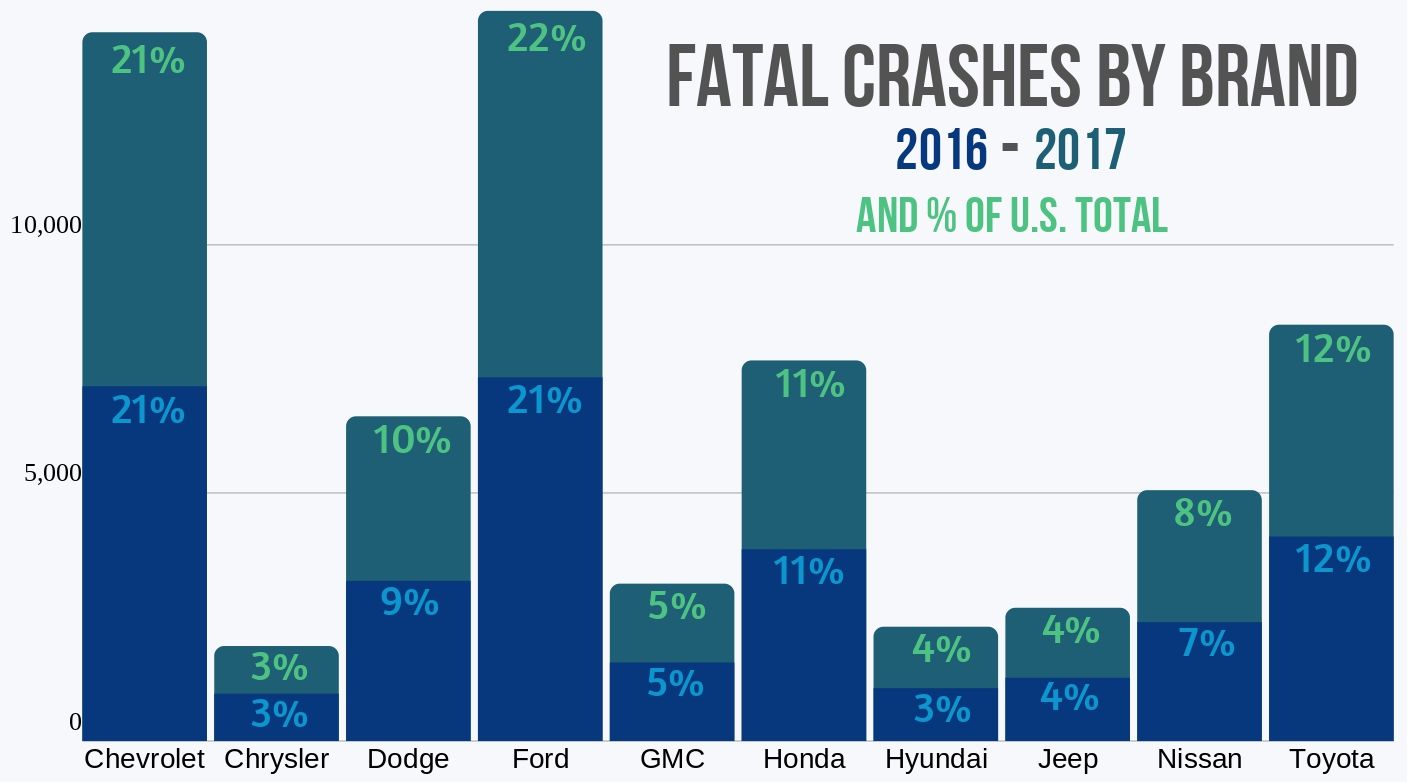 For two straight years, Ford and Chevy, have single-handedly made up nearly half of the fatal crashes for the entire country. In 2016 and 2017 in the United States alone, there was an appalling total of 28,967 traffic accidents that all had two things in common:
People died
A Chevy or Ford was involved
Where are most of these fatal crashes happening?
Let's look at where our top ten auto brands crashed the most and least frequently. It's hard to believe that one brand can fatally crash over 800 times in one state but under 10 times in another.
States with the most
States with the LEAST
Chevrolet
Texas - 816
Hawaii - 8
Chrysler
Florida - 87
Hawaii - 0
Vermont - 0
Dodge
Texas - 380
Rhode Island - 4 Vermont - 4
Ford
Texas - 875
Vermont - 10
GMC
Texas - 156
Hawaii -1
New Hampshire - 1
Honda
California - 554
South Dakota - 5
Hyundai
Florida - 191
North Dakota - 1
South Dakota - 1
Vermont - 1
Jeep


Texas - 108
North Dakota - 1
South Dakota - 1
Wyoming - 1
Nissan
Texas - 302
Vermont - 1
Toyota
California - 711
South Dakota - 4
#blank#
#blank#
In addition to the 10 brands, another constant in our three years of findings is that California, Florida, and Texas are where these vehicles crash the most.
Here's a look at how many times each brand fatally crashed in those three states in 2017 along with the percentage those crashes made up of the state's total:
All three states have just two car brands that made up over a quarter of all their fatal crashes for 2017, and unlike you might suspect, those two brands are not always the same.
Since the colorful visual above still has a lot of data for you to mentally digest, here is a chart showing the stats for the two worst brands for these top three states:
2 Worst Brands
Combined Percent
2 Brand Fatal Crash Total
California
Honda - 13%
Toyota - 17%
30%
1,265
Florida
Chevy - 12%
Ford - 16%
28%
1,069
Texas
Chevy - 19%
Ford - 20%
39%
1,691
#blank#
#blank#
#blank#
What's interesting is that there are far less Chevy and Ford crashes in California than in Florida or Texas. California had 60 less fatal car crashes involving a Chevy or Ford than Florida and an astounding 682 less than Texas.
Which states have the most fatal traffic accidents?
Since deadly car accidents aren't just a problem in California, Florida, and Texas. Let's look at the 10 states with the most fatal car accidents and the total number that happened in each one from 2015 to 2017:
This would be a boring article if we were just laying out the most popular auto brands crashing in the most populated states.
What makes this study so fascinating (and frightening) is that our findings are showing less popular brands crashing more and states with less residents having more people die in car crashes.
The chart below shows the total fatal crashes and population for the top ten states from 2015 to 2017. It also shows the 2017 rank by both the number of crashes and number of residents. Scroll right and you will see that the ranking is not the same:
| | 2015 Fatal Crashes | 2015 Population | 2016 Fatal Crashes | 2016 Population | 2017 Fatal Crashes | 2017 Population | Rank by 2017 Population | Rank by 2017 Crashes |
| --- | --- | --- | --- | --- | --- | --- | --- | --- |
| California | 4,417 | 38,953,142 | 5,072 | 39,209,127 | 5,094 | 39,399,349 | 1 | 2 |
| Florida | 4,165 | 20,224,249 | 4,597 | 20,629,982 | 4,635 | 20,976,812 | 3 | 3 |
| Georgia | 2,047 | 10,181,111 | 2,162 | 10,304,763 | 2,298 | 10,413,055 | 7 | 4 |
| Illinois | 1,361 | 12,864,342 | 1,569 | 12,826,895 | 1,578 | 12,786,196 | 5 | 9 |
| Michigan | 1,439 | 9,932,573 | 1,536 | 9,951,890 | 1,500 | 9,976,447 | 9 | 8 |
| North Carolina | 1,949 | 10,033,079 | 2,023 | 10,156,679 | 2,017 | 10,270,800 | 8 | 5 |
| Ohio | 1,639 | 11,617,850 | 1,640 | 11,635,003 | 1,685 | 11,664,129 | 6 | 7 |
| Pennsylvania | 1,679 | 12,785,759 | 1,698 | 12,783,538 | 1,711 | 12,790,447 | 4 | 6 |
| Tennessee | 1,358 | 6,590,808 | 1,467 | 6,645,011 | 1,463 | 6,708,794 | 10 | 10 |
| Texas | 4,891 | 27,486,814 | 5,297 | 27,937,492 | 5,266 | 28,322,717 | 2 | 1 |
| | #blank# | #blank# | #blank# | #blank# | #blank# | #blank# | #blank# | #blank# |
Although all three years California has had over 11 million more residents, Texas has had up to 474 more fatal crashes. Another terrifying comparison is between Georgia and Pennsylvania:
Despite the fact that there were 2.4 million more residents living and driving in Pennsylvania, Georgia had 587 more fatal car crashes than this much larger state in 2017.
Take to heart: these aren't just numbers; these are lives lost. Here's specific details on two of Georgia's 2,298 fatal car crashes that happened in 2017:
The local news clip below reports on four traffic deaths that happened within 24 hours of each other in Georgia. Both car accidents occurred on a "dangerous stretch of road" and resulted in lives cut far too short. One of the crashes happened when a college student lost control of his Dodge; both he and his friend in the passenger seat died that night.
North Carolina is another state with fewer people yet more crashes. In 2017, North Carolina's population was 1.4 to 2.5 million greater than Ohio, Illinois, and Pennsylvania, yet there were at least 300 (up to 439) more fatal crashes in all three of those states.
Free Auto Insurance Comparison
Enter your ZIP code below to view companies that have cheap auto insurance rates.
Secured with SHA-256 Encryption
How can I avoid getting into a deadly car crash?
This study brings to light some inarguable truths about vehicles and motorists. It's not just a matter of busy roads and popular cars. What the driver does behind the wheel and how well these vehicles protect the people inside make the biggest difference.
See, nobody wants to get in a deadly car accident, yet most motorists do things every day while they drive that make these crashes extremely likely.
Here are three things you must do if you want to avoid adding to these devastating death totals.
Stop Speeding
Driving over the speed limit to get somewhere faster is never a good idea. Is arriving on time really worth risking life-long injuries or death?
Deaths

: There were 9,717 people killed on U.S. roads as a result of a driver selfishly speeding. Speeding alone accounted for over a quarter (26 percent) of all the traffic deaths in 2017.

Penalties

: If you are able to avoid serious injury or death, you face steep fines (as high as $500 in some states) and even up to 30 days in a jail – and that's just for a first offense.
Still not convinced? Check out this horrifying ABC news clip:
Don't Drive Distracted
When you are taking on the enormous responsibility of operating a motor vehicle, nothing else should have your attention. A motorist's eyes should always be fixated on the road ahead with occasional checks of his/her mirrors and speedometer.
The problem? Most people don't treat driving as a privilege. The majority of American motorists today use their commute to get other things accomplished . . . phone calls, feeding the kids, putting on makeup, sending texts . . . the list goes on and on.
Distracting driving kills. Here are some unignorable facts:
According to the NHTSA, during daylight hours, about 481,000 people are distracted by their phones while driving. And, Virginia Tech Transportation Institute reports that you are 2.8 times more likely to crash if you call someone, 1.3 times more likely if you talk on the phone, and 1.4 times more likely if you reach for something while driving.
And, it's much worse if you are texting while driving:
"VTTI's research showed that text messaging, which had the highest risk of over 20 times worse than driving while not using a phone, also had the longest duration of eyes-off-road time (4.6-second over a six-second interval). This equates to a driver traveling the length of a football field at 55 miles per hour without looking at the roadway." – VT News
Deaths

: In 2017, 3,166 people were killed because of a driver too busy to watch the road.

Penalties

: Just one moment of distraction risks life-long injuries to yourself (and others) and killing someone or ending your own life. If you're lucky and don't crash, you face fines of up to $10,000 and a year of jail time when a police officer catches you texting behind the wheel.
Are you too self-centered to take the pledge, "It can wait"? Maybe the below story will help open your eyes to how distracted driving can ruin your life (if it doesn't kill you):
Never Drive Drunk
"As one's BAC rises, the 'intoxicated' person becomes less aware of surroundings, speech becomes slurred, vision may be blurred, balance is unstable, reaction time is slowed, and, above all, the ability to make good judgments may be impaired." – ResponsibleDrinking.org
It doesn't take a lot to prove that mixing alcohol and driving makes for a deadly combination. The NHTSA reports that 29 percent of 2017's traffic deaths all had a driver impaired by alcohol to blame.
Deaths

: There were 10,874 people killed in 2017 drunk driving car crashes in the U.S., which was a harrowing average of one person killed every 48 minutes.

Penalties

: Every state is different, but just one DUI can land you $5,000 in fines, a three-year license suspension, and two years in jail. Repeat offenses will bring much worse penalties.
Did you know? In most states you won't get a DUI or DWI unless your BAC is at 0.08 percent or higher, but in Utah even if you only register at a BAC of 0.05 (and even if it's just your first offense) you will face two days of jail time, nearly $2,000 in fines, and a four-month license suspension.
Take the advice from Utah Representative Norman K. Thurston:
"Impairment begins with the first drink, and if you are drinking, don't drive."
Again, you don't have to take our word for it:
How YOU Can Make a Difference
We could go on and on all day listing deadly driving behaviors, but we are going to stop there with three. Hopefully by now you get the idea.
Yes, some are safer than others, but you can't blame the vehicles. The drivers – their human error and selfish decisions – are killing people every day across our country.
Unfortunately, even if you drive perfectly, never taking your eyes off the road, never making a single mistake, you can still become the victim of a deadly car crash. Make sure you buy a vehicle that has high safety ratings and performs well in the rigorous crash tests. In addition, keep your vehicle safe by maintaining it regularly.
Be a responsible vehicle owner and focused driver and you will drastically reduce your risk of getting in a deadly car crash. Keep in mind, a major piece of that responsibility involves you investing in car insurance coverage.
If you don't, you will find yourself unable to pay for medical expenses and vehicle repairs due to inadequate coverage – even if the crash wasn't your fault. Simply enter your zip code into our free tool to compare the best policies in your area.
Methodology
This annual study is based on the most reliable fatal crash statistics available, which come from the National Highway Traffic Safety Administration (NHTSA). Using the most current reports provided in the NHTSA's Fatality Analysis Reporting System (FARS), we were able to collect and analyze fatal crash data for 2017.
We collected and organized FARS fatal crash data along with publications from the United States Census Bureau until we were able to answer the following questions for 2015 to 2017:
How many fatal crashes were each of the 50 most popular vehicle brands involved in?
How many total fatal crashes occurred in each of the 50 states and Washington D.C.?
Which ten auto brands were involved in the most traffic accidents that resulted in deaths?
In which ten states where there the most traffic accidents resulting in deaths?
Where did each of the top ten vehicle brands crash the most?
Which states had the least number of fatal crashes for the top ten brands?
What percentage did each brand make up of their worst state's crash total?
What percentage did each brand make up of the nation's fatal crash total?
What was the population and fatal crash totals for the top 10 states?
How did the top ten states rank by population and fatal car crashes?
Once we had those questions answered, we were able to not only rank the most popular 50 vehicle brands by their total number of fatal car crashes, but we were also able to see historical trends for each brand and state.
This annual top-10 countdown presents the auto brands that are involved in the most traffic accidents resulting in deaths across American in 2017.
Free Auto Insurance Comparison
Enter your ZIP code below to view companies that have cheap auto insurance rates.
Secured with SHA-256 Encryption
Previous Results for the Auto Make Fatal Crash Study