Drunk Driving Rates by State [+Coronavirus DUI Drop Predictions]
Nearly half of all U.S. auto accident deaths involved drivers impaired by alcohol. We expect California to have the biggest drop in DUIs due to COVID-19 because this is where our nation saw the greatest reduction in traffic during the pandemic. Wyoming is the worst state overall for DUIs with 676 DUI arrests per 100,000 residents. Check out our coronavirus DUI drop predictions below.
Free Car Insurance Comparison
Compare Quotes From Top Companies and Save
Secured with SHA-256 Encryption
UPDATED: Aug 16, 2022
It's all about you. We want to help you make the right coverage choices.
Advertiser Disclosure: We strive to help you make confident auto insurance decisions. Comparison shopping should be easy. We are not affiliated with any one auto insurance provider and cannot guarantee quotes from any single provider. Our partnerships don't influence our content. Our opinions are our own. To compare quotes from many different companies please enter your ZIP code on this page to use the free quote tool. The more quotes you compare, the more chances to save.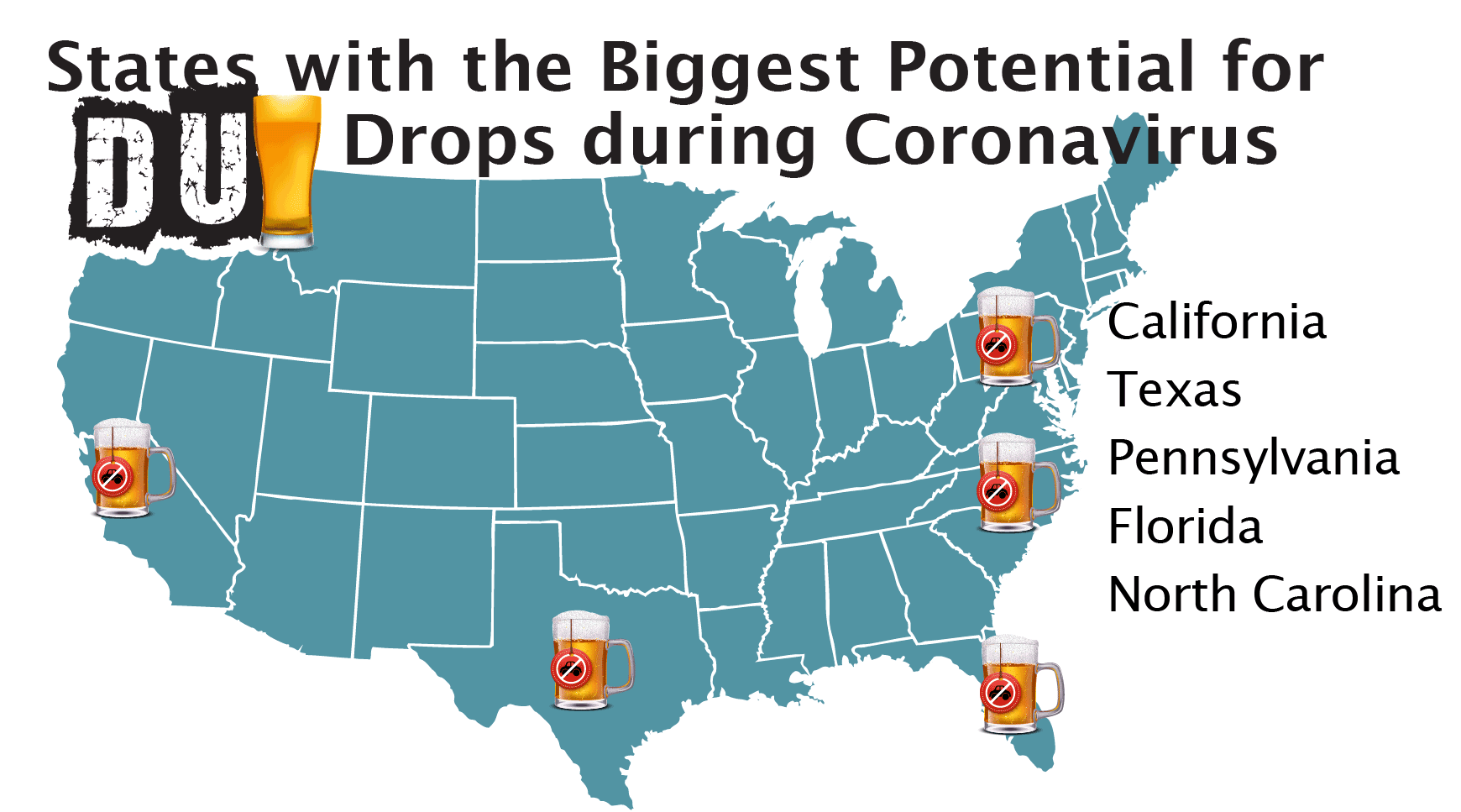 We all know that DUIs are a constant public safety threat. Driving under the influence of alcohol or drugs endangers not only individual drivers but also their neighbors on the road.
As most Americans are under stay-at-home advisories or orders during the coronavirus pandemic, however, there may be an unexpected benefit: drunk driving is on the decline.
In this feature, we'll take a look at the coronavirus DUI drop through media reports that show how drunk driving incidents are declining as the coronavirus keeps people at home or sheltered in place.
The drop in traffic will be a major factor in our ranking. While other countries are banning alcohol, the United States has not. This has led to other health issues, according to experts, which we'll cover in the frequently asked questions section.
We'll also take a look at drunk driving more broadly: What states are the worst for DUIs, what states are the best for drunk driving infractions, what DUIs actually are, and how you can plan ahead to avoid driving under the influence of alcohol or drugs.
The underlying topics of this issue are excessive drinking, alcohol and coronavirus, and drinking alcohol to prevent the novel coronavirus during the COVID-19 pandemic. Then there are the legal and insurance consequences of receiving a DUI.
As insurance experts, we know a lot about drunk driving from coast to coast. For instance: Did you know that having a DUI or DWI on your driving record can make it harder to get auto insurance coverage?
DUIs often require a car owner to get a special type of insurance – and SR-22 or high-risk auto insurance. That can be difficult to find as it requires talking to different companies and possibly going to a high-risk insurance marketplace.
High-risk auto insurance can be expensive. Fortunately, there are many ways you can save on auto insurance. One of the easiest and quickest is to compare live quotes from different auto insurance companies.
Enter your ZIP code into our free comparison tool to find the best quotes in your area that are personalized for your insurance needs.
Drunk driving is also a major problem during The Deadliest Holidays to Drive, with drunk driving on the three summer party holidays — Memorial Day, Labor Day, and Independence Day — causing up to 38% of all fatal crashes. 28% is the annual average.
Now, read on to find out more about what we've discovered about DUIs, traffic reduction, and how the coronavirus continues to spread in the United States.
Where is drunk driving on the decline during the coronavirus pandemic?
As Kenny Jacoby, Mike Stucka, and Kristine Phillips recently reported in USA Today, most crimes are on the decline as the United States faces the coronavirus pandemic. After examining 53 law enforcement agencies in two dozen states, the investigative team found that:
"Crime rates plunged in cities and counties across the U.S. over the second half of March as the coronavirus pandemic drove millions of residents to stay inside their homes."
As you can see the infographic below, USA Today found that 19 out of 20 law enforcement agencies polled have seen a decrease in criminal incidents since March 15, 2020.
As we all face the fears of coronavirus, both personal and public, health and economic, this decrease in crime is a silver lining that can be of some comfort.
Several media outlets are reporting a decrease in drunk driving infractions specifically in their region. CBS News Minnesota found that "arrests for driving while intoxicated are down nearly 70 percent from this time last year." Even if this is just a blip in the DUI trend, a 70 percent drop, however temporary, is substantial.
Likewise, Hawaiian authorities are reporting similar trends, explaining that:
"On Tuesday, March 17, police reported 25 motorists were arrested for driving under the influence of an intoxicant during the previous week. One week later, that number dropped to 13."
Similarly, Jacksonville, Florida's Fox 30 found that driving while under the influence incidents are dropping in their region, which is now considered a COVID-19 hotspot by the Centers for Disease Control and Prevention (CDC). In another hotspot, Los Angeles, California, overall arrests are down nearly 20 percent.
Though the National Highway Traffic Safety Administration (NHTSA) doesn't release DUI data until the end of the calendar year, we can deduce from the sources above that drunk driving infractions, like most crimes, will see a substantial dip across the United States as long as the country deals with the coronavirus pandemic.
We don't have to make assumptions, either. INRIX, the leading traffic tracking authority, is examining a substantial drop in traffic patterns and driving overall across the United States.
In the table below, we're tabulating the five states where we expect to see the biggest declines in DUIs during the coronavirus pandemic. We calculated these rankings by consulting both INRIX's current data on driving reductions compared to NHTSA data on states with the biggest DUI rates before the pandemic (2018).
By looking at these two data points in tandem, we can predict what states will see the biggest DUI declines during the pandemic. Let's take a closer look at these five states.
#1 – California
California is now a CDC-designated coronavirus hotspot, where a large number of cases are concentrated in major cities in our country's most populous state — Los Angeles, San Francisco, and San Diego.
As folks stay home in California, we expect to see a substantial decrease in the number of DUI arrests. This is good for not only public safety reasons, but as you can see in the video from San Diego's ABC 10 below, a drunk driving infraction can cost a Californian as much as $20,000.
And now that California has legalized marijuana for recreational purposes, remember that DUIs can be given for driving under the influence of alcohol or any other controlled substance, including legal marijuana.
#2 – Texas
With a huge population and several international travel hubs in the Lone Star State, we expect the coronavirus to be quite a problem here, especially in the state's increasingly growing metropolises: Houston, Dallas-Fort Worth, Austin, and San Antonio.
Unlike most states, Texas is doing a unique thing when it comes to driving while intoxicated infractions. As you can see in the video below from Tyler, Texas's NBC affiliate, new DWI regulations may allow first-time offenders to defer their infraction.
As the Lone Star State continues to grow and its highway construction initiatives struggle to keep up with the state's fast-changing population, you can expect to see a focus on DUI legislation in the coming years. We hope, despite the dire circumstances, this time at least brings a drop in DWIs across the state of Texas.
#3 – Pennsylvania
With its proximity to New York and its position as a major international airline hub, Philadelphia and its crowded suburbs are especially susceptible to the coronavirus outbreak.
As you can see above, Pennsylvania has seen a huge drop in driving activity since March 20, 2020 — to the tune of 35 percent, in fact. This could lead to a drop in DUIs across the state, especially in larger cities where stay-at-home efforts have been more effective, such as Philadelphia, Pittsburgh, Harrisburg, and Erie.
In the video above, Montgomery County, Pennsylvania attorney David McKenzie offers five things you should do in case you get pulled over for drunk driving in the Keystone State.
#4 – Florida
Florida is one of our fastest-growing states and unfortunately, it has a much higher-than-average share of people most at risk for severe cases of the coronavirus. It is quickly becoming a CDC-designated hot spot for the pandemic.
The Sunshine State is also a place that has struggled with DUIs for many years, even if this year a lot of spring break plans got canceled. Between Florida's coronavirus status and its past as a drunk driving-heavy place, we expect to see a substantial drop in impaired driving incidents in the coming weeks and months here.
Want to know what your court hearing will look like for a Florida DUI case? Check out the video below from Andrea Lewis, a Florida personal injury attorney.
Better to avoid this situation altogether than to find yourself at the defendant's table in a DUI hearing. Florida takes driving under the influence infractions very seriously, and penalties for a drunk driving conviction in Florida are some of the strictest.
#5 – North Carolina
Like the rest of the states where we expect to see a substantial drop in drunk driving offenses during the coronavirus pandemic, North Carolina is one of the fastest-growing states in the country. This means the state has crowded highways with lots of vehicle traffic, and a substantial drop in traffic during the pandemic — nearly 30 percent so far — will hopefully mean fewer DUIs across the state.
According to Guilford County District Court Judge Tom Jarrell, the Mothers Against Drunk Driving (MADD) judicial official of the year, "Impaired drivers are jailed, charged and sentenced in our courtrooms every day due to this dangerous behavior, and it's high time North Carolinians take a look at their habits behind the wheel and see the consequences they have on our great state."
Remember that no matter where you live, driving under the influence is both physically and financially dangerous. It's one of the driving infractions that can affect your auto insurance the most. And as we've seen is the case with these 10 states, DUIs are problems that require our constant diligence and attention.
But let's look at states where drunk driving infractions have been shown to be less of a constant hazard.
Free Auto Insurance Comparison
Enter your ZIP code below to view companies that have cheap auto insurance rates.
Secured with SHA-256 Encryption
What states were the worst for drunk driving before the coronavirus pandemic?
As we begin to think about where crime rates might be affected by the pandemic the most, it's important to know what states already face both the worst and best DUI statistics. The latest data available from the National Highway Traffic Safety Administration (NHTSA) is for 2018.
In the table below, we're ranking all 50 states (from worst to best) based on three 2018 data points: number of DUI arrests, DUI arrests per 100,000 residents, and number of DUI fatalities.
As you can see, the four worst states for DUIs are sparsely populated states In the upper Midwest and inner Mountain West.
Let's take a closer look at the 10 worst states for DUI as of 2018.
#1 – Wyoming
Sparsely populated Wyoming has many miles of open roadway for people to drive on. Unfortunately, the driving while intoxicated statistics show that many folks feel they can navigate these roads while under the influence of alcohol or another controlled substance.
As you can see in the video below from the Wyoming Department of Transportation, the state is really cracking down on drunk driving infractions in an attempt to improve their bad ranking. Your first DUI conviction in Wyoming will result in a fine of up to $750 plus all associated court costs. Get caught again and your fines and fees go up astronomically, not to mention your auto insurance premiums.
DUIs are one of the easiest ways to see a big spike in your auto insurance premiums. Read more about auto insurance in Wyoming in our comprehensive guide.
#2 – South Dakota
With fewer than a million residents, the sparsely populated state of South Dakota has a lot of open highways between its towns and cities, leaving lots of room for driving under the influence of alcohol or drugs.
According to the legal experts at NOLO, "a person who's convicted of a first DUI also faces fines of up to $2,000" in South Dakota. They also face possible jail time, probation, and substance abuse evaluations.
Related: Auto insurance in South Dakota.
#3 – Montana
Big Sky Country has a rather big DUI problem across the state. With so many open roads in rural areas, we're not surprised to see these statistics, but we're glad to see that the state of Montana is taking the problem seriously.
As you can see in the video below, Montana is seeing a spike in road fatalities overall, many of which are drug- or alcohol-related. This is especially true, as you'll see in the video, during the long and sometimes dangerous winters the state of Montana is prone to experiencing, a season when roadway hazards are even more acute.
Want to learn more about auto insurance in Big Sky Country? Head on over to our comprehensive Cheap Auto Insurance in Montana guide.
#4 – North Dakota
Sparsely-populated North Dakota has 3,720 miles on the National Highway System, meaning there are lots of open roads where some people feel they can drive under the influence of drugs or alcohol.
Even though there are lots of open roads in the Roughrider State, that doesn't mean you can get away with breaking DUI laws. First-time drunk driving convictions in North Dakota can cost between $500–$1,500 in fines plus court costs, not to mention possible jail or probation.
Find information here: Auto Insurance in North Dakota.
#5 – Mississippi
The Hospitality State is the first Southern state on our list of states with the biggest DUI problems. For its relatively small physical size, Mississippi faces a lot of roadway deaths at the hands of drivers traveling under the influence of alcohol or drugs.
In the video below from Mississippi lawyer Joey Franks, you can learn about the different ways one can get a DUI in the Magnolia State.
In hospitality-rich Mississippi, make sure you and your family have the right coverage required by finding cheap auto insurance in Mississippi.
#6 – New Mexico
The Land of Enchantment has a lot to be proud of, but unfortunately, its drunk driving statistics aren't the best. The only state in the Southwest on our list of states with the worst impaired driving situations, New Mexico sees a high average number of DUI arrests every year.
New Mexico is a large state with many rural, mountainous areas with many highways where folks think they can drive under the influence. Protect yourself and your family with comprehensive auto insurance tailor-fit for your needs in the Land of Enchantment.
#7 – North Carolina
The home of NASCAR and Billy Graham, North Carolina is also the home to many drunk driving-related incidents every year. And as the state continues to grow, a concentrated effort must be made to reduce the number of DUI arrests and fatalities.
North Carolina is quickly growing and has a lot of congested highways. That means more DUI checkpoints. Asheville, North Carolina DWI attorney James Minick offers some helpful advice on what to do if you come upon one of these checkpoints in the video below.
See why you need the best auto insurance in North Carolina you can get.
#8 – South Carolina
Not to be outdone by its northern neighbor, South Carolina has seen an increase in drunk driving offenses over the last decade. DUI arrests and fatalities are high in this coastal state, with both densely populated areas such as Charleston and Columbia and lots of rural counties with lots of open roadways.
Be prepared by having the right South Carolina auto insurance for you and your family before it's too late.
#9 – Alaska
Alaska is the most sparsely-populated state in the United States and has a huge DUI problem in addition to high crime rates overall. With so much open space that is often difficult to traverse, enforcing laws made for public safety becomes an especially difficult task for public officials.
According to the Alaska Division of Motor Vehicles, a first drunk driving offense averages $24,265 in fees, fines, and costs. So it's always better in the Last Frontier to plan ahead for a sober ride. After all, you never know when you'll come across an Alaska State Patrol DUI checkpoint.
In the video from National Geographic below, you can watch a DUI check gone wrong.
Given the problem the state is facing, drunk driving conviction penalties in Alaska are pretty high, so make sure that you plan ahead to have a sober driver to drive you and your loved ones where you need to go.
#10 – Wisconsin
Rounding out our list of the worst states for DUIs is the Badger State. Sadly, Wisconsin joins a lot of its upper Midwestern neighbors in having a lot of drunk driving-related incidents every year.
From the Great Lakes to the Black Hills, check out the following link to make sure you and your family have the perfect Wisconsin auto insurance for your needs in the Badger State.
What states were the best for drunk driving before the COVID-19 pandemic?
The 10 states with the best DUI profiles before the coronavirus pandemic, as you can see in the map below, are concentrated in New England and the eastern Midwest. Two outliers also join this list: Utah, which has the strictest alcohol sales laws of any state in the nation, and Florida, which has some of the strictest drunk driving laws in the nation as well as some of the best DUI prevention programs.
Let's take a look at some specifics about these 10 states. In the table below, we're including 2018 statistics from the NHTSA, including the number of DUI arrests, number of DUI fatalities, percent of total traffic deaths, and DUI fatality increase or decrease over the previous year.
Kudos to Rhode Island, the state that saw the biggest drop in drunk driving deaths between 2017 and 2018 — a whopping 41.2 percent deficit. All of the states on this list, however, deserve respect for the strong initiatives they're putting into place to lower the rates of DUIs within their borders. In addition, Ohio also made our list of the best states for affordable DUI auto insurance, making it one of the best states for drunk driving and high-risk insurance.
What does the term DUI mean?
DUI means simply driving under the influence, and influence can mean alcohol, drugs, or any other controlled substances. DUIs, sometimes called DWIs (driving while intoxicated) in some states, are one of the highest forms of moving violations you can be issued on the road.
DUIs are given based on one's BAC, or blood alcohol content. According to the NHTSA:
"Drivers are considered to be alcohol-impaired when their blood alcohol concentrations (BACs) are .08 grams per deciliter (g/dL) or higher."
Though the .08 BAC is a national standard, other DUI laws and penalties differ by state. In the table below, we've tabulated state-by-state information provided by legal expert clearinghouse NOLO, including minimums for jail, fines and fees, minimum license suspension, and the requirement of an ignition interlock device for driving under the influence.
One exception to the national .08 BAC standard: Utah. Utah has a BAC limit of .05, meaning that It has the lowest legal BAC level in the United States. Some states may be following suit, so it's important to be informed of this lower level now.
In the video below, Utah lawyer Jeff Lotter explains more about this BAC designation.
We're not sure if the .05 BAC limit in Utah is a trend or an exception quite yet, but time will tell. We do know, however, that we can all work together to prevent drunk driving.
Free Auto Insurance Comparison
Enter your ZIP code below to view companies that have cheap auto insurance rates.
Secured with SHA-256 Encryption
How can we prevent drunk driving?
The easiest way to prevent impaired driving incidents: Don't drive under the influence of any substance.
Sometimes, however, that's easier said than done because with the number of work events and parties, celebrations and other functions many of us attend include the consumption of alcohol.
It's important to plan ahead to have a sober driver or to call a ridesharing program for you and your party.
Ridesharing programs may have contributed to the overall drop in Halloween fatal crashes in the past decade as we saw in our 25-year study analyzing Halloween fatal car crash statistics.
As you can see in the video below, however, ridesharing programs such as Uber or Lyft and their drivers are facing their own strains during the coronavirus pandemic, when more folks are staying at home and have less of a need for their services.
The CDC offers a great resource for those interested in reducing drunk driving incidents. Titled "What Works: Strategies to Reduce or Prevent Drunk Driving," the fact sheet points out eight strategies to reduce DUIs and their consequences, including:
Drunk driving laws
Sobriety checkpoints
Ignition interlocks
Multi-component interventions
Mass media campaigns
Administrative license revocation or suspension laws
Alcohol screening and brief interventions
School-based instructional programs
We hope that as we all come together in a concentrated effort to reduce DUIs in the United States that we will continue to see a decrease in their number, whether we are in a world health pandemic or not.
What Professionals are Saying about DUIs During the COVID-19 Pandemic
We asked a variety of experts, such as lawyers and substance abuse advocates, to weigh in on the drop of drunk driving incidents during the coronavirus pandemic, and on the state of drunk driving in general. Read on below to find some of their great advice. Some information surprised even us.
"Yes, it is true that DUIs have dropped considerably during the COVID-19 pandemic due to the shelter-in-place order.
DUI's are most likely to drop in densely packed urban areas, and we have definitely seen the results firsthand.
With restaurants and businesses shuttered due to the shelter-in-place order, friends, family, and co-workers are not going out. Put simply, there aren't a lot of opportunities to drink outside of the home and get arrested.
Alcohol and marijuana sales have skyrocketed in the California Bay Area, leading to an interesting and specific fact pattern. People get extremely intoxicated at home, black out, then wake up in the police station with no recollection of driving or even leaving their house. However, since most of these people are laid off and panic drinking, they usually end up going with a public defender.
The only places I would expect to see a rise in DUIs are the few states that have yet to issue shelter-in-place orders. Businesses are still open, and the strange apocalyptic feel to the country might contribute to an atmosphere of general recklessness which would include drinking to excess and getting behind the wheel.
Penalties for DUIs range depending on how many DUIs a person has accrued in 10 years and specific facts of the incident. For example, if you kill someone while driving under the influence you can be charged with murder.
However, on the opposite end of the spectrum, if you are charged with a DUI and you have a relatively low blood alcohol content, you may get the DUI charge reduced to a lesser charge of a 'wet reckless.'
In California, DUIs are priorable for a 10-year duration. This means that DUIs stack for 10 years. If a person continues to drink and drive within the 10-year period and suffers multiple convictions, the penalties increase quite substantially. Additionally, if an individual is not a United States citizen a DUI could result in deportation proceedings."
Manjula Martin is a criminal defense and DUI attorney with Lamano Law Office.
She is a member of the National College for DUI Defense & the CA DUI Lawyers Association.
---
"The impact of state lockdowns on DUIs is significant. People have nowhere to go and nothing to do but stay at home and get high or drunk.
Addicts are still drinking and doing drugs. They just aren't getting wasted and then driving. And if they are, the focus of law enforcement is not on DUIs but on maintaining order during the pandemic.
Police are making fewer traffic stops during the coronavirus pandemic for speeding and minor traffic violations, which makes intercepting a DUI harder unless their driving is egregious.
An often-quoted statistic is that drunk drivers drive drunk over 80 times before getting caught. I have worked as an addiction professional since 1988, including 10 years with the Vermont Department of Corrections. I think that number is actually much higher.
I think drunk drivers drive drunk about 800 times before they are caught. Of course, this is anecdotal and based on the self-report of DUI multiple offenders.
The problem is not drinking and driving but drinking or using drugs addictively. Driving under intoxication is just one consequence of addiction. The problem is addiction itself.
I believe the coronavirus lockdowns are going to make things worse. Just like people are at home, watching TV, not exercising and overeating, they are at home drinking. In a couple of months, drinking can get significantly worse — their addiction will progress, and their tolerance will increase.
If someone's tolerance increases because they are drinking more during this pandemic, that means that when the social isolation lockdown orders are eased and people return to their lives, the roads will be much more dangerous. People will be back at the bars, and they will be able to consume more alcohol without feeling the effect. The odds of someone driving with a higher blood alcohol content will be increased.
Plus people will want to celebrate and socialize when the lockdowns are curtailed. It's going to be a big party when people come out of their isolation, and if they are drinking more than usual while under lockdown they will need to consume more alcohol to get the same effect that they did before the lockdown was initiated."
Scott Graham is a substance abuse professional with the Department of Transportation.
He is also a Licensed Addiction Counselor, business coach, bar owner, and published author.
---
"Our law firm handles catastrophic injuries caused by drunk driving accidents and have thankfully witnessed a drop in DUI crashes since the COVID-19 outbreak.
With political leaders issuing stay-at-home orders and limiting bars and restaurants to take out and delivery only, people are forced to drink at home, which means they're not driving drunk back home, to a friend's house, or even another bar.
Drunk driving wrecks and DUIs are most likely to drop in tourist areas, where people usually go to party.
For example, we have an office in Myrtle Beach, the 'drunkest beach in America.'
The coronavirus began to spread during a time when spring breakers usually flood the town and its beaches and bars. Since so few people are traveling at this time, we haven't had that huge influx of tourists that would typically be drinking and then driving around the city while on vacation.
It is possible that DUIs could rise in more rural areas of the country. Online alcohol sales have increased 243 percent during the coronavirus pandemic, so people are still consuming alcohol at home. If they drink at home and then choose to drive to visit family members or go to the grocery store while intoxicated, they'll be at risk of getting a DUI and possibly causing a wreck.
People that choose to drive drunk and receive a DUI will of course experience penalties including possible jail time, fines, and losing their privilege to drive, but the very worst outcome of DUIs is the harm incurred by innocent people that are injured in drunk-driving wrecks.
Our firm is very familiar with DUIs, drunk-driving wrecks, and insurance issues that arise from these situations."
Kenneth Berger is the owner and managing attorney at the Law Office of Kenneth Berger.
In 2019, Kenneth secured over $4.7 million in drunk driving case settlements for his clients.
---
Many media outlets are reporting that DUIs are dropping during the coronavirus pandemic; in your expert opinion, is this true, and why?
"Yes, this is 100 percent true. The reality is there are way fewer drivers on the road during these times. Additionally, the majority of major cities in the United States have forced restaurants, bars, and nightclubs to close their doors to the public.
There are simply fewer opportunities for individuals to drink and drive.
Additionally, police officers are not prioritizing traffic offenses such as drunk driving during this pandemic. You will not see DUI checkpoints in most major cities where you would normally find them."
Where are DUIs likely to drop the most?
"DUIs are likely to drop the most in major cities like New York City, Los Angeles, San Francisco, Chicago and Miami, where shelter-in-place orders are in effect."
Is there anywhere that might see a rise in DUIs during the coronavirus pandemic?
"I do not believe there will be a rise in DUIs anywhere in the United States during this pandemic."
Where are the worst places for DUIs in general?
"While major cities like New York City and Los Angeles encounter the most DUIs per year, there are several smaller cities across the United States with higher rates of DUI per capita."
What are the penalties for a DUI?
"DUI penalties vary from state to state. Generally, a first time DUI is a misdemeanor that is punishable with up to 180 days in county jail. However, the penalties can be increased depending on the specific DUI. For example, a DUI that leads to a bodily injury carries a stiffer penalty than a DUI that does not result in an injury."
Additionally, the number of DUI convictions on an individual's criminal record can significantly increase the penalty.
"I have experience both prosecuting individuals who have committed DUI offenses ranging from first time DUI offenses to DUI homicide as well as now representing individuals who have suffered and or died as the result of a drunk driver."
Prosper Shaked is a personal injury attorney and owner of The Law Offices of Prosper Shaked.
He has experience dealing with catastrophic accidents involving drunk drivers.
---
"I manage one of the largest boutique criminal defense firms in New York City with five locations and DWIs are the bread and butter of many criminal defense practices.
Every weekend we would get approximately 25 calls in regards to a DWI arrest and all of the ancillary issues (auto accident/injury, refusal to take a breathalyzer, civil forfeiture of the car, DMV related license issues, etc.) and now it's maybe one to two calls a weekend.
I think that people are keenly aware of the fact that if they are arrested, the ordeal of traveling from the arrest location to the precinct to central booking to the arraignment courtroom will be far more horrific than usual.
Each movement in the process increases the risk of infection.
In addition, if their driver's license is suspended pending prosecution at their criminal court arraignment, they will be left to public transportation and/or ride shares, which no one is interested in.
New York City is such a hotspot for DWIs because of the world-class nightlife options and the fact that alcohol is the social lubricant that keeps it all moving. With the quarantine in effect and nonessential businesses closed, no one is drinking outside of their home.
Unfortunately, we have seen a tremendous rise in domestic violence cases, which I believe is directly correlated to this. These cases have their own host of issues, as the mandatory orders of protection put the defendants in the precarious position of finding alternative places to live in this pandemic."
Todd Spodek manages Spodek Law Group P.C., a state and federal criminal defense practice.
Mr. Spodek has represented thousands of motorists in drunk driving-related criminal cases.
---
"Michigan has been particularly hard hit by COVID-19, and our governor has responded with a series of executive orders effectively ordering residents to shelter in place. Under the most recent order, citizens are allowed to leave their homes only for things necessary to sustain life, such as to obtain food and medicine.
Even then, Michigan's governor has ordered that citizens make maximum use of delivery services, meaning there is a near-total lockdown until May 1, 2020. Consequently, all bars and sit down restaurants are closed, as are public gatherings of almost any size, even in one's home.
While alcohol consumption in Michigan is on the rise during the pandemic, and while people are now drinking these copious quantities inside their homes, often as part of a virtual happy hour with friends, they are not leaving their homes or driving their cars.
As a result, the roadways are nearly empty, Michigan's economy is at a near halt, and with it, so too are DUI arrests. On top of this, police resources are strained by COVID-19 personnel losses, and the already strained police are refocusing efforts toward enforcing the governor's shelter-in-place orders. The confluence of these events has led to a drastic and statewide decrease in DUI arrests.
Year over year Michigan consistently sees more than 30,000 DUI arrests annually.
At the Barone Defense Firm, whose practice is focused on the defense of DUI cases, we predict that the number of arrests in 2020 will be closer to 10,000, a nearly 70 percent drop!
We also expect numbers to rise briefly after the stay-at-home order is lifted, and this will be due in part to the 'pent-up demand' as people return to socializing in bars and restaurants with a flourish.
The worst place for DUIs in Michigan is anywhere near a Taco Bell restaurant, a trend that is likely to continue even during the COVID-19 shut down. Over the years we consistently see large numbers of late-night DUI stops in and around this fast-food establishment, and the governor's order allows take-out restaurants to continue to operate.
If you're stopped in Michigan for DUI then expect harsh penalties to be imposed. Some judges place even first-time offenders in jail, and driver license sanctions always include suspension or revocation of the offender's driving privilege. For repeat offenders, jail is a near certainty, and sanctions can include vehicle immobilization or forfeiture.
A first offense in Michigan is punishable by up to 93 days in jail, or up to 180 days for a breath test above .17, or when there is a child occupant. Second offenders are looking at up to a year in jail with a minimum five days and for third-offense DUIs, the punishment is one to five years, with a mandatory 30-day jail term."
Patrick Barone is a Michigan criminal defense lawyer and founder of Barone Defense Firm.
Patrick co-authored two DUI-related books and is the editor of The DWI Journal, Law & Science.
---
"DUIs have significantly declined during the coronavirus pandemic. Much of this likely has to do with the fact that bars and restaurants are closed in Arizona.
Moreover, Arizona's recent stay-at-home order, as well as the request to limit gatherings to 10 or fewer people, has lessened the number of individuals on the roads and get-togethers where people often drink.
The lack of large events such as sporting events, festivals, concerts, etc. has also contributed to the decline. Overall, there is much less opportunity for individuals to drink and drive.
DUIs seem to be dropping the most in the areas which host large events or contain a large number of bars and restaurants. I have not seen a rise in DUIs as of yet.
In my experience, Arizona has some of the harshest DUI laws. I did some prosecutorial work back east years ago and DUIs were treated much less harshly.
For example, in Arizona, DUIs can be either felonies or misdemeanors, depending on the circumstances, but all have mandatory incarceration. A class 4 felony DUI is punishable with prison up to 3.75 years, and a minimum of four months in prison. In misdemeanor cases, there are several associated charges which depend on the level of alcohol in a person's system, but all are class 1 misdemeanors.
The range of mandatory minimum jail time can be anywhere from 10 days to six months, which can be partially reduced in some cases. DUIs also carry significant fines/fees, license suspension/revocation, DUI treatment classes, and mandatory ignition interlock for a lengthy period of time, to name a few.
Thus, DUI convictions carry significant penalties and are extremely costly. Definitely much cheaper to pay for an Uber and avoid what may be a life-changing situation for yourself and/or another."
Ashelee Weeks is a DUI and criminal defense attorney at JacksonWhite Law.
Ashelee also worked as a DUI Prosecutor for the Maricopa County Attorney's Office.
---
Many media outlets are reporting that DUIs are dropping during the coronavirus pandemic; in your expert opinion, is this true, and why?
"In my opinion as a DUI defense attorney and the owner of a law firm, it is true that DUIs are dropping during the coronavirus pandemic.
DUIs are significantly on the decline during the coronavirus in South Florida for two main reasons: Police are not conducting proactive patrols anymore during this time, and the bars, restaurants and clubs are closed.
Fewer people are drinking outside their homes. In Florida, all restaurants, bars, etc. are closed for sit-down service, which means the amount of people that are drinking and then driving has plummeted."
Where are DUIs likely to drop the most?
"Generally speaking, I believe DUIs are most likely to drop in all city centers and in all tourism-driven locations.
For example, typically the Fort Lauderdale and Miami beaches are swarmed with college students partying and drinking while on spring break at this time. Those beaches are major tourist and party destinations that now look more like ghost towns."
Is there anywhere that might see a rise in DUIs during the coronavirus pandemic?
"I don't believe there will be any rise in DUIs during the coronavirus pandemic, but I do expect to see a definite increase in DUIs when the pandemic is over.
Specifically, I anticipate there will be an increase in drunk driving in our third and fourth quarters when compared to 2019 or past years. People will be eager to be back in the bar, club, party, and restaurant scene and there will likely be an influx of DUI cases.
The only factor I can imagine that would potentially have the ability to increase DUIs during the pandemic would be there is likely a hesitancy to use rideshare services such as Uber and Lyft due to health concerns, but generally speaking — there is nowhere to go to drink, nor anywhere to go once a person has been drinking at this time, so we don't see an increase likely."
What are the penalties for a DUI?
"The penalties are different for DUI depending on your state and if it is a first or second (or repeat) offense. In Florida, DUI penalties have significant consequences.
If you refuse a breath test, the state will immediately suspend your driver's license for 10 days. Then, you only have those 10 days to challenge that suspension. If no action is taken, driver's licenses can be suspended anywhere from 6–18 months.
For a first-time DUI offense a person is typically charged with a misdemeanor and is looking at up to six, nine, or 12 months in jail depending on their blood alcohol content, if a minor was in the car or not, or whether or not there was an auto accident. Fines can range from $500 to $1,000 for a first-time DUI conviction in Florida.
Other penalties include losing a driver's license, vehicle impoundment, ignition interlock installation, probation, or state-mandated DUI classes or DUI school. DUIs can also affect professional careers, employment eligibility and even professional licenses such as medical licenses, therapy licenses, and more."
Do you have any DUI stories you can share?
"We have plenty of stories to share. One I'll share now was about a wrongful DUI arrest made on St. Patrick's Day last year.
Long story short, a woman was leaving work on St. Patrick's Day and she happened to be on one of the busiest drinking streets in all of Fort Lauderdale. Roads were crowded with people and cars. Weaving through a tight space — she accidentally hit a Fort Lauderdale Police officer's car.
Even though she showed no signs of impairment, meaning there was no probable cause to assume she was DUI, the officer called a DUI specialist to the scene. In the end, our client was wrongfully arrested and charged with a DUI even though she did very well on the sobriety exercises.
Thankfully, we were able to get body camera footage and prove that there was no probable cause. When the state attorney's office saw the video, they dismissed her DUI charge and our client only got a traffic ticket in the end."
Adam Rossen is the lead attorney at Rossen Law Firm.
DUI defense has been Adam's specialty for over 12 years since he started his law firm.
---
Drunk Driving Declines During the COVID-19 Pandemic
Fewer people on the road means fewer DUIs during the coronavirus pandemic. And though the pandemic itself is a tragedy, this drop in drunk driving is certainly a silver lining.
Given the large drops in traffic and the prior rates of DUIs, we expect to see the biggest potential reductions in DUIs during this time in California, Texas, Pennsylvania, Florida, and North Carolina.
Before the coronavirus pandemic, Wyoming, South Dakota, and Montana topped the list of the states with the worst DUI rates. Conversely, Massachusetts, Delaware, and Illinois topped the list of the states with the best drunk driving reports.
Even during this time of social distancing and sheltering in place, it's important to always have a plan to prevent DUIs by planning ahead. Have a designated driver on hand or a rideshare option at your fingertips to protect not only you and your roadway neighbors but also your wallet.
Free Auto Insurance Comparison
Enter your ZIP code below to view companies that have cheap auto insurance rates.
Secured with SHA-256 Encryption
FAQs: How Alcohol Can Help or Hurt to Fight the Coronavirus
We've covered the best and worst 10 states for DUIs and the five states that will experience a drop in DUIs due to the coronavirus. We've heard from the experts as well. Let's get to your frequently asked questions about the novel coronavirus and alcohol.
#1 – Does drinking alcohol prevent coronavirus disease (COVID-19)?
The answer on this one is fairly clear: Drinking alcohol does not prevent or cure the coronavirus. It doesn't matter if that alcohol is in the form of a beer or a drink with a higher concentration of alcohol such as vodka.
#2 – Does rubbing alcohol kill the coronavirus?
Rubbing alcohol with 70 percent alcohol or greater will kill the coronavirus on any surface within 30 seconds. Having a soltution handy in your home can keep it disinfected, especially when visitors come over.
#3 – What percentage of alcohol do you need to kill the coronavirus on surfaces?
As mentioned above, an alcohol solution with 70 percent or greater alcohol content will kill the coronavirus on any surface within 30 seconds. However, if the alcohol content gets too high — such as pure alcohol which has a 96 percent alcohol concentration — will evaporate too quickly on the surface to disinfect it.
#4 – Is a headache sign of the coronavirus disease?
Yes, a headache is a common symptom of the coronavirus along with other common symptoms like fatigue and body aches. However, these symptoms can occur with any number of illnesses and might not require medical care. If you have any concerns, generally calling your doctor is the first step in receiving care.
#5 – When should I seek emergency care if I have COVID-19?
There are certain symptoms that, when you experience them, it is recommended that you seek emergency care. These include trouble breathing, persistent pain or pressure in the chest, confusion, or bluish lips or face.
#6 – Why is COVID-19 a pandemic?
The World Health Organization declared COVID-19 a pandemic because of the speed that it spread throughout the world. It is now called a controllable pandemic if countries implement strong measures to control it and people in those countries adhere to those measures.
Methodology: Determining the States for a Coronavirus DUI Drop
USA Today's crime investigative unit was the first national outlet to report on the drop of crime during the coronavirus pandemic. We relied upon the findings of their investigation to address our own questions about the drop in DUIs and to conduct our own research.
Many local media outlets — including the Los Angeles Times, CBS Minnesota, and Fox 10 from Jacksonville, Florida — corroborated USA Today's findings, and helped us determine where authorities already knew and were reporting a drop in DUIs among overall crime more generally.
To rank the worst and best states for DUIs, we tabulated data from the National Highway Transportation Safety Administration (NHTSA) and traffic research firm INRIX. We formed our rankings based on three criteria from this most recent year of data available: drunk driving arrests, DUI arrests per 100,000 residents, and drunk driving fatalities.
The thorough research process for our comprehensive studies, such as this one on the drop of drunk driving during the coronavirus, includes an analysis of over 3,000 data points for all 50 U.S. states and the District of Columbia from a variety of government, nonprofit, academic, and industry sources.
Whether you need high-risk insurance or have a completely clean record, saving money on auto insurance is a big win for everyone. Compare quotes now using our free quote tool and start saving on auto insurance today.
Free Auto Insurance Comparison
Enter your ZIP code below to view companies that have cheap auto insurance rates.
Secured with SHA-256 Encryption
Editorial Guidelines: We are a free online resource for anyone interested in learning more about auto insurance. Our goal is to be an objective, third-party resource for everything auto insurance related. We update our site regularly, and all content is reviewed by auto insurance experts.