Auto Insurance in Hialeah, FL (The Complete Guide)
Looking for cheap auto insurance rates in Hialeah? The average driver pays $471.58/mo, but you can save money now by comparing rates today.
Free Auto Insurance Comparison
Secured with SHA-256 Encryption
The name "Hialeah" is believed to have come from the Muskogee Indian words "haiyakpo" and "hili." They combine to form "hialeah," which means "pretty prairie."
Since Native Americans settled there, the city of Hialeah has come a long way. It's now known for its industrial and economic growth.
Part of what drives that prosperity is transportation, which takes residents where they need to go. Cars are a popular form of transit, and as a law-abiding citizen, you must buy car insurance in the Sunshine State.
That's where this complete guide to auto insurance in Hialeah comes in. We'll explore car insurance costs, the factors that set rates, local laws, and other details to help you determine the coverage you need.
If you're ready to dive in, let's get started. To begin comparison shopping now, enter your ZIP code for a free quote.
The Cost of Car Insurance in Hialeah
Car insurance is known to be expensive in Florida, and in Hialeah, it's no different, with average annual premiums estimated at $5,659. And that's just one expense among many that drivers there face.
Which city you live in will have a major affect on car insurance. That's why it's essential to compare Hialeah, FL against other top US metro areas' auto insurance rates.
But, the good news is, you're not alone. We're here to help. In this section, we'll cover everything that factors into your car insurance rates, from your age, gender, and marital status to your driving record.
If you're ready, "buckle up" for an informative ride.
Male vs. Female vs. Age
Data USA has found that the median age in Hialeah is 44. Many drivers there are experienced and old enough to pay less for their car insurance premiums.
These states no longer use gender to calculate your auto insurance rates — Hawaii, Massachusetts, Michigan, Montana, and North Carolina, Pennsylvania. But age is still a big factor because young drivers are considered high-risk drivers in Hialeah. Florida does use gender, so check out the average monthly auto insurance rates by age and gender in Hialeah, FL.
Speaking of age, below is a breakdown of how much the most common age groups pay for auto insurance in Hialeah.
Hialeah, FL auto insurance rates by company and age is an essential comparison because the top auto insurance company for one age group may not be the best company for another age group.
As you can see, 60-year-olds pay the cheapest rates.
Gender bias is legal when it comes to car insurance rates in Florida. Fortunately, gender isn't the biggest factor in setting prices, because in Hialeah. Females pay an average of $6,848 for car insurance while males pay $7,178 — a difference of only $300.
Now, let's see how age, gender, and marital status combined affect car insurance rates:
Not surprisingly, married 60-year-old females pay the lowest prices in Hialeah, a whopping $11,000 less than 17-year-olds.
Cheapest ZIP Codes in Hialeah
If you live in an area prone to natural disasters, lots of fraud claims, and other crimes, you may end up paying more for your premiums. Here's how your ZIP code affects rates among Hialeah neighborhoods.
Find more info about the monthly Hialeah, FL car insurance rates by ZIP Code below:
From 33010 to 33015, there's a range of over $400 from the highest to the lowest prices among all the districts.
What's the best car insurance company in Hialeah?
Finding the right car insurer can be exhausting. You may explore auto insurance costs, company reviews, and financial ratings and end up more confused than when you started.
The cheapest Hialeah, FL auto insurance company can be discovered below. You then might be asking, "How do those rates compare against the average Florida auto insurance company rates?" We cover that as well.
This section is here to simplify the process; we'll cover the most important factors to consider when you're shopping for car insurance.
Let's dive in.
Cheapest Car Insurance Rates by Company
Price is a major factor for some drivers when picking out car insurance. Here's how rates compare among the top insurers in Hialeah:
Geico and USAA, a niche insurer for the military, offer the lowest rates across the board.
Best Car Insurance for Commute Rates
How far you drive regularly also factors into your car insurance costs. The more you drive, the greater your risk of getting into an accident.
Floridians drive an average of 14,465 miles yearly.
So, with the increased risk, insurers tend to charge more for higher mileage. Here are the rates top insurers charge for 10- to 25-mile commutes:
Nationwide and Progressive were the only two insurers who didn't base their rates on mileage. Among those who do, Geico had the lowest price difference from 10- to 25-miles, about $46, but with Allstate, it added up to nearly $700.
Best Car Insurance for Coverage Level Rates
The higher your coverage level, the more protection a company will offer for an accident. But full coverage isn't always affordable.
Your coverage level will play a significant role in your Hialeah, FL auto insurance rates. Find the cheapest Hialeah, Florida auto insurance rates by coverage level below:
Here's how prices vary for different coverage levels among the top insurers in Hialeah.
USAA and State Farm offered the lowest price gaps from lowest to highest coverage, which means that some drivers may be able to find room in their budgets for the best coverage.
Best Car Insurance for Credit History Rates
Your credit score also influences car insurance rates. Often, drivers with poor credit pay more than those with good credit. Let's see how credit history affects prices in Hialeah.
Your credit score will play a major role in your Hialeah, FL auto insurance rates unless you live in these states where discrimination based on credit is not allowed: California, Hawaii, and Massachusetts. Find the cheapest Hialeah, Florida auto insurance rates by credit score below.
Nationwide had the lowest price increase from poor to good credit at just over $3,100, and with Allstate, the difference amounted to almost $9,000. This shows that credit score is a major influence on car insurance rates.
Best Car Insurance for Driving Record Rates
Just one accident or violation on your driving record will affect your car insurance costs. Below are the major and minor driving infractions insurers look at when they factor your rates in Hialeah.
Your driving record will affect your Hialeah auto insurance rates. For example, a Hialeah, FL DUI may increase your auto insurance rates 40 to 50 percent. Find the cheapest Hialeah, FL auto insurance rates by driving record.
With USAA and State Farm, your car insurance premiums can increase after one speeding ticket by over $150 and $500, respectively.
Car Insurance Factors in Hialeah
Above, we explored the most common factors insurers use to set their car insurance rates. Let's look further at lesser-known influences in Hialeah, including the local economy, your job, education level, and your income.
Factors affecting auto insurance rates in Hialeah, FL may include your commute, coverage level, tickets, DUIs, and credit. Controlling these risk factors will ensure you have the cheapest Hialeah, Florida auto insurance.
Metro Report – Growth & Prosperity
The Brookings Institute's Metro Monitor shows that the Miami-Fort Lauderdale-West Palm Beach area ranks 21st out of 100 cities nationwide for economic growth and 67th out of 100 for prosperity. The economy there is strong, but on average, productivity, wages, and the standard of living rank below the national average, which means that prosperity there is stagnant.
Let's see the statistics up close:
Prosperity
Prosperity captures changes in the average wealth and income an economy produces. When worker productivity contributes to a metropolitan area's growth, through innovation or training, for example, the value of those workers' labor rises.
This is how the area grew from 2007 to 2017:
Productivity: +1.6 percent (22nd out of 100)
Standard of living: +2.5 percent (15th out of 100)
Average annual wage: +1.4 percent (24th out of 100)
Productivity, the standard of living, and the average annual salary all showed modest, steady growth.
Growth
Growth indicators measure the change in the size of an urban area's economy and its level of entrepreneurial activity. Growth and entrepreneurship create new opportunities for individuals and can help a metro economy become more efficient.
These figures measure growth in the gross metropolitan product, the number of jobs, and the number of positions at young firms.
Here's how the Miami-Fort Lauderdale-West Palm Beach area grew from 2007 to 2017:
Jobs: +1.7 percent (36th out of 100)
Gross metropolitan product (GMP): +3.4 percent (22nd out of 100)
Jobs at young firms: +2.6 percent (62nd out of 100)
Like the prosperity statistics, job and GMP growth were stable in the area.
Now, let's see how the economy drives Hialeah residents' incomes, occupations, and levels of homeownership.
Median Household Income
According to Data USA, Hialeah households in 2017 had a median annual income of $31,012, which was almost half the U.S. average annual income of $60,336. Despite the low income level, the Hialeah average yearly income grew 4 percent from 2016.
How much of this income pays for car insurance? Based on the average annual car insurance premium cost of $5,659 in Hialeah, 19 percent of drivers' wages go to insuring their vehicles.
If you want to see how much you pay for car insurance, try our free calculator below.
Homeownership in Hialeah
Homeownership shows that a driver may be more reliable and able to pay car insurance premiums. If you own a home, you could pay less for car insurance than if you rent. To save more, homeowners can also bundle their car and home insurance.
Data USA figures show that in 2017, 45.5 percent of the housing units in Hialeah were owner-occupied, which was a slight decline from 45.7 percent in 2016.
In 2017, the median property value in Hialeah grew to $174,300 from the previous year's value of $163,600.
Education in Hialeah
Data USA numbers show that in 2016, universities in Hialeah awarded 2,184 degrees.
The largest universities in Hialeah by the number of degrees awarded are Florida National University-Main Campus (557 and 26 percent of total degrees awarded), Beauty Schools of America-Hialeah (348 and 16 percent), and La Belle Beauty School (278 and 13 percent).
The most popular majors in Hialeah are General Cosmetology (235 and 11 percent of students), Dental Assisting (225 and 10 percent), and HVAC & Refrigeration Engineering Technology (196 and 9 percent).
Community colleges, which offer degrees and certificates in a broad range of fields, are also a lower-cost alternative to traditional schools.
CBT College, a community college with a focus on trade careers, offers degrees and certificates in HVAC, A/C and Refrigeration, and many other popular occupations and majors in Hialeah.
Wage by Race & Ethnicity in Common Jobs
Data USA reports that in 2017, Asians were the highest paid race/ethnicity among Florida workers. Asians were paid 1.08 times more than Alaska Natives, who made the second-highest salary of any race/ethnicity.
The table below shows how much the top races and ethnicities in Florida earn in middle management positions.
As the highest paid race/ethnicity, 6 percent of Asians' incomes went to car insurance. As you might've guessed, workers with higher salaries pay a lower percentage of their income toward car insurance.
Keep in mind that the cost of the premium listed is an average and might not reflect your experience.
Wage by Gender in Common Jobs
Data USA has also found that, on average, males in Hialeah earn 1.34 percent more than females. Here's how much they earn, together with the percentage of their salaries that pay for car insurance:
Hialeah Female Average Salary – $44,078 — 13 percent of their incomes go to car insurance
Hialeah Male Average Salary – $58,931 — 10 percent of their wages pay for auto insurance
Despite the large pay gap between the sexes, women often pay less for car insurance than men because they tend to get into fewer accidents.
Poverty by Age & Gender
Data USA has found that the largest demographic living in poverty in Hialeah is females age 35-44, followed by females 65-74, and females 75 and older. Twenty-six percent of Hialeah residents live below the poverty line, which is double the national average of 13 percent.
The Census Bureau uses a set of money income thresholds that vary by family size and composition to determine who classifies as impoverished. If a family's total income falls below their thresholds, the Census Bureau classifies that family and every family member as living in poverty.
Poverty by Race & Ethnicity
Per Data USA figures, the poorest race or ethnicity in Hialeah is Hispanics (59,326 people), followed by whites (58,063 people) and blacks (1,662 people).
Employment by Occupations
Data USA statistics show that from 2016 to 2017, employment in Hialeah grew at a rate of 2 percent, from 104,000 to 106,000 employees.
The most common jobs in Hialeah are office and administrative support occupations (17,130 people), sales and related occupations (11,523 people), and construction and extraction occupations (9,422 people).
Free Auto Insurance Comparison
Enter your ZIP code below to view companies that have cheap auto insurance rates.
Secured with SHA-256 Encryption
Driving in Hialeah
When you hit the road in Hialeah, several potential frustrations await: congested highways, worn pavement, and accidents, to name a few. They can cause delays that affect your ability to get to your destination on time.
To make your driving life easier, we'll explore the major highways, road conditions, popular road trips, and more.
Let's dive in to discover everything about local roadways.
Roads in Hialeah
First up, we'll focus on the city's highways for a bigger picture of local traffic conditions.
Major Highways
Twelve active interstates criss-cross Florida cities, making up 1,497 miles of roadway. Two of these routes, I-195 and I-95, run through Hialeah's home county of Miami-Dade.
Below are the major highways near Hialeah: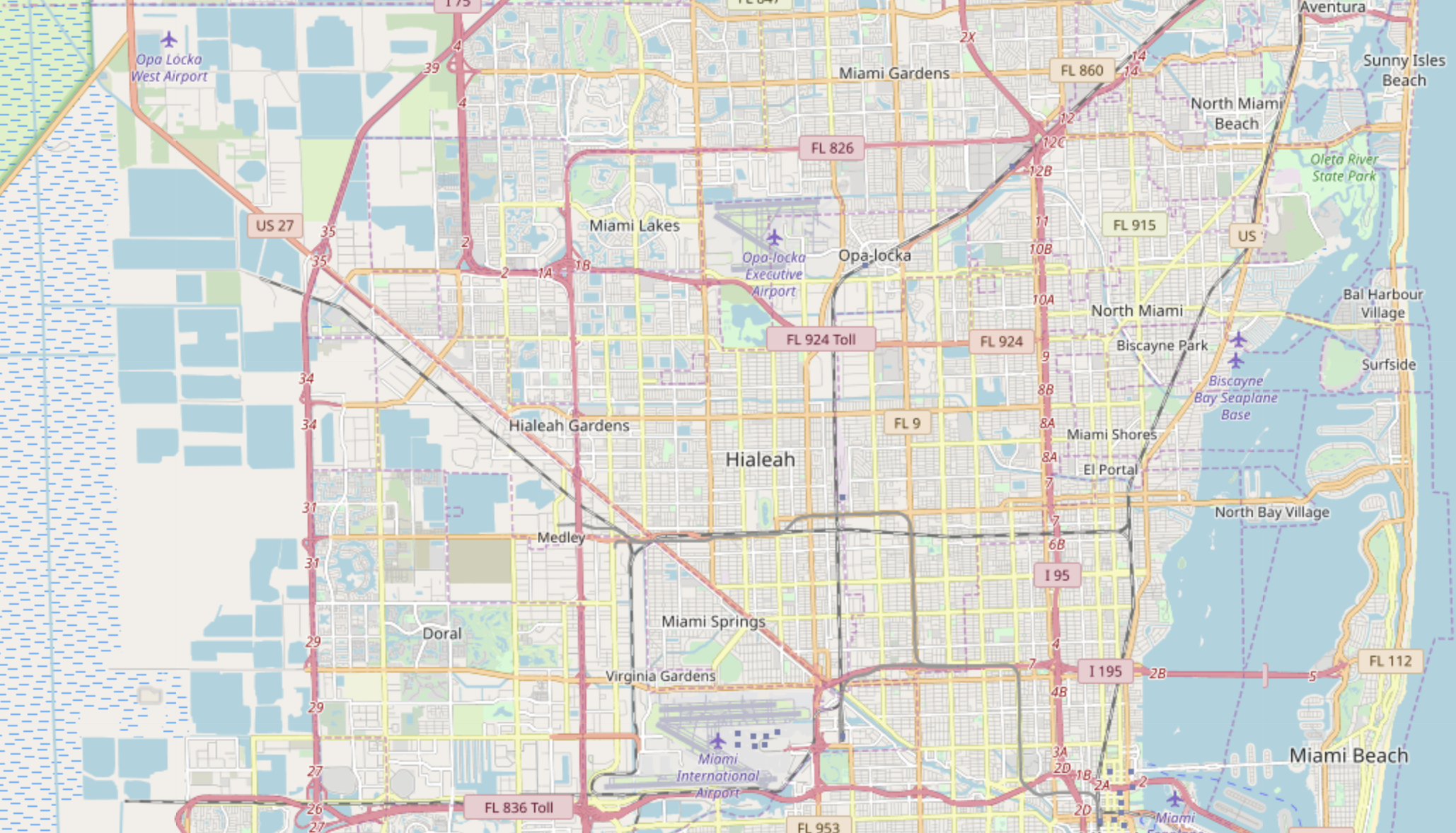 Spanning over 700 miles, Florida is said to have the most toll roads in the U.S. Fortunately, the Sunshine State has installed cashless toll booths to save time. Florida's SunPass system uses prepaid toll devices.
The SunPass device costs an average of $20. There is usually a minimum prepaid fee to open an account, and then users can choose the payment amount to place on their devices. Despite the high number of tolls, SunPass carriers pay the lowest rates on Florida's highways.
Popular Road Trips/Sites
Hialeah offers plenty to see and do for everyone, from lighthouses to weekend getaways and the wonders of nature.
Nature Trip – If you love the outdoors or want a break from city life, check out these scenic destinations.
National Historic Landmarks – Explore some of Hialeah's most notable historic sites.
Hidden Local Attractions – Everything from the Gallery of Amazing Things to beautiful conservation parks await.
Lighthouse Trip – Florida's seashores feature several lighthouses.
Mysterious, Haunted Trip – Perfect for any time of year — not just Halloween — these sites offer plenty of thrills and chills.
Events and Things to Do – Find out what's going on soon in the city.
Want more? The travel video below offers additional suggestions:
Road Conditions
Below are pavement conditions and vehicle operating costs in Miami from TRIP, a national transportation research group:
Most roads in the area are in mediocre condition; many more are in good condition. It helps to be aware of road safety conditions. Vehicle Operating Costs (VOC) can include repairs from driving over potholes or road debris along the highway.
Does Hialeah use speeding or red light cameras?
According to the Insurance Institute for Highway Safety (IIHS), Hialeah doesn't use speeding or red light cameras.
The news report below details state laws allowing Florida cities to install red light cameras.
Red light violations can ultimately increase your car insurance rates, so it makes sense to obey the law wherever you drive.
Vehicles in Hialeah
Which vehicles are popular in Hialeah? And how many of them are stolen? Information like this is good to know, as it could end up affecting your insurance rates. We'll cover these and more facts about vehicles and car ownership below, so read on.
Most Popular Vehicles Owned
YourMechanic tracks the types of cars it services nationwide and breaks down the information by each major city to show Americans' car preferences.
According to their survey, 39 percent of the vehicles they repair in Miami are American-made, and the most popular car there is the Lexus ES350.
Consumer Reports ranks the 2020 model third out of 21 luxury mid-sized cars. The vehicle gets 25 miles per gallon of gas and receives good ratings from the IIHS for crash and rollover tests. It gets mostly four and five stars from the National Highway Traffic Safety Administration (NHTSA).
Overall, Consumer Reports gave it a score of 87 out of 100 for performance, reliability, and owner satisfaction. The score also reflects the availability of front-crash prevention systems and IIHS and NHTSA crash-test results.
The publication found the ES "a rewarding choice for a road trip thanks to its absorbent ride and indulgent interior." They continue, "Shoppers who are drawn to the ES because of its reputation as a cushy cruiser won't be disappointed. The cabin remains hushed and the suspension steadily smooths out rough roads. At the same time, the car handles better than its predecessor, with responsive steering and restrained body lean. That said, it's still not in the sports sedan league of, say, the BMW 3 Series or Infiniti Q50."
The video below highlights the car's features:
https://youtu.be/Jf_sEla66HQ
How Many Cars Per Household
According to Data USA, most households in Hialeah own an average of two cars, followed by three vehicles. These statistics nearly match the national averages.
Households Without a Car
The table below reveals how many Hialeah households on average own and don't own cars.
From 2015 to 2016, the number of households without cars decreased, while the number of vehicles owned increased slightly.
Speed Traps in Hialeah
Speedtrap.org keeps track of speed traps all across the U.S., as reported by its users. There is some debate as to what does and doesn't constitute a speed trap, but most agree that drivers should be especially cautious on West 8th Avenue near 37th Street.
Vehicle Theft in Hialeah
The Federal Bureau of Investigation (FBI) reports that in 2017, 685 vehicle thefts occurred in Hialeah.
Neighborhood Scout also notes crime statistics for U.S. cities. The safest districts in Hialeah include the neighborhood of Northwest 87th Avenue and West 74th Street.
The site gives the city a Crime Index of 25, which means it's 25 percent safer than other U.S. cities. In Hialeah, your chances of being a victim of violent crime are one in 495. Statewide, however, they increase to one in 245.
For a closer look at the crimes that occur in Hialeah, below is a chart showing figures from 2017:
Fewer than 10 percent of the overall crimes in Hialeah were violent crimes, which means you're more likely to be the victim of a property crime there.
Traffic
Car insurers also explore traffic patterns in an area to see how congested it is — the more cars on the road, the more accidents are likely to happen.
Below, we'll cover traffic congestion in Hialeah, the busiest highways, and the safety of its roads.
Traffic Congestion in Hialeah
In 2018, Inrix's traffic scorecard ranked nearby Miami 73rd for the most traffic congestion worldwide, and 12th nationwide. Here's how the stats stack up:
During peak traffic in the morning and evening, drivers' average speed was 29 mph. Outside of "rush hour" commute times, the speed increased to 46 mph, and in free-flowing traffic, it rose to 56 mph.
So, to avoid congestion, keep this data in mind if you travel to Miami, especially during peak traffic times in the morning and evening.
Transportation
Data USA research reveals that in 2017, most commuters in Hialeah drove alone (78 percent), followed by those who carpooled (9 percent).
Busiest Highways
According to the Florida Department of Transportation, the most congested highways near Hialeah are interstates 95 and 195. So if you're in the area, remember to steer clear of congestion at busy times of the day, and if possible, consider other routes in your travel plans.
How safe are Hialeah streets and roads?
In this section, you'll find out how many fatal accidents happened in Miami-Dade County in 2017 courtesy of the National Highway Traffic Safety Administration (NHTSA). We'll cover everything from total fatalities by county to vehicle and railroad accidents.
Below are the total crash deaths by county in 2017:
Quite a few crash deaths occurred in Miami-Dade County — nearly 300 — in just one year alone.
Next, we'll look at the fatal crashes that involved drunk driving.
Almost a quarter of the overall crash fatalities happened as a result of alcohol consumption and poor judgment.
Several different types of fatal crashes occurred in Miami-Dade County, as you'll see below.
Most of the crashes involved intersections, followed by single vehicles.
As shown below, the crashes also involved different types of people.
Most of the people killed were vehicle passengers.
Going one step further, these are the number of crash deaths that occurred by road type and function class in Florida:
Most of the crashes occurred on other, unknown, and arterial roads. An arterial road is a high-capacity urban road. Depending on the amount of traffic, the arterial road may be classified as a highway or a minor arterial road.
A collector road gathers traffic from local roads and takes drivers to arterial roads.
Per the U.S. Department of Transportation (DOT) data, the table below shows the number of railroad and highway crash incidents that happened in Miami-Dade County from 2012 to 2016:
In those five years, fortunately, few rail/car incidents occurred; most of them involved vehicles.
These statistics highlight the importance of driving safely and how risky behavior can lead to penalties that increase insurance rates, or even worse, deaths.
Allstate America's Best Drivers Report
Allstate America's Best Drivers Report tracks the numbers of accident claims drivers make nationwide. According to Allstate claims data, the average driver in the U.S will experience a collision once every 10.57 years.
In 2019, Hialeah ranked 125th out of 200 major cities on the report, up from 138th the prior year. The chart below shows residents' insurance claim statistics.
Drivers in Hialeah went an average of eight years between accident claims, and they were 26 percent more likely to file a claim compared to the national average.
Ridesharing
Below are the ridesharing services available in Hialeah beyond regular taxi rides.
Blacklane – Blacklane luxury vehicles seat one to five people.
Lyft – This lowest cost Lyft service will grant you a request for a regular four-seat car.
Lyft Lux – A premium black car service limited to only the most luxurious makes and models.
Lyft Lux SUV – A premium black SUV service with space for up to six passengers.
Lyft Premier – Lyft's luxury service. A request for a Lyft Premier will grant you a high-end four-seat car.
Lyft XL – This is the best Lyft option for larger groups. A Lyft Plus car can seat six or more passengers. Fare prices tend to run higher than a regular Lyft ride to compensate van and SUV drivers for their higher vehicle running costs.
Uber Black – Uber's original luxury service. When you select an Uber Black car, a high-end sedan with seating for up to four people will arrive to pick you up.
Uber Select – This service is similar to Uber Black, but the car with four leather seats doesn't have to be black. It's a step above UberX, and costs slightly less than Uber Black.
Uber SUV – This is Uber's luxury option for larger groups. When you choose an Uber SUV, a high-end SUV with seating for up to six people will arrive to pick you up.
Uber X – This budget service gives riders a regular-size car that seats four.
Uber XL – Uber's service for larger groups will seat up to six passengers.
E-star Repair Shops
A program from Esurance, E-star helps drivers find the best repair shops in their areas. According to E-star, these are the top 10 repair shops in and around Hialeah:
Only one repair shop is in Hialeah, but the rest are within 20 miles of the city.
Weather
U.S. Climate Data reveals that temperatures in Hialeah are warm throughout the year, with average highs of 82 and lows of 70 degrees. The area gets a lot of rain — an average of five inches per month.
City-Data shows that Miami-Dade County averages eight natural disasters yearly, which is lower than the U.S. average of 13. Every year, an average of three natural disasters lead to emergency declarations and three are presidential declarations.
Below is a breakdown of the causes of the disasters. Note: some incidents may be assigned to more than one category.
Hurricanes: 6
Tropical Storms: 2
Tornados: 1
Miami-Dade County experiences several dangerous storms, including hurricanes, annually. They can cause heavy rains and flooding.
Given the risks involved, it makes sense to buy comprehensive car insurance for protection from floods, storms, and other hazards that can damage your vehicle.
Public Transit
Public transportation is a convenient option for people who don't own vehicles or who have cars that need repair.
Hialeah residents can take the Metrorail or Metrobus. The base fare for both forms of transportation is $2.25, and monthly passes cost $112.50. You can also buy transfers and more.
Discounts are available, too, so check out all of the fares in Miami-Dade County.
Alternate Transportation
Major bike and scooter rental companies, such as Lime and Bird, don't currently operate in Hialeah, but you'll find them in other Miami-Dade County cities.
Download the companies' apps to compare prices and explore how "pedal power" can take you for a ride and open you up to sights you haven't seen before.
Parking in Metro Areas
Hialeah offers plenty of parking options, whether you want to use street-level metered parking or a parking garage.
If you drive an electric vehicle, Hialeah also has 147 electric charging stations available for your convenience.
Air Quality in Hialeah
Pollution from vehicle exhaust has been linked to health issues and even climate change. The pollution not only goes directly into the earth's atmosphere, but it also reacts with other pollutants, making a bad situation worse.
Children and people with chronic illnesses can be most sensitive to the effects.
Below are Environmental Protection Agency (EPA) air quality statistics for Miami-Dade County from 2016 to 2018.
There are currently no emissions test requirements for vehicle registration in the state of Florida. Then-governor Jeb Bush did away with state emissions testing in 2000 due to the high cost of the program – $50 million annually – and because Florida met all federal Clean Air standards.
Military/Veterans
Car insurance is expensive, and some veterans and active military members may struggle to afford it.
Luckily, many insurers offer military discounts to honor our armed forces and help them save money. Below, we've gathered information about those discounts, together with facts about when local veterans served and nearby military bases.
Keep reading to find out how much you can save.
Veterans by Service Period
Data USA statistics reveal that Hialeah has a large population of military personnel who served in the most recent Gulf War, followed by Vietnam veterans. The number of Gulf War vets living here is double the national average.
Military Bases Within an Hour
Founded in 1903, the United States Southern Command now manages all U.S. military activities from Latin America to the Caribbean and the Gulf of Mexico. They specialize in protecting the U.S from drug smuggling and threats to homeland security.
Military Discount by Providers
If you are or were in the U.S. military, most car insurance companies will want to give back by serving you. Many of them offer military discounts.
Below is a list of known providers who give military discounts. We excluded those who offer military discounts only in certain states.
*USAA gives a 15 percent military garage discount for garaging cars on a military base.
USAA Available in Florida
USAA provides car insurance only to U.S. military personnel and their families. The company's insurance premiums tend to cost less than those of standard insurers.
Below, you will see how USAA's rates and those of other insurers compare to the cost of average annual full coverage premiums in Florida.
Compared to standard insurers, USAA has the lowest rates. They're also lower than the state average by over 60 percent.
Unique Hialeah Laws
Knowing your city's laws can help you avoid a ticket and the costs involved.
To help you remain a law-abiding citizen, in this section, we'll cover laws unique to Hialeah, like those related to food trucks and parking.
Keep reading to find out what you should know about local regulations.
Hands-Free Laws
In Florida, it's illegal to text while driving. Drivers may use hands-free devices. As of October 2019, it's against the law to hold your cellphone if you are driving near a school or work zone in Florida.
The news report below goes into more detail about the new law.
Food Trucks
For food truck vendors, Miami-Dade County has specific laws:
They must carry a Certificate of Use
They must operate their food trucks in proper zoning areas
They can't sell alcohol
They must follow the listed hours of operation:

7 a.m. to 10 p.m. weekdays
7 a.m. to 11 p.m. weekends
Among the other regulations, food truck owners must also follow laws about parking, music use, and more. Fees for a Miami-Dade County Department of Public Health inspection, permitting, and certification are $25.
Tiny Homes
Tiny homes appeal to people who want to simplify their lives. Before you abandon standard housing, you should be aware that tiny homes have specific regulations.
A tiny house is usually considered a mobile home and must follow the same laws. If you are on a plot of land, you will need access to a septic tank, water, and other utilities before you can be approved to live on the land legally.
In Miami-Dade County, mobile homes are not allowed to park outside of approved mobile home parks. There are a few exceptions to this law, but owners of tiny homes must meet certain requirements.
Parking Laws
In Hialeah, when you parallel park, except where expressly designated, every vehicle must be parked in the direction of traffic. Otherwise, you may get a ticket.
Free Auto Insurance Comparison
Enter your ZIP code below to view companies that have cheap auto insurance rates.
Secured with SHA-256 Encryption
Hialeah Car Insurance FAQs
Still need answers? With all of the information available at your fingertips, you may feel overwhelmed in your search to find just what you need. We get that.
To help clear up your confusion and answer your questions, below we'll answer some of the most frequently asked questions about Hialeah and car insurance available there.
Get ready to learn even more.
How far is Hialeah, Florida, from Miami, Florida?
According to Distance Between Cities, Miami and Hialeah are 8.53 miles apart going northwest and 12 miles by car along route FL 934. The drive takes about 18 minutes.
What is Hialeah famous for?
As the city states, "Hialeah's vibrant community is viewed as an American industrial city that continues to grow. Hialeah is one of the largest areas for employment and economic development in Miami Dade County and the City of Hialeah is one of its largest employers."
What car insurance do I need in Florida?
As a "no-fault" state, after a car accident, your insurance will pay medical expenses and monetary losses for you and everyone covered under your policy, regardless of who caused the collision.
Under the Florida Motor Vehicle No-Fault Law, all owners and registrants of a motor vehicle with four wheels or more must carry a minimum of $10,000 of personal injury protection (PIP) and $10,000 of property damage liability (PDL).
PIP includes rehabilitation, loss of earnings, and funeral expenses. The state doesn't require bodily injury liability coverage. PDL covers accident-related property damage, such as a dented fender.
Why are car insurance rates so high in Florida?
As a "no-fault" car insurance state, everyone involved in an accident must file a claim with their insurance company to pay for damages. The state-required minimum $10,000 personal injury protection (PIP) coverage pays for only 80 percent of medical bills and 60 percent of potential lost wages or income.
Because of the low minimum required coverage, many drivers need higher coverage levels and end up paying more for them.
Damage from storms and hurricanes is another major risk factor insurers consider when they set their rates in Florida; these companies also make up for losses by setting higher rates.
What happens if you have no car insurance in Florida?
In Florida, the fine for driving without auto insurance is $150-$500, depending on the number of offenses. Drivers who are caught driving without car insurance will have their licenses, registrations, and license plates suspended and could face jail time.
The table below shows the penalties for the different levels of offenses:
Given the penalties involved, it's wise to carry a current car insurance policy whenever you hit the road.
How was this complete guide to auto insurance in Hialeah? We hope you found it helpful. If you're ready to compare rates, enter your ZIP code in our FREE quote tool.