Liberty Mutual Auto Insurance Review (2020)
The average Liberty Mutual auto insurance rate is $441.29/mo. Liberty Mutual offers auto insurance discounts for policies purchased online.
Free Auto Insurance Comparison
Secured with SHA-256 Encryption
You know this scenario: You've been with your insurance company—let's call them Buddy's Auto Insurance—for the past three years. But lately, it seems…its customer service hasn't been good. It didn't pay out on a claim when your car was vandalized.
Your rates went up 20 percent, and they couldn't give you an explanation of why. So you want to switch.But the question is how? And to whom? Running into problems with your insurance company is never good, and it may seem difficult to switch.
After all, insurance has all these phrases that can be difficult to understand—auto insurance deductibles, premiums, hard-braking incidents, comprehensive and collision auto insurance, GAP coverage. These are the technical terms of car insurance, and they can be confusing.
We understand—and have got you covered.
Here follows a review of a company you might have been thinking about signing up for—Liberty Mutual.
You may have been enticed by its Emu commercials, heard good things about its claims process, or know that it does good in the community.
But you may have questions:
What are its rates across states?
What do its employees say about it?
What are its financial strength ratings?
We have all that and much, much more.
From financial strength ratings to employee experience, from how its rates vary by state and how easy it is to navigate its website, here is the complete guide to Liberty Mutual.
Ready to compare rates? Try our FREE online tool.
Liberty Mutual Auto Insurance Rates
We've all been there:
It's the first of the month and that envelope comes through the mail.
It's in that standard logo and color pattern of your car insurance company. It's an uneasy moment and you feel a churn in the stomach. You open, see the statement, and the bold number jumps out at you.
The first thing you say: How did they get that number?
Car insurance rates are set according to numerous factors:
Driving record
Credit history
Whether you're male or female
Liberty Mutual does things no differently than the rest when it comes to factors.
So what are Liberty Mutual's rates?
Liberty Mutual Availability and Rates by State
Car insurance prices vary by state.
The reason being is that in some states there is a higher likelihood of filing a claim, which drives up costs for the company, leading to higher rates for the consumers.
These reasons can anything from more hard-braking incidents, more accidents, more thefts, or more violations.
| State | Annual Premium | Higher/Lower Than State Average | % |
| --- | --- | --- | --- |
| Alaska | $5,295.55 | $1,874.04 | 54.77% |
| Alabama | $4,005.48 | $438.52 | 12.29% |
| Arkansas | – | - | - |
| Arizona | NA in State | - | - |
| California | $3,034.42 | -$654.51 | -17.74% |
| Colorado | $2,797.74 | -$1,078.65 | -27.83% |
| Connecticut | $7,282.87 | $2,663.95 | 57.67% |
| District of Columbia | – | - | - |
| Delaware | $18,360.02 | $12,373.69 | 206.70% |
| Florida | $5,368.15 | $687.69 | 14.69% |
| Georgia | $10,053.44 | $5,086.61 | 102.41% |
| Hawaii | $3,189.55 | $633.91 | 24.80% |
| Iowa | $4,415.28 | $1,434.00 | 48.10% |
| Idaho | $2,301.51 | -$677.58 | -22.74% |
| Illinois | $2,277.65 | -$1,027.83 | -31.09% |
| Indiana | $5,781.35 | $2,366.38 | 69.29% |
| Kansas | $4,784.42 | $1,504.80 | 45.88% |
| Kentucky | $5,930.97 | $735.57 | 14.16% |
| Louisiana | – | - | - |
| Maine | $4,331.39 | $1,378.12 | 46.66% |
| Maryland | $9,297.55 | $4,714.85 | 102.88% |
| Massachusetts | $4,339.35 | $1,660.50 | 61.99% |
| Michigan | $20,000.04 | $9,501.40 | 90.50% |
| Minnesota | $13,563.61 | $9,160.36 | 208.04% |
| Missouri | $4,518.67 | $1,189.74 | 35.74% |
| Mississippi | $4,455.94 | $791.37 | 21.60% |
| Montana | $1,326.11 | -$1,894.73 | -58.83% |
| North Carolina | $2,182.71 | -$1,210.40 | -35.67% |
| North Dakota | $12,852.83 | $8,686.99 | 208.53% |
| Nebraska | $6,241.52 | $2,957.84 | 90.08% |
| New Hampshire | $8,444.41 | $5,292.64 | 167.93% |
| New Jersey | $6,766.62 | $1,251.40 | 22.69% |
| New Mexico | – | - | - |
| Nevada | $6,201.55 | $1,339.85 | 27.56% |
| New York | $6,540.73 | $2,250.85 | 52.47% |
| Ohio | $4,429.74 | $1,720.03 | 63.48% |
| Oklahoma | $6,874.62 | $2,732.30 | 65.96% |
| Oregon | $4,334.55 | $866.78 | 25.00% |
| Pennsylvania | $6,055.20 | $2,020.70 | 50.09% |
| Rhode Island | $6,184.12 | $1,180.76 | 23.60% |
| South Carolina | – | - | - |
| South Dakota | $7,515.99 | $3,533.72 | 88.74% |
| Tennessee | $6,206.69 | $2,545.80 | 69.54% |
| Texas | – | - | - |
| Utah | $4,327.76 | $715.87 | 19.82% |
| Virginia | – | - | - |
| Vermont | $3,621.08 | $386.95 | 11.96% |
| Washington | $3,994.73 | $935.41 | 30.58% |
| West Virginia | $2,924.39 | $329.03 | 12.68% |
| Wisconsin | $6,758.85 | $3,152.79 | 87.43% |
| Wyoming | $1,989.36 | -$1,210.72 | -37.83% |
| Median | $5,295.55 | $1,634.66 | 44.65% |
Liberty Mutual's rates vary significantly from state to state. There is an $18,700 difference between the average premiums in Michigan ($20,000) and Montana ($1,300).
Comparing the Top 10 Companies by Premium Average
Companies offer different rates for different reasons.
Cost of doing business like employee salaries and operational costs
Likelihood of driver filing a claim
Different levels of coverage limits
However, some are on average higher and the others and some are lower.
Liberty Mutual clears the field by about $1,200. It is 20 percent more expensive than the nearest competitor (Allstate; $4,900). And it is 58 percent more expensive than the cheapest competitor (USAA; $2,500).
While there are some outliers here working against Liberty Mutual (five of the states in the previous section have over $10,000 average premiums), it is still the most expensive—and it's not remotely close.
Average Liberty Mutual Male vs Female Insurance Rates
Whether you're male, female, single, married, young, or old all affect your rates.
There's a $10,200 difference between a single 17-year-old and a married 60-year-old woman.
Unlike most companies, Liberty Mutual has a significant difference between male and female rates for all but one age bracket.
$2,000 for 17-year-olds
$550 for 25-year-olds
$54 for 35-year-olds
$235 for 60-year-olds
All of these favor the women.
The reason being is that women, in general, are seen as safer drivers than men, less likely to file a claim, which leads to them having lower premiums, though this is not always the case.
Married versus single works the same way.
There's a perception that when you're married, you're less likely to take risks like speeding or weaving through traffic. You're also likely to be financially secure, which means you're more likely to pay the premiums. All of these results in discounts, either formally, or through rates.
The young versus old should speak for itself.
Rates by Make and Model Last Five-Year Average
Car insurance rates vary by make and model for numerous reasons.
The value of the car bought straight off the lot
The year of the car, or how much it's depreciated
The size of the car, as larger, boxier cars are more likely to be involved in accidents
This can cause rates to fluctuate a little bit, while presumably staying close to other vehicles of the same make and model.
The newer models all cost more to insure. The surprising piece is that the Honda Civic, with the lowest MSRP, costs the most to insure. Costs even out after three years once all vehicles get some depreciation on them.
You may ask: What are some other factors?
One we can certainly tell you is this:
Although red cars are statistically proven to lead to more tickets, insurers say they don't factor in the color of your car for rates.
Average Liberty Mutual Commute Rates
Commute rate affects car insurance rates for the simple reason that the more you drive, the more likely you get into accidents.
Liberty Mutual has about a $150 difference in rates between 10-mile commutes and 25-mile commutes. Men get hit by this the hardest, as statistics show they drive more than women, on the whole.
Average Liberty Mutual Coverage Level Rates
Coverage level rates can vary for numerous reasons.
The amount of the coverage limit
Whether that coverage includes add-ons like collision and comprehensive
Whether that coverage includes special buys like emergency roadside assistance
Liberty Mutual is no different than other insurance companies in that regard.
But, unlike many other companies, there is a steep difference between the high coverage and the low coverage costs: $550. And even the low coverage cost is higher by $1,000 than the average premium for the next highest competitor.
Average Liberty Mutual Credit History Rates
We've looked at the financial ratings for Liberty Mutual, with them all being strong. Like the S&P, Moody's, and AM Best, Liberty Mutual assesses its potential consumers' credit ratings using its own formula. The results can lead to a big difference between good credit rates and poor credit rates.
The difference with Liberty Mutual is $4,400.
Liberty Mutual, like other companies, uses their in-house credit formula to determine which drivers are more likely to make claims.
Fortunately, there has been a big push in some states, including by some congressmen and women to get rid of all the auxiliary factors in determining car insurance and just go with driving record.
Average Liberty Mutual Driving Record Rates
Speaking of which. Your driving record also impacts car insurance rates. That's why auto insurance companies check your driving record as well.
Part of the jump is the claim itself; then there is the likelihood you'll make another claim.
DUIs hurt the worst: About a $3,000 jump from a clean record.
Speeding tickets hurt the least: But it's still about a $1,000 jump.
Accidents are in the middle—about a $1,500 jump—but there are other factors with all these to consider, such as court costs and deductibles to meet. Still, Liberty Mutual penalizes you significantly, even compared to other insurance companies.
Free Auto Insurance Comparison
Enter your ZIP code below to view companies that have cheap auto insurance rates.
Secured with SHA-256 Encryption
Coverages Offered by Liberty Mutual
Have you had this feeling: You're going through a company's website, looking for insurance right for you or your family. You see all these neat links—auto, RV, life, umbrella—and in general, you know what they mean until you get to the specifics.
There's comprehensive vs collision, GAP coverage, underinsured/uninsured motorist, vanishing deductibles, and all of a sudden it's raining cats and dogs.
Don't worry, we've got you covered.
We know that going through coverages can be confusing.
That's why, in this section, we've sorted it all out.
Other Coverage Types Offered by Liberty Mutual
Car insurance is actually not Liberty Mutual's top-selling point when it comes to insurance.
The company initially started out as the country's first worker's compensation company and still retains the title as the leader in that part of the insurance industry.
However, they are a full property and casualty insurance company, meaning they have a whole host of options aside from car insurance.
Some of them are typical; some of them might surprise you.
Homeowners: This insurance coverage takes the risk out of owning a home if something devastating were to happen. With Liberty Mutual, the dwelling, belongings, and additional living expenses are covered. There's even liability protection as well.
Life: This protects your family financially if you were to pass away. With Liberty Mutual, the plans are based on a fixed term; five, ten, twenty years. Some of the benefits include a tax-free benefit and 100 percent return of premiums guarantee.
Umbrella: This adds to your liability insurance—sometimes up to the tune of millions of dollars. It's an extra safeguard if something catastrophic were to happen. With Liberty Mutual, the policy covers the costs of libel and slander and lawsuits, whether they are frivolous or not.
Pet: This protects you from the cost of having an ill pet. With Liberty Mutual, the coverage covers accidents and injuries, serious illnesses like diabetes and cancer, and minor conditions like upset stomachs and ear infections.
And while auto insurance is the first kind of coverage you might think of for motorized vehicles, Liberty Mutual has coverages for many others.
These include boats, motorcycles, classic cars, and ATVs.
Liberty Mutual has 22 coverages overall, with many of them having subset coverages.
Types of Auto Insurance Offered by Liberty Mutual
Liberty Mutual has 14 types of auto coverages, each with certain layers of protection.
In all cases, states require you to have bodily liability and property damage liability in order to drive. In some cases, medical payments (Med Pay) is required too. Liberty Mutual takes these three, which are all essential to protection while driving, and puts them in their standard package.
Underinsured/uninsured motorist is a requirement in many states.
The reason being?
Being hit by an underinsured/uninsured motorist can leave your vehicle totaled—and you with nothing.
The state also takes a penalty, as they have to find the person, suspend their license, and, depending on the severity of the crash, imprison that person.
These are all optional coverages, with all of them helping with specific situations that are unusual but all can hurt financially (or with lost time).
These are more for repairs, replacement, or an emergency. Having your car breakdown in the rain on the side of the road is no fun. Having to repair it with after-market products may not be what you want. Having to replace it because it's been totaled…well, that's disappointing to say the least.
Is Liberty Mutual available in all states?
Liberty Mutual is active in all but seven states.
Arkansas
Arizona
Louisiana
New Mexico
South Carolina
Texas
Virginia
This is good, as if you like your Liberty Mutual plan, you can take it with you from state to state.
You'll need to get it updated, however, which can influence your rates.
Discounts Offered by Liberty Mutual
Liberty Mutual offers 38 discounts, which is tied for the highest by any car insurance provider.
Like the categories mentioned in the previous section, these discounts are for demographic issues, with the one exception being the Early Shopper.
It's important to note that Liberty Mutual has a military discount, which is fairly uncommon among car insurance providers.
Two of these are claim-based.
If you have an anti-theft device, you're less likely to file a claim about someone stealing your car.
If you have the advanced safety features, you're less likely to get in a wreck.
Both of these save Liberty Mutual money.
The other is environmental; Green is in.
These are all bonuses if you are a safe driver, with RightTrack tracking your driving use to determine what likelihood you have of getting in an accident.
These are all process discounts that make it a little bit easier on the company, such as bundling two plans, going paperless, and paying online.
There are extra discounts as well, that are not typically listed.
What Stands Out and What's Missing
What stands out: Liberty Mutual has numerous policy coverages and 38 discounts, which means you could get a good deal on a high coverage insurance package.
What's missing: Liberty Mutual doesn't have usage-based car insurance (where the amount you pay for insurance is based on how much you drive). This hurts drivers who drive less frequently than others.
Liberty Mutual Rating Agency
Certainly, you know this: That credit score of yours is a thing. It determines the rates you get on car loans, house notes, other credit cards. And if you do things that make it go down…you can be in trouble.
Just like a consumer has a credit score, companies have financial strength ratings, which come from powerhouse rating companies like AM Best, Moody's, and Standard and Poor's.
They give an idea of the income to debt ratio of these companies, whether they are in trouble with credit, how solvent they are.
AM Best: The Best rating is an independent opinion on whether an insurance company can meet its financial obligations, to customers and to debtors. Liberty Mutual has an A rating, which is categorized as excellent.
Moody's: Moody's rating is based on credit risk; how much debt a company has, how likely they are to meet obligations to pay their creditors. Liberty Mutual is ranked A2, which means they are upper-quality and are subject to low credit risk.
S&P (Standard and Poor's): S&P is another credit rating company that analyzes the credit risk of a company. Liberty Mutual is ranked as A, which means they have a strong financial standing but are subject to change in circumstances and economic downturns.
So far, so good. But there are the consumer-based ratings: BBB, J.D. Power, and others.
BBB (Better Business Bureau): The BBB rating is based on complaints from customers, how transparent the business is, and if any legal action has been taken against them. Liberty Mutual gets an A- rating, which is two steps from the highest rating.
NAIC (National Association of Insurance Commissioners): This is a complaint index, where the number of complaints is weighed against how many premiums they write. Liberty Mutual has roughly six complaints for every premium, much higher than the mean for all companies.
J.D. Power gives Liberty Mutual a two out of five for overall customer satisfaction.
Consumer Reports gives Liberty Mutual an 88 out of 100.
Consumer Affairs (or their reviewers) gave Liberty Mutual a 1.2 out of five through 170 reviews. However, Consumer Affairs reviewers are likely to be looking to complain; that's the way the site is set up. Therefore, take the lower rating with a grain of salt.
Liberty Mutual Company History
We all have our histories—where we grew up, what our formative years were like, what impact we made on the people around us and our environments.
Liberty Mutual is no different, and its history is long.
Founded in 1912 as Massachusetts Employees Insurance Association, Liberty Mutual grew in the span of a few decades to become one of the largest property and casualty insurance groups in the world.
It pioneered numerous innovations:
Distributing safety driving manuals to teens in 1930, the precursor to its teen driving program today
Creating two prototype survival cars in 1957, which introduced headrests and seat belts
And opened institutes to help those in pain from work or car-related injuries:
Opened the first rehabilitation center in the country in 1943 with the goal of restoring the injured to lead useful lives
Opened The Back School in 1982 to help workers who suffered from lower back problems to live productive lives
Established the Center for Disability Research at the Research Center for Safety and Health at Hopkinton, Massachusetts
All this while providing more service for contractors in World War II than any other casualty company. Its history is good and it has made an impact in numerous ways. However, so have a lot of its competitors.
How does Liberty Mutual fare against the Nationwides and the State Farms of the world?
Liberty Mutual's Market Share
Market share, within the insurance industry, is defined by how many premiums you have written, compared to other companies.
Liberty Mutual remains steady for both private passenger auto insurance and total lines. However, the impact of those statistics is different. For 2018, Liberty Mutual is ranked sixth overall in private passenger auto insurance share.
This is behind:
State Farm: 17 percent
Geico: 13.4 percent
Progressive: 11 percent
Allstate: 9.2 percent
USAA: 5.9 percent
For total lines, however, Liberty Mutual is ranked third overall.
The overall property and casualty lines are much more fragmented, possibly because there are many more forms of insurance and that leaves vacuums for competitors to fill.
In the end, Liberty Mutual is high in market share in both; but its overall score is more indicative of its financial strength in the industry.
Liberty Mutual's Service Type
If you're looking to buy a policy, we know how frustrating it can be. There are numerous avenues to try, and some of them might not be suitable or give you what you need. Liberty Mutual offers five methods for finding out more information and/or buying a policy:
Online: This may be one of your best avenues. Liberty Mutual has a website with descriptions of policies, a way to get quotes, and a way to buy.
Agents: For those who like the in-person interactions, an agent is a wise choice. An agent can walk you through all the steps of buying a policy and can have you purchase one right there.
Customer service: If you need more information about a policy, you can call Liberty Mutual's customer service line at 1 (888) 398-8924 and speak to an agent.
Mail: If you're not concerned about response time, you can always send a snail mail to Liberty Mutual's address with your questions or queries.
Social media: Liberty Mutual has three social media accounts on Twitter, Facebook, and Instagram through which you can try to contact it.
Liberty Mutual's Commercials
So, you're sitting around the dinner table. Your child is struggling to eat his green peas and your wife looks frazzled from a long day arguing cases in court. You want to start talking about something light, something funny. You bring up Liberty Mutual's accident forgiveness policy.
So, that's probably not the case.
Car insurance isn't often the topic of family conversations, at least not at the dinner table. Car insurance companies know this; they know that insurance can be, well…very, very dry. So, therefore, when they advertise, they come with something that appeals to most everyone: comedy.
And Liberty Mutual has the LiMu Emu.
The confused Emu:
The commercials are based off a 1970s buddy cop theme.
They even do a larger, mock behind the scenes video:
Insurance companies spend a lot on their advertisements, leading some to blast them.
Liberty Mutual spent $270 million on advertising in 2017, which was only fourth in the rankings, behind:
Geico: $1.4 billion
Progressive: $622 million
State Farm: $521 million
It's a lot of money, and some argue this impacts the consumer, as it can lead to rate hikes.
Liberty Mutual's Community Service
Some may gauge a person by two questions: How do they treat others and are they active in the community?
To that end, it's important to look at Liberty Mutual from the framework of do-gooding: How much work does it do in the community, and in what areas does it do it?
Liberty Mutual does quite a bit.
Its philosophy is written on its website:
Through Liberty Mutual Insurance's philanthropic efforts, we look to support best-in-class organizations that are changing the lives of some of our most vulnerable neighbors.
There are three main focuses of Liberty Mutual's community service:
Accessibility: Programs that strengthen nonprofit organizations and the general public to be more accessible for people with disabilities
Education: Programs for low-income youth that provide consistent learning opportunities for them to reach their full potential
Homelessness: Programs that provide emergency shelter, food, and medical services for all homeless people, though with a specific focus on homeless youth
Employees have additional options to do community service by championing issues within the company and logging hours doing volunteer work.
How Is Liberty Mutual Positioned for the Future?
Everyone generally focuses on what's in front of them.
For Jim, it's how many things can he stuff in a bag at the supermarket. For Anne, it may be making that follow-up call to Ed to sell that boat. And for insurance companies…
It's probably how many premiums are written this month or whatever quarterly goals are set.
But there's a larger picture at stake—as in, what is the future of 'x' company in the auto insurance industry?
Five years? 10 years? 30? Let's take a look at Liberty Mutual. The company with the LiMu Emu has strong financial ratings from the leading rating companies.
AM Best: A
Moody's: A2
S&P: A
Those bode well.
Those ratings generally mean, however, that Liberty Mutual can be hurt by economic downturns and other circumstances. However, Liberty Mutual will be under the pressure of other circumstantial forces affecting the auto insurance industry.
Autonomous cars
Manufacturer insurance policies
Safer, technology-enhanced cars
KMPG, one of the big four accounting firms in the world, estimates that the auto insurance industry will shrink by 70 percent by 2050.
For now, Liberty Mutual is safe. However, it's possible that soon, Liberty Mutual and the rest of the companies will start feeling the squeeze.
Liberty Mutual's Age of Employees
A company may be young, old, or in-between, and, despite being founded more than a century ago, Liberty Mutual would certainly be considered a young company today.
A remarkable 45 percent of its employees are millennials, who are between 22-39 years old. A young company can signal many things, including a desire for younger people to work there who see Liberty Mutual as a place to grow. It may also show an ability to innovate, using technologies and analytical tools that may appeal to the younger generation.
Liberty Mutual's Tenure
Youth is good, but experience is important as well.
The majority of employees have been at Liberty Mutual for less than 10 years.
This can be problematic on some level, as higher positions would be filled with candidates who have less experience than previous recipients of promotions. However, the fourth-highest category is actually the ones with the most experience: Those with 20-plus years.
It could be seen that Liberty Mutual has a good mix of young and old, inexperienced and not, which allows for new ideas to be brought in with the stability of a stable organization.
Liberty Mutual's Employee Experience
You certainly remember your last employer, your best employer, and your worst. What would you write about them if you could?
And what are the employees writing about Liberty Mutual?
Fortunately, the Internet has the answer.
From the survey site, Great Place to Work: 83 percent of employees say that Liberty Mutual is a great place to work.
Most people agree that they feel good about the ways their organization contributes to the community, that they can take time off if they need to, and that management is honest and transparent.
From Glassdoor: Its reviewers are not as kind.
Not great ratings from Glassdoor (that 3.3 is essentially a failing grade on a school test) but keep in mind:
Glassdoor reviewers seek out the site to give a review, meaning they might be likely to give a bad rating.
From Payscale: The job is highly stressful.
Not great ratings here either, but another site where people seek out the site to give a review.
Liberty Mutual's Awards and Accolades
Along with employee experience, awards and accolades can allow for a glimpse into the company's culture.
Liberty Mutual has received awards for everything from digital work culture to diversity.
To further diversity in its workforce, Liberty Mutual has created employee resource groups that connect and support communities with empowerment.
Amigos (Hispanic/Latino community)
Liberty Employees of African Descent and Allies (African America/African descent communities)
Pride (LGBTQ communities)
Liberty Mutual's philosophy:
We believe that the inclusion of allies is a critical component of ERGs, as it gives employees of different backgrounds an opportunity to learn about others and make their communities stronger.
Free Auto Insurance Comparison
Enter your ZIP code below to view companies that have cheap auto insurance rates.
Secured with SHA-256 Encryption
Canceling Your Policy with Liberty Mutual
Have you ever gotten into an argument with a customer service representative, all while trying to cancel a policy?
It can lead to a migraine and a hoarse voice. You shouldn't have to do that with your car insurance company. So, how does Liberty Mutual stack up?
Cancellation Fee with Liberty Mutual
As Liberty Mutual writes on its website:
The process and possible fees for policy cancellation varies according to the insurance regulations in your state.
Liberty Mutual doesn't have a standard process for handling cancellations. It varies according to state, which can prove difficult if you're trying to find information. In general, it's best to speak with an agent, as they will know the state laws and how much it costs for you to cancel.
Is there a refund with Liberty Mutual?
This, again, varies according to state regulations. In general, it seems that a prorated refund is issued, though that gets weighed against the cancellation fee.
How to Cancel with Liberty Mutual
Liberty Mutual, fortunately, makes it easy for you to cancel your plan by calling its customer service line at 1-800-290-8858. It's always possible, as well, to speak with an agent to walk you through the process and give you an idea about the refund and cancellation fee for the plan.
When Can I Cancel with Liberty Mutual?
Anytime, which is good, but there are a couple of notes:
Liberty Mutual does 12-month policies, which can lead to varying cancellation fees when you cancel
Some customers have complained about Liberty Mutual's cancellation process, with one saying it charged her four months after she submitted her cancellation request
Some customers have also complained that the cancellation fee was hidden in the contract, so make sure to ask your agent
It's important to note that all companies make mistakes, especially ones as large as Liberty Mutual.
However, considering their public perception problems, they don't help.
How to Make a Claim with Liberty Mutual
Claims are an unfortunate part of car insurance, both for the customer and the company.
The things that lead to claims—accidents, theft, a tree falling on your car—lead to lost money for the company, one of the many reasons why rates are the way they are.
But the last thing you want to deal with after an accident is with a mountain of paperwork.
That's why looking at Liberty Mutual's claim process can be beneficial.
Ease of Making a Claim with Liberty Mutual
The ease of making a claim makes all the difference between migraines and frowns—as you're not likely to be smiling when making a claim.
Fortunately, there are three ways to file a claim with Liberty Mutual:
Online: This seems to be Liberty Mutual's preferred method. By submitting online, you can immediately start tracking your claim.
Over the phone: Call 1-844-339-5299 and talk with a customer service representative to file your claim. They can help walk you through the process.
Mobile device: In this case, you'll use Liberty Mutual's app, which, like the website, you can easily track your claim status.
For all of these avenues for filing, you'll need the following information:
Make and model(s) of the vehicle(s) involved
Name and address of the driver
Description of the damage
Time and location of the incident
Name and information of witness(s)
It helps to be able to upload or share photos of the incident, whether the damage to your car or the other.
Liberty Mutual makes it easy to upload photos through its app and website.
It's also important to note that talking to an agent won't result in a claim filed; claims adjusters and agents have two separate jobs.
But it can speed up the process, as an agent can call the claims department and get them to move a little quicker.
Premiums Written and Loss Ratio with Liberty Mutual
How many claims a company gets is just the start of the process.
The question then becomes, How many claims does the company pay out on?
That's where loss ratio comes in.
Loss ratio is the number of claims that have been paid divided by the number of premiums.
It gives a strong impression on how many claims insurers are paying out and a glimpse on whether they are stingy with the claims that are coming in.
In the case of the loss ratio, numbers matter:
Anything above one means the company is losing money.
Anything below .5 means the company might not be paying out on many claims.
The sweet spot is between .6 and .8.
The good news is that Liberty Mutual is writing more premiums every year, both for private passenger auto and total lines. Its loss ratio is also in a good range, though there's a little concern with the .5 numbers of total lines. But that doesn't affect private passenger auto.
How to Get a Quote Online with Liberty Mutual
Is there anything more frustrating than just wanting a simple car insurance quote and having to jump through some hoops with the company or agent?
Nowadays, getting a quote online is the most straightforward method, and usually only takes just a few minutes. Often, you'll just need some basic information—name and address, type of vehicle, your previous insurance policy.
First, Go to The Website
Click on the Auto Button
This pulls up the quote box.
Type In Your Zip Code
Click the Get My Price button and it'll pull you to this page:
From there, you need to put in your information, along with your vehicle information, when you first got your driver's license, your previous policy information, and more.
The good news is that you don't need your social security number, the VIN number of your car, or any ridesharing admission.
After that, Liberty Mutual will run you through its discount section, coming up with everything from adaptive headlights to anti-theft device. From there, Liberty Mutual's computers will churn and give you a quote.
Imagine going through this process multiple times to be able to compare rates. Now what if there was an easier way? There is! Enter your zip code on our page and you can compare multiple companies in your area in a matter of minutes.
Free Auto Insurance Comparison
Enter your ZIP code below to view companies that have cheap auto insurance rates.
Secured with SHA-256 Encryption
Design of Website/App
With more and more people finding information about companies through the Internet, it makes sense that a company would invest in its website.
Especially a company as big and diverse as Liberty Mutual. So, what is the navigation like on the website? Is it easy to use and intuitive?
Let's take a tour starting with the homepage.
From there, to access insurances, you hover over the shop insurance button. It pulls up this page: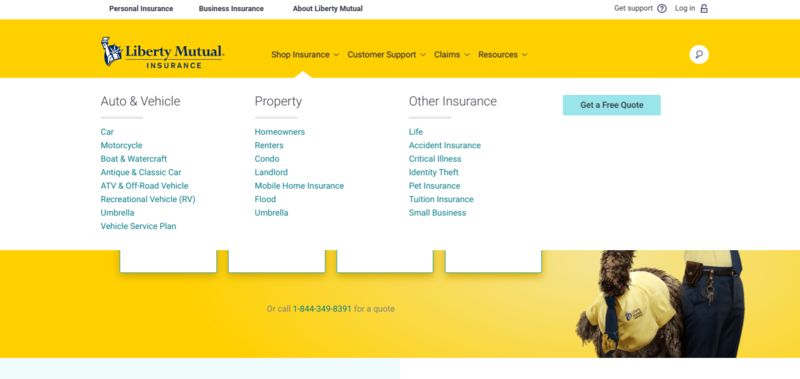 From there, to get to auto insurance, you click Car, which brings up this page:
The first thing you see is the quote box, which makes sense as that's what a good amount of people are there for and what makes Liberty Mutual money.
A quick scroll down shows:
There you find the links to the discounts, including the online purchase and the RightTrack.
Overall, the site is very appealing visually, with some bold yellow colors (part of Liberty's color pattern) and some soft grayscale or easy-on-the-eyes images.
It's intuitive to navigate, with sections clearly laid out and information fairly available.
If you have trouble, there's a search box you can use by clicking on the magnifying glass at the top right. It brings up this:
And you can check out its Help page:
The only thing?
It's hard to forget the Emu while navigating due to the colors.
Now, how does this compare to the app?
The Liberty Mutual App is highly rated on the iOS store with a 4.8 out of 5 rating from 27,000 reviews.
A quick look at the app shows all the features. You can:
File a claim
Ask for roadside assistance
Pull up ID cards
Look at your policy in detail
Pay your bill
Rating-wise, the Android version is a little different.
It gets 4.2 stars out of about 4,000 reviews.
Viewers vacillate between highly complementary and highly critical:
Jill Weaver (5-star review)
Easy to use. Everything is at your fingertips. Highly recommend Liberty Mutual.
Robert Ancrum (5-star review)
so far so good. easy app to navigate thru, very clear information, and time efficient.
Bonnie Ray-Schmidt (1-star review)
I can't access anything on this app. As soon as I log on, it sends a feedback message and then it freezes. The app is as worthless as their customer service line.
Overall, however, they are highly complementary.
Liberty Mutual has an additional app for its RightTrack driving program.
The RightTrack program uses the app (and a device placed on your windshield) to track certain aspects of your driving behavior:
How fast you accelerate
How hard you brake
What times of day you drive
How many miles you log
The app is supposed to be able to intuit all those behaviors.
However, sometimes there are issues.
The app on iOS is rated 3.7 out of 5 from 2,200 reviews.
While most reviews were complimentary, there were a few issues.
safe liberty driver (3-star review)
Since it uses GPS, it knows exactly where you are so I would think it should be able to realize you are speeding up because you are supposed to. I would get dinged even if it was a change of 10mph on the ramp.
perezalo (1-star review)
Like many reviewers mentioned already, device is very, very sensitive. Which, like one of the reviews said, it actually made driving less save to not get dinged with a bad drive.
The app fared a little better on Android.
Thilo Hauser (1-star review)
penalized at about day 10 by stopping for a squirrel running across the road and one ride that ended 5 past midnight.
Bryan gambles (3-star review)
I work a 12 hour shift, it starts at 2:30am which is the time you suggest not driving. I cannot avoid driving at that time.
Like all of these apps, they are designed to prove safe driving but struggle with uncommon occurrences or things that are inevitable.
Pros and Cons
After all this information, it's time to boil down Liberty Mutual to some pros and cons.
The Bottom Line
Liberty Mutual is a strong, secure company with good financial ratings.
It has been around since 1912, grown significantly, and has become the fifth-largest property and casualty insurance company in the world.
You can count on Liberty Mutual to be around.
However, there are issues. Its average premiums are over $1,000 higher than its nearest competitor. Customers have had bad experiences while trying to cancel their policies.
And, ultimately, its CEO and senior executives were known to galavant around the world and have questionable accounting practices.
If you want a large, stable company with many options and don't care about the price tag, Liberty Mutual may be for you.
But if not, there are plenty of competitors out there, all cheaper and possibly better as well.
Free Auto Insurance Comparison
Enter your ZIP code below to view companies that have cheap auto insurance rates.
Secured with SHA-256 Encryption
FAQs
What is Liberty Mutual's Accident Forgiveness?
Liberty Mutual's Accident Forgiveness is additional coverage that prevents rates from going up after an accident. Generally, only drivers with five clean years—no accidents, no violations—can qualify.
Is the Liberty Mutual Emu real?
Sort of. The Liberty Mutual Emu is actually a compilation of different emus used in the initial filming process. That compiled emu is then blended with CGI, which is what the viewer sees in the commercials.
Who owns Liberty Mutual?
Because Liberty Mutual is a mutual company, policyholders are the technical owners of the company, though they do not generally receive dividends. Often the benefits for policyholders are reduced future premiums or paid-up additions.
Are Liberty Mutual and Safeco the same company?
In 2008, Liberty Mutual acquired Safeco for $6.2 billion, which has led to billions of revenue for Liberty Mutual. The main difference between them seems to be the agents and the rates; home and auto often vary depending on each entity in the same area.
Alright, that's it! You now should be ready to make an informed decision about whether Liberty Mutual is the right company for your insurance needs. Full eyes, clear hearts. Happy driving.
Ready to compare rates? Try our FREE online tool.