How to Choose an Auto Insurance Company (Simple, Fast Steps)
Looking for the best rated auto insurance company? Did you know that in 2019, Esurance and Allstate were ranked as top companies by JD Power in an annual study?
Free Auto Insurance Comparison
Secured with SHA-256 Encryption
Choosing the right auto insurance company can be overwhelming when there are so many options to choose from.
Finding the quality car insurance company that's right for you doesn't have to be as hard as you think. In fact, it can be quite simple.
We'll take you step-by-step through the process and show you how to confidently choose the right car insurance company for your situation.
You can compare car insurance quotes right here using our free quote tool!
Here's what we cover:
Step #1 – Figure Out Your Insurance Needs
Knowing what you're looking for is the place to start. Each state requires car insurance coverage at a different level, but what the mandatory coverage has in common between states is that it covers your liability and not your own vehicle damage costs.
The minimum you're required to carry is known as "basic coverage" or "state minimum."
Considering that most states require significantly less coverage than necessary to pay for the total loss of a new vehicle, you should consider purchasing higher limits even if you decide to only purchase liability coverage.
Without increased liability limits, you'll have to make up the difference out of pocket between your coverage limit and the cost of the damage you cause.
If your car is financed, you'll probably be required to carry full coverage insurance. Full coverage includes comprehensive and collision which will offer financial protection for a wide variety of damage to your own vehicle.
If you own your vehicle you can decide if you want to purchase full coverage. If your vehicle is valuable and you wouldn't be able to recover from its loss out of pocket, you should probably carry full coverage.
There are several coverage types some of which are required depending on where you live, and some of which are optional.
Related Article: How do I find an affordable auto insurance company?
Free Auto Insurance Comparison
Enter your ZIP code below to view companies that have cheap auto insurance rates.
Secured with SHA-256 Encryption
Step #2 – Compare Car Insurance Companies to Save the Most
After you know what you're looking for, you're ready to try to find it for less money. Keep reading for tips on how to save as much money as possible!
Ask About Discounts
Car insurance discounts can make a significant difference in your car insurance premiums. Below we've charted which providers offer the most discounts as well as the which discounts you may want to ask about when applicable:
Ask About Special Programs
Many insurance providers have special programs. The programs offer perks for their customers.
Some insurance companies offer accident forgiveness as an option. If you choose this option, you can have an accident and not experience rate hikes.
Some companies offer new car replacement if your current vehicle is totaled.
Consider a Low-income Program
Low-income car insurance programs are offered in some states:
California's Low-cost Auto Insurance Program (CLCA)
New Jersey's Special Automobile Insurance Policy (SAIP)
Hawaii's Low-cost Disability Auto Insurance Program
Plus there are a few non-government run programs like Citizens United Reciprocal Exchange (CURE).
Compare Car Insurance Quotes
Every six months to a year, you should do a car insurance review. Make sure your current levels of protection are what you still want, and if they're not, make the changes in your search. Review the following aspects of your coverage:
Deductible level – if you think you could afford a higher deductible amount out of pocket, you could raise your deductible and pay lower monthly premiums.
Coverage level – If your car is paid in full and is not valuable, consider just purchasing liability coverage as opposed to full coverage.
You could get individual quotes from companies one at a time, but it will save you time to do a search with a comparison tool. We have one here that will give you multiple quotes after you enter your information just one time.
You could save a significant amount of money by finding a company that offers lower rates and switching to them.
The importance of comparing rates can be understood by reviewing the data we collected from Maryland's Insurance Department site (see below). Look at the wide span of rates — over a $4,000 difference from most to least expensive.
If you go with the first company you get a quote from you may be costing yourself a lot of money. Check out the car insurance company rates (average annual):
Step #3 – Decide Which Type of Service Provider You Want
You might be overwhelmed by the different choices of providers. We'll break down some of the common options so you have an understanding of what you'd prefer.
Captive Agents – Individuals who offer insurance from one company. If you go to a State Farm or Progressive office, for example, you're going to interact with a captive agent. You can't go into a State Farm office and purchase a Liberty Mutual policy. The majority of consumers go through captive agents.
Independent Agents – An independent agent works for a variety of providers and can work with you to find an auto insurance company that offers what you're looking for at a good price.
Brokers – These are similar to independent agents, but while independent agents represent several insurance companies, brokers represent the customer and help find coverage from many providers.
Direct Providers – As the name sounds, direct providers offer insurance directly to the customer. What a direct provider offers is what a captive agent offers.
Online Only – Some companies are online only and don't have brick and mortar offices throughout the country. If you use an online-only company, you won't have a specific agent you work with and call with questions or to make a claim. Instead, you will correspond electronically and through phone calls.
National Providers – These are the larger car insurance companies that offer policies to all or most states throughout the country.
Local Providers – These companies may offer policies just in one state or one region.
Now that you understand some of the different types of agents and providers you can choose from, and you've compared quotes and found the companies that look best to you, take the next step and do car insurance company research.
We'll show you where to look below.
Step #4 – Research the Provider
When you narrow down the vast list of potential car insurance providers to the top three or four, you'll need to make sure they're reputable. Researching to ensure a company's reputation could save you a headache down the road when you make a claim.
A company that's not financially stable may be unable to pay your claim. And if a company has poor customer satisfaction results, you may have a negative experience when you have to deal with them over a claim.
#1 – Make Sure They're Licensed in Your State
If they're not licensed in your state, it's an automatic "no" for going with them. If a company isn't licensed in your state, their coverage won't be valid.
Check the National Association of Insurance Commissioners (NAIC) search page to see if the companies you're considering are licensed in your state.
Below, we have listed the websites and phone numbers for each state. You can find accurate information and answers to your questions by contacting your state insurance regulating division.
#2 – Check Their Complaint Ratio
Some states' insurance websites make this information readily accessible, such as California's which displays all the complaint ratio information for the past three years for the top 50 insurance companies. Their ratios are based on the number of justified complaints to 100,000 earned exposures.
Other states' insurance websites don't offer the information so easily. The table below lists each state and whether its insurance website offers complaint data (see websites above to access information).
If your state insurance website doesn't offer complaint information, you can still go to the NAIC's complaint search and enter the company of your choice to find the number of complaints.
#3 – Check Financial Ratings
This step is easy. A.M. Best is an independent rating agency. Once you set up your free profile at AMBest.com, you simply enter the company name you're researching into the search bar to view its grade and outlook.
But, we've streamlined the search even more. We've compiled the data from A.M. Best for the companies with the best and worst ratings:
Like the grades, you got in school, "A's" are good and "+'s" are even better. You want a company with a good rating and a stable outlook. Find out more about AM Best's rating here.
#4 – Check Car Insurance Company Ratings
The following independent companies compile mountains of data a year to provide consumers with ratings and recommendations:
J.D. Power
This is a valuable resource. Every year they publish an insurance study and rank the insurance companies in various regions. You can search by region and see the highest and best-rated companies where you live.
They list the top-rated car insurance companies as follows: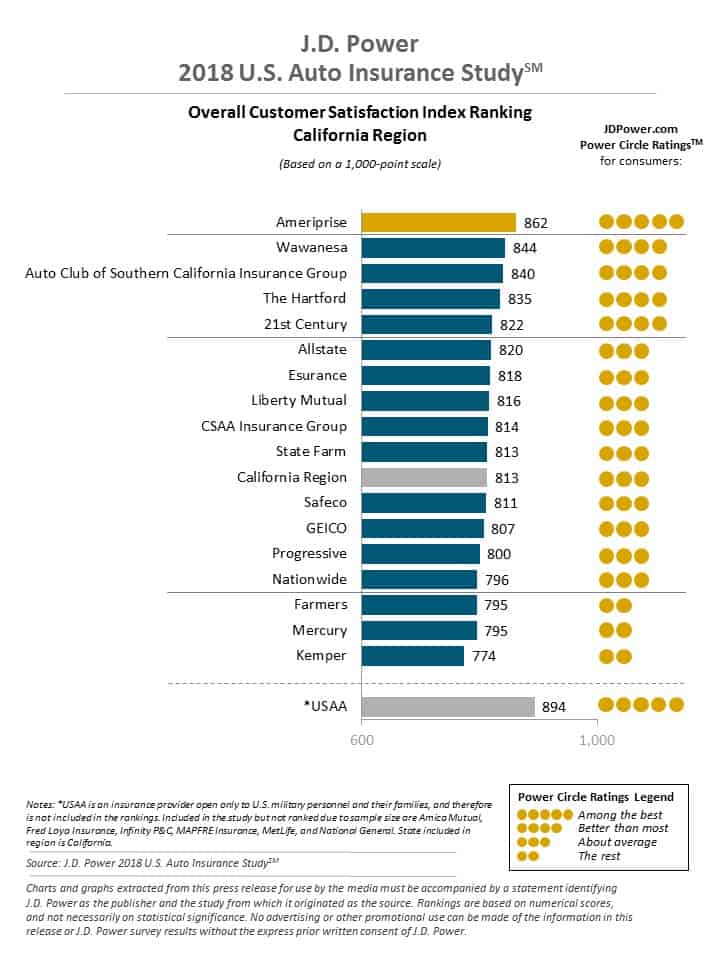 Consumer Reports
You may be familiar with the Consumer Reports magazine and website already. One area they address often is car insurance. See what they have to say about the companies you're interested in.
Here are Consumer Reports' ratings for car insurance companies (subscription required to view results on their page):
The Better Business Bureau (BBB)
While J.D. Power and Consumer Reports will give you general information about car insurance companies as a whole, the BBB grades individual offices. You'll get the most specific rating for the local office you're considering from the BBB as opposed to the other rating companies.
Making sure you choose the right car insurance company is well worth the effort. If you need to file a claim, you'll be glad you chose a company that is financially stable and consumer-friendly.
Now that you know how to choose a car insurance company, you can purchase your coverage from the right car insurance company. Now, it's time to let them help you understand your policy.
Read on for suggestions of questions to ask:
Free Auto Insurance Comparison
Enter your ZIP code below to view companies that have cheap auto insurance rates.
Secured with SHA-256 Encryption
Step #5 – Questions to Ask Car Insurance Companies
The NAIC suggests asking these questions of your insurer:
Will minimum liability limits be high enough to cover me if I am at fault in an accident?
How much more would it cost to buy more than the minimum amount of liability insurance coverage?
Will this policy cover me if I let someone else drive my car?
Will this policy cover me if I have an accident in a rental car?
Will this policy cover me if I have an accident while traveling for work?
If my car is disabled, will this policy pay for a rental car while it is being repaired?
Is there any cap or limit?
If my car is disabled due to an accident, will the parts to repair the car be new or aftermarket?
How much can I save with a higher deductible?
What discounts are available?
What other types of property do you insure? Can I qualify for a discount if I buy both policies from your company?
What are my payment options? Can I pay monthly or quarterly? If I do, is there an extra charge or discount?
Frequently Asked Questions
How do I file a complaint against a car insurance company?
Find your state on the NAIC consumer complaint map to be directed to your state's website with directions for making a complaint.
How much coverage do I have to have?
Each state makes its own requirements for car insurance. Find your state insurance website on the NAIC map to find out the requirements where you live.
If your vehicle is leased or financed, your lender will likely require full coverage.
How often can I switch insurance companies?
As often as you want. But be careful you don't allow your policy to lapse.
Can I buy home insurance from the same company as car insurance?
Yes, if the company offers both types. Often you'll be eligible for a significant discount when you combine your auto policy with a home or rental policy. You could also combine car insurance with a motorcycle or RV policy.
Even insuring a second vehicle with the same insurer could get you a discount.
How do I know if I am paying a fair price?
By doing a car insurance quote comparison. Make sure to review your policy and coverage at least once a year.
Also, we've collected the average annual premiums for full coverage in each state (that includes liability, comprehensive, and collision):
Choosing the right car insurance company is worth the effort.
Get started comparing quotes from multiple providers at once using our free rate tool. Enter your zip code below to get started!
Related Articles
How can I find a low-cost auto insurance company?
Can I find a cheap safe auto insurance company online?