Best Auto Insurance Providers for Students (2021)
The best auto insurance providers for students offer plenty of discounts to reduce the cost of coverage for young drivers. For college students, auto insurance companies with family discounts can make a policy more affordable. The good student discount is one of the biggest discounts available to young drivers and is available from all of the best student car insurance companies.
UPDATED: Jul 14, 2021
It's all about you. We want to help you make the right coverage choices.
Advertiser Disclosure: We strive to help you make confident auto insurance decisions. Comparison shopping should be easy. We are not affiliated with any one auto insurance provider and cannot guarantee quotes from any single provider. Our partnerships don't influence our content. Our opinions are our own. To compare quotes from many different companies please enter your ZIP code on this page to use the free quote tool. The more quotes you compare, the more chances to save.
Editorial Guidelines: We are a free online resource for anyone interested in learning more about auto insurance. Our goal is to be an objective, third-party resource for everything auto insurance related. We update our site regularly, and all content is reviewed by auto insurance experts.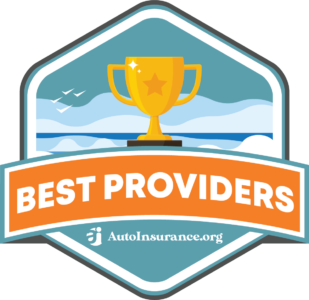 Things to Remember
Auto insurance for students is very expensive because they are young drivers with little experience
Good student and other discounts can help you to reduce rates
Students can stay on a parent or guardian's insurance policy even when studying away from home
Students have a lot to juggle, especially college students out on their own for the first time, and auto insurance is just one of the things to worry about. Whether you're staying on a parent's policy or looking for your own, the best auto insurance providers for students offer great rates and lots of discounts.
Auto insurance for young drivers can be incredibly expensive. That's because young drivers have less experience and are more likely to have an accident.
The good news is that keeping your grades up can make a big dent in those rates thanks to good student discounts, and there are other discounts students can qualify for as well.
What are the best auto insurance companies for students? Read on to see how the top providers stack up for student car insurance costs and discounts and find the best insurance for college students.
The Best Companies for Student Auto Insurance
Finding the best auto insurance for a student, whether still on a parent's policy or on their own, can be difficult. The notoriously high rates young people pay for car insurance are a fact of life due to high crash rates, but not all auto insurance for students is created equal.
There are companies that offer a better deal than their competitors for student car insurance. Some have lower rates overall, while others offer a range of discounts that, if you qualify for them, can reduce your rates by quite a bit.
The good student discount is one of the best available, earning you up to 25% off from some insurance companies. The only requirement is good grades, although each company determines its own rules for what exactly that means.
Other discounts may also be available to students, including further education discounts (which can help you find the best car insurance for college graduates, too), group discounts for students at certain schools, and more.
Some of these discounts are only offered on full-time student car insurance policies, and part-time students may not qualify.
To rank the top insurance providers for student auto insurance, we looked at their average rates for young drivers, counted the total percentage available in discounts, and then looked at their reputation to ensure each company will be there for you if there's a claim.
The Top 10 Auto Insurance Providers for Students
These are the top 10 insurance providers for students. Each of them offers special discounts to students, but it's important to remember that these discounts can vary by location, and not every driver will qualify for all of them.
What is the cheapest car insurance for college students? Read on to see which company has the lowest rates.
#10 – Liberty Mutual
Provider Rating: 3.97
Total Student Discounts: 47.5%
Young Driver Avg. Monthly Rates: $855
Liberty Mutual auto insurance rates are generally on the high side, although in some states they fall into the cheaper category. Even with an average rate of $855 a month for young drivers, Liberty Mutual makes the list thanks to a whopping 47.5% in available discounts.
Of course, not all discounts will be available to everyone, but with more available the odds are good, and it could make a big dent in those hefty monthly rates.
#9 – Travelers
Provider Rating: 4.08
Total Student Discounts: 8%
Young Driver Avg. Monthly Rates: $717
Travelers auto insurance lands one spot higher than Liberty Mutual thanks to lower rates and a higher customer satisfaction rating. Although we were only able to verify 8% in total discounts (entirely from the good student discount), Travelers auto insurance rates are, on average, more than $100 less per month than Liberty Mutual's.
Travelers also has a higher satisfaction rating, which places it at No. 9 on our list. Taking good care of customers is just as important as low rates.
#8 – Allstate
Provider Rating: 4
Total Student Discounts: 20%
Young Driver Avg. Monthly Rates: $676
Allstate is one of the biggest insurance companies in the nation and is well-known for having a lot of available discounts. Among those is a 20% potential discount for good students.
You may qualify for many more Allstate car insurance discounts outside of student discounts.
Allstate auto insurance isn't the cheapest in terms of average rates for young drivers, but with enough discounts, it can be competitive. It also has a healthy customer satisfaction rating.
#7 – Progressive
Provider Rating: 4.06
Total Student Discounts: 10%
Young Driver Avg. Monthly Rates: $610
Progressive is the third-largest car insurance company in the nation and is known for having lower rates than many of its competitors. In spite of that, Progressive auto insurance for young drivers isn't the cheapest around. At $610 a month on average, the company lands at No. 7 on our list.
Still, Progressive auto insurance does have a solid customer satisfaction rating, and you can save with discounts. We were only able to confirm a 10% good student discount, but since the options vary from place to place, you might be able to save more.
#6 – Farmers
Provider Rating: 3.99
Total Student Discounts: 10%
Young Driver Avg. Monthly Rates: $600
Farmers Insurance slips in just above Progressive with a lower average rate and a similar good student discount. One advantage Farmers brings to the table is the company's ownership of Foremost Insurance, which offers non-standard policies to those that may not qualify for a Farmers policy (usually due to a problematic record).
Most teens will qualify for a Farmers policy as long as they have a clean driving record, but accidents and tickets can disqualify you. That's true of all standard insurance companies.
Farmers will offer bundling discounts with Foremost, so if a parent has a Farmers policy, students may still earn a discount if they need to get coverage from Foremost.
#5 – American Family
Provider Rating: 4.04
Total Student Discounts: Varies by state
Young Driver Avg. Monthly Rates: $480
American Family auto insurance discounts for students vary by state, so no solid number is available for comparison. But with an average rate that's nearly half of what the No. 10 company on our list charges, it lands easily in the No. 5 spot.
American Family's customer rating is high, which means it's a company you can count on. It's worth noting, though, that American Family doesn't operate in all states.
#4 – State Farm
Provider Rating: 4.1
Total Student Discounts: 25%
Young Driver Avg. Monthly Rates: $453
State Farm is the largest auto insurance company in the nation, and it holds that position by a wide margin. It often comes as a surprise to insurance shoppers that it has such low rates, and it's no different for students. As a huge national company, State Farm auto insurance is a good choice for college students regardless of how far from home you're studying.
On top of an average rate of $483 a month for young drivers, State Farm offers a hefty 25% discount opportunity. All of that comes with the personal service of an insurance agent, which is why State Farm car insurance is so popular.
#3 – GEICO
Provider Rating: 4.11
Total Student Discounts: 15%
Young Driver Avg. Monthly Rates: $410
GEICO is second only to State Farm for market share, and it's also known for low rates across the board. Although the available discount percentage is lower than what State Farm offers, GEICO auto insurance rates are lower on average.
GEICO is also highly rated in terms of customer satisfaction and will appeal to younger drivers who prefer to handle all of their insurance needs online or via a mobile app. The company is well known for easy mobile access and the easy-to-use app.
#2 – Nationwide
Provider Rating: 4.02
Total Student Discounts: 32%
Young Driver Avg. Monthly Rates: $383
Nationwide auto insurance rates for young drivers are the second-lowest on our list. When you add in the 32% in possible discounts, Nationwide could very well have a quote for you that's lower than that offered by our No. 1 company, USAA. And that's good news since Nationwide is the last company on our list that has no eligibility requirements.
Nationwide's average rate comes in under $400 a month, and it has a solid customer satisfaction rating as well. That makes Nationwide the best car insurance for college students who don't qualify for USAA.
#1 – USAA
Provider Rating: 4.73
Total Student Discounts: 3%
Young Driver Avg. Monthly Rates: $352
USAA is easily the cheapest place to get auto insurance for students, but unfortunately, not everyone can get coverage from this company.
USAA eligibility is limited to members of the military and their families.
The good news is that if you do have a family member that can get you in the door at USAA, you can save quite a bit. Although the listed discount for students on USAA auto insurance isn't much at 3%, the company is known for its affordable rates. It also offers a Family Legacy discount, which you can receive if your parents are USAA customers.
Full Results: Auto Insurance Companies Ranked for Students
How does your current insurance company stack up when it comes to young driver rates and student discounts? Take a look at the data below to see how all of the biggest car insurance companies rank for student car insurance.
Since rates were not available from many of these top companies, they landed a little lower in the ratings than they might have had we been able to compare them for the average price. Unknown discount amounts can also make things difficult. Transparency in pricing makes buying car insurance easier.
Frequently Asked Questions: Auto Insurance for Students
If you have questions about student car insurance, take a look below for answers.
#1 – Do you need your own car insurance in college?
Students in college who still reside with their parents when not at school can continue to be covered under a parent's policy, keeping car insurance for college students away from home affordable. Once you establish your own permanent residence, you'll need your own policy.
Even college students out of state can remain on the parents' policy if the student's main residence is still at home.
#2 – How much is the average car insurance for a college student?
As you can see by the rates provided in our list above, it really varies. Auto insurance rates for students will depend on the type of car, where you keep it, your driving record, and many other factors.
#3 – How much auto insurance do you need as a student?
You will need enough auto insurance to meet your state's minimum requirements. If the car is financed, you will also be required to carry comprehensive and collision coverage.
Methodology: Ranking Providers by Student Auto Insurance
Since cost is a major factor in auto insurance for young drivers, we ranked the top companies by average rates, using data for 17-year-old and 25-year-old drivers from Quadrant Solutions. The numbers for male and female drivers from both age groups were averaged to obtain a number representing both teen students and older students.
We used insurance company websites to get information about available discounts. For each company, we totaled the percentages for all discounts applicable to students for the total possible savings.
Finally, we used customer review data from Clearsurance to rank the companies for customer satisfaction.