Best Insurance Providers for Married Couples (2021)
The best insurance providers for married couples offer lower rates to those who are married along with other ways to lower the cost of insurance, such as discounts. Auto insurance discounts for married individuals may be specific, or they may simply be bundling discounts for combining coverage on multiple cars at one address. Shopping for insurance as a couple rather than buying it separately is usually cheaper.
UPDATED: Mar 30, 2021
It's all about you. We want to help you make the right coverage choices.
Advertiser Disclosure: We strive to help you make confident auto insurance decisions. Comparison shopping should be easy. We are not affiliated with any one auto insurance provider and cannot guarantee quotes from any single provider. Our partnerships don't influence our content. Our opinions are our own. To compare quotes from many different companies please enter your ZIP code on this page to use the free quote tool. The more quotes you compare, the more chances to save.
Editorial Guidelines: We are a free online resource for anyone interested in learning more about auto insurance. Our goal is to be an objective, third-party resource for everything auto insurance related. We update our site regularly, and all content is reviewed by auto insurance experts.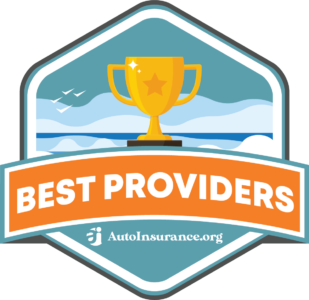 Things to Remember
Insurance companies generally offer lower rates to married people because they are statistically less risky
Each insurance company calculates rates differently, so how much your marital status impacts your rates will vary
The best auto insurance providers for married couples offer both low base rates and discounts
Whether you've been married a while or have just tied the knot, buying insurance as a couple is one of the many joint financial tasks that come with the rings. The good news is, your auto insurance is likely to be more affordable as a married person for a lot of reasons.
Finding the best insurance providers for married couples can take some time and effort. The right pick for your needs may be different from your friends or neighbors, but there are some ways to rank the top insurance companies for rates, auto insurance discounts for married people, and customer service.
We've done the work for you and ranked insurance providers to help you find not just the cheapest insurance company for yourself and your spouse, but also a company that will be there for you in the event of a claim.
The Best Auto Insurance Companies for Married People
What makes an insurance company better for married people? The factors that affect auto insurance rates are the same at all companies, but each company determines how much weight to give to each factor.
That means some companies offer lower rates based on the fact that you're married than do others because they put more weight on marital status as a risk factor.
Why does marital status have any bearing on what you pay for car insurance? Is insurance cheap for married couples? Insurance companies rely on statistics to decide which drivers pose a higher risk than others.
Statistically speaking, married people pose a lower risk. They tend to be more cautious and more financially responsible than unmarried people.
Even younger couples that are married are better off financially, studies have shown. That means fewer claims and a lower likelihood of unpaid insurance bills.
Insurance companies also differ in terms of which discounts they choose to offer. Some may have a specific family or married discount, while others may just offer general discounts that can be applied to a married couple's insurance policy. Those may include multi-vehicle discounts and other bundling options.
We've ranked the best insurance companies for married couples here based on overall rates, discounts, and the company's reputation as well. Read on to see how the big insurers stack up.
The Top 10 Auto Insurers for Married Couples
The companies that made our list have the lowest rates for married couples and offer multiple discounts to help reduce those rates even more.
#10 – Liberty Mutual
Average Monthly Rate: $319
Available Discounts: Multiple Policies (20%), Newlyweds (5%)
Customer Rating: 3.97
Liberty Mutual is generally viewed as a pricey insurance company, but it offers its best rates to safe drivers and tends to favor things like marital status more heavily. Its average rates for married people are considerably lower than the overall average rate.
There are two auto insurance discounts for married couples available. The first is the common multiple policy discount and the second is the far less common newlywed discount. They total an impressive 25 percent.
The bad news here is you won't be newlyweds forever, so you'll eventually lose that discount.
You may, however, gain a new discount for staying with the company to make up for it. And if getting married means you're buying a new home, Liberty Mutual also has a homeowners discount, which you can get even if the company doesn't insure that home.
#9 – Allstate
Average Monthly Rate: $262
Available Discounts: Multiple Policies (10%)
Customer Rating: 4
Allstate only offers a discount to married people for having more than one car insured, but the company's rates for married people start out lower, so it lands higher on the list. A 10 percent discount on a rate that's already lower may still save you more than a bigger discount on a higher rate.
Allstate also has a lot of other discounts that you don't have to be married to qualify for, which means it's easy to get an even lower rate than average. Also bumping Allstate higher on the list is a better customer service rating than Liberty Mutual.
#8 – Farmers
Average Monthly Rate: $213
Available Discounts: Multiple Policies (20%), Shared Family Car (N/A)
Customer Rating: 3.99
Farmers Insurance is a company that tends to cater to people who fall into lower-risk categories, so it's not surprising its rates for married people are lower than the company-wide average.
While Farmers doesn't list the discount percentage for its multi-car discount, the website does say customers can save up to 20 percent in total with multiple line discounts. That includes bundling car, home, and even life insurance. The more policies you have with Farmers, the closer you're likely to get to that 20 percent mark.
#7 – Nationwide
Average Monthly Rate: $198
Available Discounts: Multiple Policies (20%), Multiple Cars (10%), Family Plan (25%)
Customer Rating: 4.02
Nationwide's Family Plan and Multiple Car discounts combine for a hefty 30 percent in potential discounts. That's not counting the up to 20 percent in discounts available if you have other policies with the company. Even if you don't own a home, renters insurance for married couples is very affordable and will earn you an additional discount on Nationwide auto insurance.
Bundling insurance is one of the easiest ways to get a discount, and it's often one of the bigger available discounts.
Nationwide starts with a low average rate that can be cut even more by all of the available discounts. That makes it a smart pick if you're looking to bundle coverage.
#6 – GEICO
Average Monthly Rate: $192
Available Discounts: Multiple Policies (N/A), Multiple Cars (25%)
Customer Rating: 4.11
GEICO auto insurance is generally viewed as one of the cheapest options out there, but its position on this list goes to show it isn't always priced below the competition. That doesn't mean it's not a good option, but it does show how different demographics can really impact rates.
The multiple-car discount from GEICO can save you a lot of money off the already low prices, and although GEICO doesn't write home insurance, there's still a discount available.
The GEICO insurance agency can connect customers with partner companies for home insurance, and you'll get a discount on your auto insurance rates in return. The discount amount isn't available, however.
#5 – Progressive
Average Monthly Rate: $186
Available Discounts: Multiple Policies (5%), Multiple Cars (4%)
Customer Rating: 4.06
Progressive and GEICO have been battling it out for the top spot among direct-sales car insurance companies for years. While GEICO still holds the number two spot for market share nationwide, Progressive edges them out on our list.
Progressive's listed discounts for married couples aren't as impressive as GEICO's, but the rates start out lower. Progressive also has a lot of discounts available to everyone, which makes saving even easier.
#4 – American Family
Average Monthly Rate: $184
Available Discounts: Multiple Policies, Multiple Cars (total of up to 29%)
Customer Rating: 4.04
American Family doesn't differentiate on its website between the multi-car and multi-policy discounts, providing a total available discount amount of up to 29 percent. That's a big discount for bundling, and that's on top of other available discounts you might be able to get.
The company is highly rated highly and is known for rates that can vary quite a bit from state to state. That means in some places you might get an even lower rate and bigger discounts.
#3 – Travelers
Average Monthly Rate: $182
Available Discounts: Multiple policies (13%), Multiple Cars (8%)
Customer Rating: 4.08
Travelers auto insurance sneaks in one spot higher on our list than American Family with a slightly lower average rate and a slightly higher customer rating. Those two things combine to make up for lower discount percentages.
It's worth noting that most insurance companies state the discount percentages aren't set in stone. They vary from location to location and are generally "up to" numbers, meaning you could save that much in the right circumstances.
Huge discount percentages are impressive, but may not apply to everyone. That makes the average base rate a bigger selling point.
#2 – State Farm
Average Monthly Rate: $173
Available Discounts: Multiple Policies (17%), Multiple Cars (20%)
Customer Rating: 4.1
State Farm is the biggest insurance company in the country for good reason. It offers top-rated customer service and solid policy options and then tops it off with low rates. In fact, State Farm's cheap rates often come as a surprise to people.
Companies that use a captive agent system are often more expensive due to the cost of agent commissions.
State Farm is often among the cheapest companies but really pulls ahead for low-risk categories like married people. The available discounts are hefty, and there are plenty of others available to choose from.
#1 – USAA
Average Monthly Rate: $129
Available Discounts: Multiple Policies (10%), Multiple Cars (7%)
Customer Rating: 4.73
USAA tops a lot of the lists of cheapest companies, and thanks to stellar customer service ratings, it ranks highly overall. The downside to seeing USAA auto insurance at the top of the list is that not everyone is eligible for coverage. USAA covers only military members and their families.
If you qualify, though, the rates are low and the discounts sweeten the deal. If you've just married someone who qualifies for USAA coverage, you now qualify as well. That's one way to save on your auto insurance just by getting married.
Full Results: Auto Insurance Companies Ranked for Married Couples
How much is insurance for a married couple with your insurance company? Rates vary a lot from person to person as well as depending on the state in which you live, so it's best to get your own quotes to compare. You can take a look at our full results below, however, for a general idea of how the big companies compare.
A lack of available average rates for many companies makes it harder to rank them, and although most list the discounts available, the amount of that discount isn't always listed.
You should always compare rates from multiple companies before you buy. Rates differ quite a bit depending on your personal factors, and you might be surprised by which company is the cheapest for you.
Frequently Asked Questions: Insurance and Married Couples
If you have questions about insurance as a married couple, take a look below for answers to common questions.
#1 – Do married couples have to be on the same car insurance?
It's possible for married people to have two different insurance policies, but the insurance companies will likely require you to list each other as drivers in the household on both. Most insurance companies require every licensed driver in the household to be listed on the policy.
#2 – Can a married couple have different health insurance?
The best health insurance for married couples may be found on different plans due to different health needs. Two people that are married can be covered by different health plans if they choose to do so. Finding the best health plan for a married couple can be challenging if one has specific needs or both prefer different networks, so separate policies may be an option.
#3 – What's the best car insurance for people under 25?
Even if you're married, car insurance for drivers under 25 tends to be expensive. Since finding the best car insurance for a 25-year-old female may be different than for a male, shopping around both individually and together can help you to get the best rates. The best car insurance comparison sites can help you compare all of your options.
Methodology: Ranking Insurance Providers for Married Couples
To rank the top insurance companies for married people, we started with average rate information provided by Quadrant Data Solutions. From there, we checked each company's website to get all available information on discounts and how much savings is offered with each discount.
We also sourced customer rating information from Clearsurance, which rates insurers on a scale of 0-5 based on real customer reviews.