Austin, TX Auto Insurance (2023)
The average Austin, TX auto insurance rates are $323 per month. The minimum auto insurance in Austin is at least 30/60/25 in coverage to comply with Texas auto insurance laws. To find the best cheap auto insurance in Austin, Texas, compare quotes from multiple companies.
UPDATED: Nov 27, 2023
Fact Checked
Free Car Insurance Comparison
Compare Quotes From Top Companies and Save
Secured with SHA-256 Encryption
Heidi Mertlich
Licensed Insurance Agent
Heidi works with top-rated insurance carriers to bring her clients the highest quality protection at the most competitive prices. She founded NoPhysicalTermLife.com, specializing in life insurance that doesn't require a medical exam. Heidi is a regular contributor to several insurance websites, including FinanceBuzz.com, Insurist.com, Finance101.com, and Forbes. As a parent herself, she under...
UPDATED: Nov 27, 2023
It's all about you. We want to help you make the right coverage choices.
Advertiser Disclosure: We strive to help you make confident auto insurance decisions. Comparison shopping should be easy. We are not affiliated with any one auto insurance provider and cannot guarantee quotes from any single provider. Our partnerships don't influence our content. Our opinions are our own. To compare quotes from many different companies please enter your ZIP code on this page to use the free quote tool. The more quotes you compare, the more chances to save.
Editorial Guidelines: We are a free online resource for anyone interested in learning more about auto insurance. Our goal is to be an objective, third-party resource for everything auto insurance related. We update our site regularly, and all content is reviewed by auto insurance experts.
UPDATED: Nov 27, 2023
It's all about you. We want to help you make the right coverage choices.
Advertiser Disclosure: We strive to help you make confident auto insurance decisions. Comparison shopping should be easy. We are not affiliated with any one auto insurance provider and cannot guarantee quotes from any single provider. Our partnerships don't influence our content. Our opinions are our own. To compare quotes from many different companies please enter your ZIP code on this page to use the free quote tool. The more quotes you compare, the more chances to save.
On This Page
UPDATED: Nov 27, 2023
Fact Checked

Austin, Texas auto insurance requirements are 30/60/25 according to Texas auto insurance laws. Finding cheap auto insurance in Austin can seem like a difficult task, but all of the information you need is right here. We'll cover factors that affect auto insurance rates in Austin, Texas, including driving record, credit, commute time, and more.
Compare auto insurance in Austin to other Texas cities, including Houston auto insurance rates, Arlington auto insurance rates, and El Paso auto insurance rates to see how Austin, Texas auto insurance rates stack up.
Before you buy Austin, Texas, auto insurance, make sure you have compared rates from multiple companies. Enter your ZIP code above to get free Austin, Texas auto insurance quotes.
Minimum Auto Insurance in Austin, Texas
Austin, Texas auto insurance laws require that you have at least the Texas minimum auto insurance to be financially responsible in the event of an accident. Take a look at the required auto insurance in Austin, Texas.
Free Auto Insurance Comparison
Enter your ZIP code below to view companies that have cheap auto insurance rates.
Secured with SHA-256 Encryption
The Cost of Car Insurance in Austin
The first part of auto insurance you might be thinking about (as you are stranded in the five-hour-long line at Franklin's) might be what goes into it. What are the factors that determine my auto insurance rates?
You might find yourself asking how does my Austin, TX insurance stack up against other top metro auto insurance rates? We've got your answer below.
We're here to tell you:
There are many.
Gender, age, marital status, driving record, credit history, and more.
So how much will you pay?
Read on. Here starts The Cost of Car Insurance in Austin.
Male vs. Female vs Age
When insurers set a person's rates, age is one factor they look at. And what is the median age for Austinites?
These states are no longer using gender to calculate your car insurance rates — Hawaii, Massachusetts, Michigan, Montana, North Carolina, and Pennsylvania. But age is still a major factor because young drivers seeking auto insurance are often considered high-risk. Texas does take into account the gender of the man or woman for auto insurance rates, so check out the average cost of monthly car insurance rates in Austin, TX by age and gender.
Austin, TX car insurance rates by company and age is an essential comparison because the top car insurance company for one age group may not be the best company for another age group.
33.4, smack-dab in the millennial age bracket.
33-year-olds get a decent deal on rates, but what about the 17-year-olds and 60-year-olds—what kind of deals can they expect on their auto insurance?
Here's a quick chart:
There's a $5,250 difference between people at 17 years of age and those at 60. Why?
Insurers have a tendency to think the older you get, the better driver you become. You are less likely to take risks, engage in reckless driving behavior, get tickets, or smack into another car because of your years of driving experience.
Younger adults, especially teenagers, are prone to the opposite.
There's a big drop here from 17 to 25, and then 25 to 35. It starts to level off a little after that.
But how does it play out between males and females? Here are the average premiums by gender:
Male: $3,875.30
Female: $3,664.25
While the male premium is higher—which is fairly typical—it's not significantly higher compared to other states.
How does it work for single versus married?
There's an almost $6,000 difference between a single 17-year-old male and a married 60-year-old male, and it's not just the age.
Insurers believe that married life equals stability and responsibility. So auto insurance for married couples reflects this. A married man is not someone who's not going to take his car for a 100 mile-per-hour sprint down the Pickle Parkway (Texas State Highway 130) at 1 am.
While this may be stereotypical, insurers hold it true.
Hence, the lower rates for those who are married.
Are there insurance options for high-risk drivers?
For high-risk drivers who have an SR-22 certificate and can't find insurance through the voluntary marketplace, Texas created the Texas Automobile Insurance Plan. It currently only offers the minimum coverage—30/60/25—and is available only to those who possess a Texas driver's license (or SR-22 and applying) and can show they've been rejected from two insurance companies in the 60 days prior to applying.
Cheapest ZIP
 Codes in Austin
ZIP codes affect auto insurance rates majorly because factors like crime and traffic are calculated by ZIP code. Check out the monthly Austin, TX auto insurance rates by ZIP Code below:
Ever wondered why ZIP codes influence car insurance rates?
It's simple:
Insurance companies use ZIP codes as a starting place to set rates. They pull how many claims come from that ZIP code: Accidents, vehicle theft, vandalism, and more.
This affects their bottom line, which influences your premium. Here is a list of annual car insurance rates by ZIP code in Austin.
Use the search bar to search for yours.
The first three ZIP codes are outside the Austin loop, in between the Austin municipality and Round Rock.
Outside the city, population density goes down, which can influence rates.
The more people in an area, the higher the likelihood of vandalism, theft, and accidents.
Hence, lower rates in some less densely populated areas.
Free Auto Insurance Comparison
Enter your ZIP code below to view companies that have cheap auto insurance rates.
Secured with SHA-256 Encryption
Best By Category: Cheapest Auto Insurance in Austin, Texas
Compare the cheapest auto insurance companies in Austin, Texas in each category to find the company with the best rates for your personal needs.
What's the best car insurance company in Austin?
We know: Finding the right car insurance company can be tough.
That's why we've put together the next five sections: To show what each company's rates are depending on unique factors like credit history and commute times.
Which Austin, TX car insurance company has the best rates? And how do those rates compare against the average Texas car insurance company rates? We've got the answers below.
Ready? Let's fire up the engine.
Cheapest Car Insurance Rates by Company
Now, which company fits your budget?
There are some major players in Austin: Allstate, State Farm, Progressive, just to name three.
And they all have different rates. Here is a list of rates, organized by company and broken down by age, gender, and marital status:
As you can see, the rates vary quite a bit, even for married 60-year-olds.
Allstate is the most expensive, with a whopping $11,415 per year rate for single 17-year-old males. American Family and Progressive come close to this with over $10,000 for the same demographic.
The surprise?
There's a steep drop off from those three to the next highest for that demographic: $7,800 for Nationwide. State Farm, Geico, and USAA follow. If you have a teenager (male or female) keep in mind that price difference.
On the other end, USAA is the cheapest, always hundreds of dollars less than the competition.
However, it is important to not just consider rates when signing up with an insurance company. Many factors influence the rates, including the quality of the insurance plan.
Next up is another factor insurers look at when determining rates: commute.
Free Auto Insurance Comparison
Enter your ZIP code below to view companies that have cheap auto insurance rates.
Secured with SHA-256 Encryption
Best Car Insurance for Commute Rates
According to the Federal Highway Administration, the average American drives 13,476 miles per year, which is like making two round-trips across the Atlantic Ocean by technology-enabled vehicles to London. Commute expenses can vary by city, both in safety and duration.
Males drive considerably more than females, with 20-54-year-old males and females comprising the bulk of miles overall.
What is the average amount of miles driven in Texas?
15,533.
Insurers sometimes look at commute distances to gauge rates and whether to increase or decrease them. Here is a look at the major insurers in Austin:
As in the previous chart, Allstate, American Family, and Progressive have the highest insurance rates overall. Geico, State Farm, and Nationwide are in the middle, with USAA at the lowest.
What's interesting?
More than half of the insurance companies don't adjust rates by commute distance.
Only Allstate, Geico, and USAA do, and only Allstate raises them by more than $130 or so.
Best Car Insurance for Coverage Level Rates
There are differences between rates and auto insurance coverage levels as well. The more coverage you get, the higher your rates. That is fairly straightforward.
Your coverage level will play a major role in your Austin car insurance rates. Find the cheapest Austin, TX car insurance rates by coverage level below:
But what are the differences in those coverage level rates for the major insurers in Austin?
Most insurers tend to stick within a $300-400 range between high and low coverages. The difference?
American Family, which has a nearly $800 difference between its high coverage cost and its low coverage cost. The averages hold the pattern as before:
Allstate, American Family, and Progressive have the highest average rates, while Geico, State Farm and Nationwide and clustered in the middle. USAA rounds out the bottom as before, with the lowest rates per category.
So what is the difference between high coverage and low coverage?
Car insurance is made up of different parts: There are parts you have to have (according to the government) and parts you don't need legally but might want.
Low coverage refers to the minimum auto insurance requirements of your state, which is typically liability insurance, as is the case in Texas.
High coverage is other parts of insurance you can add on to the minimum (liability) insurance, including:
Med Pay
Uninsured/Underinsured Motorist
More insurance leads to better protection in case of an accident or other situations (such as a tornado destroying your car). That can prevent financial losses, which can hurt significantly.
Free Auto Insurance Comparison
Enter your ZIP code below to view companies that have cheap auto insurance rates.
Secured with SHA-256 Encryption
Best Car Insurance for Credit History Rates
Credit history can also affect your car insurance rates. Auto insurers use credit scores to form the basis on which they predict how much you'll pay back, or if you will. This may affect the overall rate that you have to pay.
Your credit score will play a significant role in your Austin car insurance rates unless you live in these states where discrimination based on credit is not allowed: California, Hawaii, and Massachusetts. Find the cheapest Austin, TX car insurance rates by credit score below.
Here is a list of the rates of the major insurance companies organized by the credit history of the applicant:
The difference is significant. Having a poor credit history versus a good history can cost you around $3,000 for Geico and American Family.
Some are more lenient as Progressive only has around a $1,000 difference, but the rest have differences of at least $1,200.
If you're struggling with debt or have a bad credit history, don't fear. There are ways to raise your score.
Best Car Insurance for Driving Record Rates
Your driving record is checked by auto insurance companies, as well. Take a look at the differences between a clean record compared to with a DUI, accident, or speeding violation:
A single accident or DUI can cost a driver thousands of dollars. And that's, of course, beyond the deductible needing to be met or the general court costs and fines of a DUI.
What's interesting?
Generally, a speeding ticket means you are more inclined to aggressive or reckless driving, at a higher risk of having an accident, and other negative factors on your customer profile.
For Allstate, American Family, and State Farm, a single speeding ticket doesn't increase rates.
This can be good if you are a lead-foot kind of driver. So, there are still options if you have a bad driving record for auto insurance.
Car Insurance Factors in Austin
Aside from commute times, credit history, driving record, and the demographic details mentioned above, there are other surprising factors that influence your car insurance rate. They require a holistic look at Austin.
Factors affecting car insurance rates in Austin, TX may include your commute, coverage level, tickets, DUIs, and credit. Controlling these factors will help you maintain cheap Austin, Texas car insurance.
So, what is the Austin, the "City of the Violet Crown?"
Let's start with something everyone has heard about—the growth and prosperity.
Free Auto Insurance Comparison
Enter your ZIP code below to view companies that have cheap auto insurance rates.
Secured with SHA-256 Encryption
Growth & Prosperity
Everyone knows Austin has grown, but how much and in what ways? The answers:
Quite a lot and too many to count.
The Austin Chamber of Commerce cataloged population rates from 2007 to 2017. It was:
34.1 percent.
From 2010 to 2017, the population of Austin grew by 400,000 people. Austin has been named, in various, magazines and publications:
#1 Place to Live (U.S. News World and Report)
#1 Cities of the Future (Forbes)
#1 New Biggest Boom Town in America (also Forbes)
The city has adopted the name "Silicon Hills" because of the influx in tech companies, and there's an emerging pharmaceutical industry bringing in more people from across the country.
So, what does this mean, aside from the sky-high rent prices?
It and other factors affect your car insurance rate as well.
First, let's look at Austin's national prosperity and growth ranks from 2005 to 2015:
Prosperity (18th)
Productivity: +9.9 percent (13th)
Standard of Living: +9.2 percent (8th)
Annual Average Wage: +7.6 percent (51st)
The Metro Report found that the productivity in Austin stagnated from 2012 to 2015. This was in line with the national trend.
Growth (1st)
Jobs +36.8 percent (1st)
Gross Metropolitan Product (GMP): +50.4 percent (2nd)
Jobs at Young Firms: +30.4 percent (1st)
Here, Austin scores the highest, with a dramatic increase in all three categories.
Median Household Income
The median household income in Austin for 2017 was $67,755, almost $10,000 more than the median household income in Texas. The average car insurance premium in Austin is $5,737.03
So what percentage of their income are Austinites paying for car insurance?
8.5 percent.
Here are some statistics on premiums as a percentage of income in other major Texas metros:
Austinites pay less compared to residents of other cities, in part because their income level is higher.
Homeownership in Austin
You may be surprised to know that being a homeowner influences your auto insurance rate.
Insurers believe that being a homeowner means a person is more responsible, and because a person is paying off a house note, they are more likely to pay off an insurance policy.
In Austin, the property values are shown here:
The median property value is $332,700, considerably higher than the rest of the country.
Another chart shows how many owners live in their properties:
That number is 45 percent, which is lower than the national average of 63.9 percent and shows just how many renters (and tangentially how young people) are in Austin.
Or, conversely, how expensive it is to purchase a home.
In general, because insurance companies look at homeowners as responsible customers, those homeowners get discounts.
Renters may not be afforded the same discount, but renting is still a sign of financial stability, which can be a benefit.
Free Auto Insurance Comparison
Enter your ZIP code below to view companies that have cheap auto insurance rates.
Secured with SHA-256 Encryption
Education in Austin
Education is big in Austin, with the University of Texas, Austin, campus, and the Austin Community College District. In total, there were 24,755 degrees awarded in Austin in 2016. The breakdown is:
The University of Texas at Austin (17,181 degrees awarded)
Austin Community College District (3,394 degrees awarded)
Saint Edward's University (1,104 degrees awarded)
The graph below shows the same, with some additional schools:
The median cost for an in-state, public school education was $10,092 per year, while the median cost for a private school was $20,481 per year.
But, you may ask, what does this have to do with car insurance?
It's simple:
Some insurers will alter your rates depending on your level of education.
In one study, published in 2013, the Consumer Federation of America tracked insurance rates for traditional white-collar workers with a college education and blue-collar workers with just a high school diploma.
They found that white-collar workers paid up to 45 percent less on insurance than blue-collar workers.
Some insurers might believe there is a correlation between education, employment, and the number of claims filed.
Whether this is discriminatory or not—and at least one state thinks so—it does happen. Education affects insurance rates, at least for the time being.
Wage by Race & Ethnicity in Common Jobs
Below is a graph that ranks wages clustered in common job types, with the bars representing ethnicities: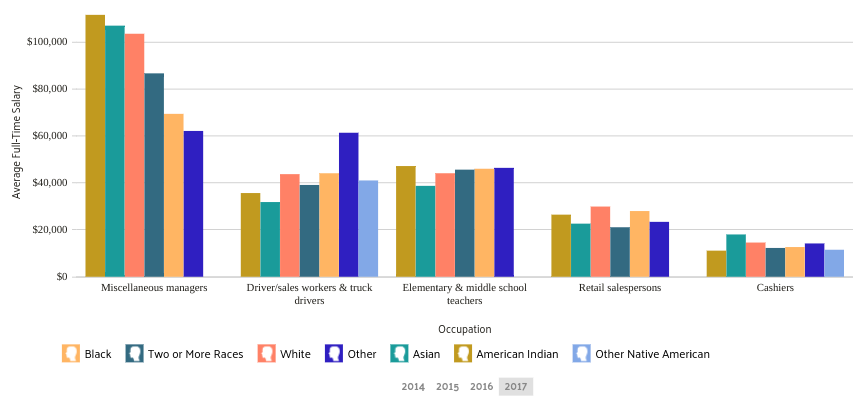 The data extrapolated from one section—miscellaneous managers—shows the premium as a percentage of income by ethnicity:
When it comes to miscellaneous managers, American Indians, Asians, and whites clearly make the most.
There's a fairly steep drop off from whites to two or more races—about $17,000.
Then there's an even steeper fall-off for African-Americans with another $17,000.
As you can see, the premium percentage of income significantly increases with each drop-off, which can affect even more workers in different occupations, like retail salespeople or cashiers.
Now, how do wages look according to gender?
– Wage by Gender in Common Jobs
Below is a graph detailing the differences between male and female salaries within the same occupations:
And here's a chart that extrapolated three categories: miscellaneous managers, elementary and middle school teachers, and driver/sales workers and truck drivers.
Read more: Auto Insurance Discount for American Federation of Teachers (AFT) Members 
As you can see, women experience a steep drop-off in wages for all three categories. It's disheartening but not necessarily surprising
– Poverty by Age and Gender
According to Datausa.io:
15.4 percent of the population for whom poverty status is determined in Austin, TX (138k out of 896k people) live below the poverty line, a number that is higher than the national average of 13.4%.
Here is a graph with shared poverty level percentages categorized by gender and age group:
As you can see, females occupy the top two groups (18-24-year-olds and 25-34-year-olds with 12 percent and 10.5 percent respectively).
Males from those two age groups occupy the third and fourth spots, making 18-34 the largest age group by far for poverty share.
Nationally, the poverty line for a household of four is $25,750.
In Austin, for a family living below the poverty line, paying one insurance plan at the average requires 22.3 percent of their income.
Of course, there are larger problems here as well. According to one Federal Highway Administration study, 24 percent of households below the poverty line don't own a car, and households below the poverty line generally are limited to means other than cars, like biking, walking, carpooling, or taking public transit.
The IRS has tried to help with this, reimbursing miles for people in households under the poverty line but the problem remains.
– Poverty by Race & Ethnicity
Here is a graph with poverty share percentages based on race and ethnicity (including Hispanic):
As you can see, white people and those with Hispanic origins make up nearly 78 percent of the total share (whites with 43.9 percent and Hispanics with 34 percent).
Every other race is below 10 percent.
Note, however, that these categories are in line with the share percentage of the population in Austin. Also, keep in mind that Austin's poverty rate is actually the lowest compared to other Texas major metro areas.
The two highest?
Houston and San Antonio.
– Employment by Occupations
Here's a look at population distribution by occupation:
The number of people and top occupations within each industry are:
Management, business, science, and art occupations (259,022 people) (managers, other than agricultural)
Sales and office occupations (117.425 people) (customer service representatives)
Service occupations (82,618 people) (building cleaning and pest control)
Natural resources, maintenance, and construction occupations (42,104 people) (construction laborers)
Production, transportation, and material moving occupations (35,719 people) (drivers/sales workers & truck drivers)
Software developers and programmers occupy the second overall highest slot (20,561 people).
Driving in Austin
You are in Mueller trying to make your way to the Congress Avenue Bridge. It's near sunset and 1.5 million Mexican free-tailed bats are about to take off.
You want to take the fastest route there.
What are your options?
Here at autosinsurance.org, we care about roads. In particular:
What are the major highways in Austin?
What are the road conditions in Austin?
What are the speed traps?
Because we know that navigating a city this size is tough. There are plentiful highways, some good, some bad. There are side roads galore.
Getting through this city can lead to a headache. And frustration. Lots of pounding on the horn.
We feel your pain.
Here in this section, you'll learn about the major highways in Austin, the road conditions, the speed traps, vehicles owned, vehicle thefts, and more.
Ready?
We're about to go on a road trip.
– Roads in Austin
Ever wondered what are all of the major highways in Austin? Perhaps the general road conditions or the presence of red light cameras?
This section answers all of those questions.
And, oh yeah, you'll get a list of some of the best day trip destinations near Austin too.
Let's drive.
– Major Highways
Here is a view of Austin, its highways, smaller roads, and general infrastructure:
There are 15 highways (not Farm and Ranch to Market roads) in Travis County:
There are 237 miles of highway in Travis County.
Here are two of the worst for congestion and accidents, from Austinites themselves:
I-35: More than 175,000 vehicles travel across I-35 daily, causing congestion, with rush hour traffic speeds hovering around 20 miles per hour.
Loop 360: Ranked in 2014 as the 98th most congested highway in Texas; in rush hour it caused 155,000 annual hours of delay per mile.
While there are improvement projects going on, it still presents a hassle for Austinites and tourists.
You might be asking in all of this: What about the toll roads?
The answer is simple:
The Texas Department of Transportation operates the toll roads listed above. Generally, there are three ways to pay.
The first is TxTag, which is a sticker you put on your windshield connected to your credit or debit card
A second, similar service from the North Texas Tollway Authority—TollTag—is also accepted in Travis County.
The third is called ZipRush, which takes a picture of your license plate and sends you a bill, for all the checkpoints you hit.
Toll roads in Texas are generally cashless, meaning they operate with tags or through high-speed photos.
Now, onto the fun stuff.
– Popular Road Trips/Sites
If you're looking to get away from Austin for a day, there are numerous sites to see, with activities ranging from nature reserves to the Dr. Pepper Museum.
Here are four:
Waco, Texas. Home of the Dr. Pepper Museum, HGTV's Fixer Upper stars' Magnolia Market at the Silos, and the Waco Mammoth site, where they've uncovered 20 mammoth and sabertooth tiger skeletons in the past 20 years.
Luckenbach, Texas. A ghost town until the 1960s, Luckenbach is a country Texas town in the "Hill Country." There is a working saloon, dance hall, and general store. Don't forget country music. Willie Nelson wrote a song about it.
Utopia, Texas. Billed as "Your Texas Hill Country Paradise," Utopia has it all: bird-watching, nature reserves, rivers, lakes, tall pecan trees. It's a place to get away from the stress of everyday life.
Round Top, Texas. Just an hour and a half southeast of Austin, Round Top is an antique haven. There, you'll find some of the best antique shows and plenty of merchandise for purchase.
– Road Conditions
The following data is from TRIP, a national transportation research group:
Austin has its fair share of road problems, as shown in the highway section.
So what are they trying to do to better it?
The government of Austin has listed numerous projects, with an emphasis on the I-35 corridor, the Austin-Bergstrom International Airport, and general corridor development and safety programs.
The I-35 Corridor Implementation Plan … identifies projects that can be constructed to reduce congestion within the I-35 Corridor and improve freeway efficiencies.
The I-35 project focuses on the following interchanges, access roads, and administrative needs:
Downtown Access Roadway and Riverside Interchange
Oltorf, Stassney, and William Cannon Overpass and Interchange Replacements
The actual work consists partly of developing new access ramps, repairing frontage road access, replacing overpasses, connecting ramp pairs, and utilizing technology to manage the flow of traffic better.
Now, you know the road improvements, the highways, and the places to visit on day trips.
However, there is an auxiliary question.
What will save you money during your navigation of these city roads?
We have the answer:
Next, a section on speeding and red light cameras.
– Does Your City Use Speeding or Red Light Cameras?
First, the immediate good news: No, to both.
Texas has no traffic enforcement cameras and red light cameras have stopped being enforced.
For the former, it appears there were never any in the first place.
The latter is more interesting.
Since 2007, the red light cameras had netted the cities in Texas more than $500 million.
KXAN, a newsgroup in Austin, investigated the program and found that every red light program in the state had illegally used traffic tickets.
This prompted an uproar, which caused the governor of Texas, Greg Abbott, to sign a red light camera ban across the state.
As of June 4, 2019, 57 of 61 cities in the state have ended their red-light camera programs. At the moment, you're safe.
– Vehicles in Austin
Most cities have interesting trends in vehicles—which are the most popular, how many cars there are per household, and, of course, which ones are stolen the most. And with Austin being considered the most car-dependent city in Texas, there are probably quite a few of them.
Let's take a look at vehicles in "The City of the Violet Crown."
– Vehicles Most Popular Vehicles Owned
From YourMechanic, we pulled the statistics for the most popular vehicles in Austin. The results are surprising.
First, the most unusually popular car: the Honda Fit.
The Honda Fit is a subcompact car that ranks high in Edmunds and the U.S. News World and Report. But why is it popular in Austin?
A possible answer: A culture that is based on eco-friendliness.
In a 2015 poll conducted by an Austinite with marketing and research skills, 814 surveyed Austinites were asked about what separated their culture (and cultural identity) from others.
One of the answers?
Being "environmentally conscious."
And the Honda Fit ranked high in eco-friendliness in this review from Mother Earth News. Of course, it helps that the Honda Fit gets 31mpg on city miles, with Austin being the most car-dependent city.
What are some other interesting car statistics from Austin? Here are some:
Percentage of Cars Serviced That Are American-Made: 41 percent
Percentage of Cars Serviced That Are Hybrids: 1.1 percent
Percentage of Cars Serviced That Have V8 Engines: 14.4 percent
Percentage of Car Serviced That Are Suburus: 1.1 percent
Austinities own more foreign-made cars than American-made. This is a stark contrast compared to Detroit (77 percent), Grand Rapids (73 percent), and St. Louis (66 percent), the three cities with the most American-made cars.
– How Many Cars Per Household
Here's a chart with the percentage share of the number of cars per household:
Austinities overwhelmingly average two cars per household. One car is second, followed by three-car households. It's rare to own zero, and even rarer to own five or over.
– Households Without a Car
Being with a car can be a stranglehold economically: It means having to walk, bike, carpool, or take public transport to work, the grocery store, and wherever else.
As we've seen, Austin is a very car-dependent city. So what is the percentage of households without a car?
In 2015, the number was 6.9 percent.
In 2016, the number was 6.0 percent
As mentioned in the poverty section under Car Insurance Factors in Austin, 24 percent of households below the poverty line don't have a car, which can make getting out of poverty difficult.
This is even more when it comes to getting insurance if a person is single, without a credit history, and young.
– Speed Traps in Your City
Speedtrap is a website where users can submit speed traps in their cities and have them verified (yes votes) or discounted (no votes) by their fellow city inhabitants.
Here's how Austin ranks, overall, in Texas:
Speed traps: 2
Number of speed traps listed: 14
Speed traps can cause lost money, time wasted, and a hassle factor in talking to a police officer.
Keep up to date through this site, or find which traps have been used before because:
After all, cities don't change geographically much, and the speed traps don't either.
– Vehicle Theft in Austin
Vehicle theft is a serious deal. Getting your vehicle stolen, even if you're not in it, can be stressful.
Your way of getting around will be gone, and there will be questions:
Will you ever see it back?
Will your insurance plan cover the car if it gets wrecked?
Or if you never see it again?
What does your auto insurance cover with theft?
Neighborhood Scout indicates that these are the safest neighborhoods in Austin:
N Quinlan Park Rd / Fm 620 Rd N
Route 290 / El Rey Blvd
The High Rd / Encinas Rojas St
Brushy Creek
N Cuernavaca Dr / N River Hills Rd
W Parmer Ln / Anderson Mill Rd
Fm 620 Rd S / Murfin Rd
Hudson Bend
Shady Hollow
Ranch Rd N / Shady Ln
Now, here's a look at Austin's vehicle theft statistics:
According to FBI content released to Neighborhood Scout, there were 2,090 vehicle thefts in Austin in 2017
In general, like many urban areas, Austin's crimes per square mile are much higher than Texas or national averages:
Austin: 118 crimes per square mile
Texas: 29 crimes per square mile
National median: 31.1 crimes per square mile
These crimes vary according to violence or property:
As you can see, the rate of property crime is much higher than violent crime.
Here are the total property crimes committed in Austin versus the totals in the United States:
Your chances of becoming a victim of property crime in Austin are 1 in 30.
In Texas generally, your chances are 1 in 39.
Austin, for property crime, is less safe than in Texas as a whole.
Here are violent crimes listed with Austin totals versus totals for the United States:
Your chances of becoming a victim of violent crime in Austin are 1 in 234.
In Texas, it is 1 in 228.
Austin, for violent crime, is safer than Texas as a whole
– Traffic
Getting caught in traffic can cause lost time, missed meetings, and many headaches.
Do you want to be armed with information to get you through this congestion crisis?
Look no further. In the next sections, we've got statistics on:
Traffic congestion
Commute times
The busiest highways
And the safety of Austin's roads
Ready? Let's go Speed-Racer.
– Traffic Congestion in Texas
Have you believed that—as you're sitting, angry, in traffic—that Austin is one of the most congested cities in the world?
Turns out: You're not wrong.
Austin is consistently ranked among the top congested cities in the world.
INRIX, a company that wants to make traffic more intelligent, ranks Austin as the 84th most congested city in the world in 2018.
And the 14th most congested city in the United States.
Austin ranked 104 in time spent in congestion and 13th in inner-city last-mile speed.
The average cost for the congestion per driver was $1,482
The overall speed was 23.55 miles per hour during peak hours (rush hour) and roughly 46 mph during off-hours or free-flow traffic.
In general?
Traffic is bad in the "City of the Violet Crown."
– Transportation
Rarin' to go to take a look at commute times and commuter methods of transportation?
Let's take a look.
Here's a graph for commute times in Austin from Datausa.io:
Datausa.io has commute times a little differently than INRIX because these are the commute times just within city limits:
The average Austin commute time is 22.7 minutes, which is less than the national average (25.5 minutes)
Most Austinites have a commute time between 15 and 34 minutes, although 19 percent of Austinites have a commute of 35 minutes or longer. And commute mileage compared to pleasure mileage affects auto insurance rates. In fact:
1.75 percent of Austinites have a "super commute," which is one longer than 90 minutes
Here's a graph that covers commuter methods of transportation:
74 percent of Austinites drove alone, while 9.23 percent carpooled and 8.76 percent worked from home.
While Austin has a commuter rail service (MetroRail), it only runs from downtown Austin to the northern Austin suburbs. In general:
Austinites are heavily reliant on cars.
– How Safe Are Austin's Streets and Roads?
Fatalities are grim statistics but they are important to know.
All the following statistics are provided by the National Highway Traffic Safety Administration.
Let's start this off with total fatalities for the three counties that Austin intersects:
Travis (1.2 million population)
Hays (214,000 population)
Williamson (220,000 population)
Total fatalities (by county):
Travis County, which encompasses much of Austin, is the leader with consistently over 100 vehicle-related fatalities.
While Harris and Williamson Counties have much fewer fatalities, they, like Travis County, have experienced a rise in the five-year period.
This might be due to the general growth in the population of the Austin-Round Rock area.
Here is a look at fatalities related to drunk drivers:
Again, the numbers stay about proportional between the counties.
However, Harris and Williamson continue their overall rise in fatalities with Harris jumping over 100 percent and Williamson jumping a little less than 70 percent.
Now, a look at single-vehicle fatalities:
With the exception of Williamson, everything stays level for a five-year period.
Travis leads with the highest, due, in likelihood, to its larger population.
Let's take a look at speeding fatalities:
Overall, speeding fatalities have declined, with Travis and Hays Counties' numbers dropping.
Williamson stays even.
For highway departure fatalities:
This is an interesting set of statistics. Although Travis dwarfs the other two counties (almost 6x their populations), the total number of fatalities is much smaller proportionally when compared to their respective populations.
There may be an explanation. The FHA data shows that over half of all fatal crashes happen in rural areas, even though just 19 percent of people live there.
More than two-thirds of these crashes involve roadway departure.
Perhaps because the other two counties are less urbanized, this plays a role.
Next, to intersections:
Williamson here has a high rate compared to normal.
On to passenger car occupants:
Overall, fatalities rising here throughout the five-year period.
Now, for pedestrian deaths:
Here, Travis County is the highest, both in terms of total and proportion when compared to the others.
Because it contains most of Austin, and Austin is urbanized, it makes sense (though no less sad) that that would occur.
Onto pedal cyclist deaths:
Hays with zero and Travis with 13, over a five-year period.
What is the most dangerous type of roadway?
The Federal Highway Administration has definitions on road types.
Okay, how about railway incidents?
The Koenig Lane railway stop(/stops) seems to be a real problem in Travis County.
– Allstate
America's Best Drivers Report
Every year, Allstate conducts an annual report that assesses the safety of American cities for driving.
Here are the statistics for Austin in 2018:
The last two categories are interesting:
Austin drops significantly in ranking when Allstate controls for population density
Austin stays even when controlling for precipitation
That suggests that Austinites are generally worse drivers than even their ranking indicates and that the rainfall in Austin isn't enough to influence the ranking.
– Ridesharing
Let's say you've just landed at the Austin Bergstrom International Airport.
It's been a long flight—you're hungry.
You decide: Hey, yeah, I want to try this legendary barbecue place everybody's been talking about.
Franklin's is 14.5 miles away, a little far for walking distance.
What's your next step?
In Austin, like in many cities around the country (and around the world), there are various ridesharing car rental services that get you from place to place.
What are the options in Austin? Here's a list, with prices for that 25 minutes ride to Franklin's Barbecue, organized by the provider.
Riding with Lyft: Regular $25 | Plus $45 | Premier $60 | Lux $75 | Lux SUV $99
Riding with Uber: X $25 | XL $45 | Select $60 | Lux $79
Riding with RideAustin: Regular $25 | SUV $43 | Premium $57 | Luxury $76
There are also regular cabs and a taxi service called Curb.
– E-star Repair Shops
If you've been in an accident and need repairs, E-star Direct Repair Program might be right for you.
Sponsored by Esurance.com, the E-star Direct Repair Program works by connecting you with a network of repair shops around the country.
So what are the E-star repair shops in Austin?
Here are 10:
– Weather
Austin's four seasons generally follow the same patterns year after year:
Austinites enjoy very long, moderate temperature springs and falls.
Summers are short but very hot, with temperatures often above 100 degrees.
Winters are short and mild.
Here is a list of annual average temperatures:
Now, average rainfall and sunshine:
There have been 26 natural disasters in Austin, double the national average of 13.
The causes? Here's a list:
Fires: 11
Storms: 9
Floods: 8
Hurricanes: 6
Tornadoes: 4
Winds: 2
Keep in mind that some incidents may be assigned to more than one category.
Austin also receives a one-inch snowfall every two years that brings the city to a halt.
– Public Transit
Aside from MetroRail, a rail service that runs from downtown Austin to the outlying northern Austin suburbs, the main public transit works through buses.
The primary provider of this service is Capital Metro.
Capital Metro buses are categorized by speed and destination.
Some categories include:
MetroRapid, which serves the heart of the city
MetroExpress, which hits the suburbs
Night Owls, which are late-night buses serving downtown and the surrounding neighborhoods
There are many more.
There are a few different fares for general service:
Single ride: $1.25
Day pass: $2.50
Seven-day pass: $11.25
31-day pass: $41.25
There are separate commuter fares as well.
– Alternate Transportation
Austin is a hip city and that means hip forms of transportation.
Bird and Lime are two companies that offer scooters and/or electric pedal bicycles in Austin.
For Bird, there is a $1 fee to unlock a scooter and 25 cents per minute of riding.
Lime Scooters are close in price to Bird.
Bird and Lime do have a personal injury policy though: As in, you ride at your own risk.
– Parking in Metro Areas
Parking in Austin, like any major city, can be a bit of a hassle.
Fortunately, there are many options downtown and all around where you can park for special events, see attractions, and visit famed restaurants and pubs.
To break down barriers, Austin launched the Affordable Parking Program where individuals can sign up for monthly parking passes and keep their vehicles overnight during the week and for over 24 hours at a time during the weekend.
Costs for monthly passes range from $35 to $65.
Austin has worked to make parking smarter as well:
Through INRIX ParkMe, individuals can reserve parking spots ahead of time.
And, finally, individuals can use the Park ATX app to pay for parking spots through mobile devices instead of using cash. It works by linking a credit or debit card, from which funds are automatically deducted after a parking session.
For more information on parking, check out this local's take.
– Air Quality in Cities
From smog to the harm to the ozone layer, the chemicals our vehicles (and production of energy sources) release impact our cities and the earth.
What is the general quality of air in Austin?
Overall, very good.
The unhealthy and very unhealthy categories weren't even used.
Free Auto Insurance Comparison
Enter your ZIP code below to view companies that have cheap auto insurance rates.
Secured with SHA-256 Encryption
Military/Veterans
Living the life of a service person can be difficult and challenging. Not knowing whether you'll have to relocate, whether you'll have to deploy, always being at your ready.
However, there should be one thing that is less difficult: Finding your car insurance.
That's what we've got here in this section about military personnel and veterans.
First, let's take a look at the military demographic in Austin.
Here is a graph with military service members in Austin organized by the conflict they served in:
The majority served in Vietnam and the Second Gulf War.
As far as military bases, Camp Mabry, the third oldest military installation in Texas, is northwest of downtown Austin, near Oakmont Heights.
It houses the 36th Infantry Division of the Texas National Guard, as well as 136th Regional Training Insitute.
In addition to being an active military base, it is a historic Texas landmark, with a Texas Military Forces Museum.
Now, for car insurance.
As far as military auto insurance discounts, the only major provider in Austin that gives those is Geico at 15 percent.
Here are the USAA rates compared to other car insurance companies:
USAA continuously beats the average, this time by 38 percent.
Unique City Laws
Every city is unique and has laws that are special and different when compared to other places.
So, what are those laws in Austin?
Here are four categories.
First: Handheld mobile device laws.
Handheld mobile devices, whether they are used to make calls, text, or read emails, have been known to cause distracted driving. And distracted driving causes thousands of deaths each year.
So what are the handheld mobile laws and how do they differ from the state?
In Austin, it is illegal to use a handheld device for any purpose while operating a vehicle or bicycle. This differs from Texas law, which bans just texting and driving. The first fine for breaking the Austin ordinance is up to $500. And auto insurance companies may check your phone records.
Second: Food Trucks
Austin has a thriving food truck industry, with delicious food coming from a blend of operators from different cultures and food truck parks located around the city.
But, according to the U.S. Chamber of Commerce Foundation, Austin, ranked seventh, has some room to improve.
What are the laws governing food trucks in Austin?
The good: Austin has a one-stop-shop for permitting, with permit fees of around $1,132
The bad: Austin has just three commissionaires to prep food and can't operate within 20 feet of a structure or 50 feet of a residential building
Overall, however, it may be worth it. Austin has been recognized as the fastest-growing market for food trucks in America.
Third: Tiny Homes
Tiny homes are something of a trend in recent years, popularized on home improvement and real estate shows.
Austinites are using tiny homes as a way to combat the rising cost of living. Their affordability and minimal living are big appeals.
What are the laws governing tiny homes?
Tiny houses with a foundation are generally considered accessory dwelling units (ADU). In 2015, regulations in Austin were relaxed. Now:
Tiny houses can be built on standard lots
They can be built up to 1100 square feet
Only one parking space is required, and none within a quarter-mile of an Imagine Austin corridor that has a CapMetro line
There are areas of Texas with little to no zoning regulations. One such area is 15 minutes outside of Austin, where tiny home enthusiasts have built a tiny home community called Austin LiveWork.
Fourth (and Last): Parking Laws
The city of Austin has a municipal code for parking issues, which contains a lot of legalese. Here are a few snippets:
When paid parking time limits are in effect, a person may not allow a vehicle to remain parked in a paid parking space or a paid parking zone when the authorized parking time has expired.
A vehicle may not be moved and reparked in the same paid parking space or paid parking zone to avoid violating the maximum parking time limit for each parking occasion.
A person may not use foreign currency in a parking meter or a parking pay station.
Read at your leisure.
Austin Car Insurance: The Bottom Line
Texas is an "at-fault" state, meaning that the person found responsible for an accident is responsible for the financial costs—to their vehicle and whoever they hit. Generally, this means your insurance company will be paying theirs (and them too, of course). You'll have to pay out-of-pocket if you exceed your insurance limits.
Alright! You've crossed the finish line and have everything you need to make an informed decision about car insurance in Austin, TX. Clear eyes, full hearts. Happy driving.
Ready to compare rates? Try our FREE online tool.

Free Auto Insurance Comparison
Enter your ZIP code below to view companies that have cheap auto insurance rates.
Secured with SHA-256 Encryption