Best Auto Insurance Providers for Green Living (2021)
The best auto insurance providers for green living offer discounts to customers for eco-friendly choices like paperless billing and driving a green vehicle. Green car insurance companies also make efforts to reduce the company's impact on the planet with initiatives to reduce carbon, use renewable energy, and reduce waste. It's possible to get affordable auto insurance from an environmentally-conscious insurance company.
UPDATED: Feb 12, 2021
It's all about you. We want to help you make the right coverage choices.
Advertiser Disclosure: We strive to help you make confident auto insurance decisions. Comparison shopping should be easy. We are not affiliated with any one auto insurance provider and cannot guarantee quotes from any single provider. Our partnerships don't influence our content. Our opinions are our own. To compare quotes from many different companies please enter your ZIP code on this page to use the free quote tool. The more quotes you compare, the more chances to save.
Editorial Guidelines: We are a free online resource for anyone interested in learning more about auto insurance. Our goal is to be an objective, third-party resource for everything auto insurance related. We update our site regularly, and all content is reviewed by auto insurance experts.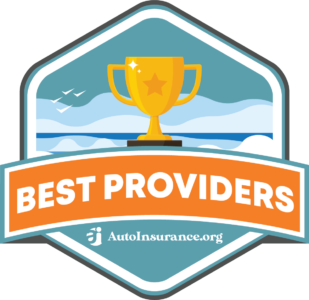 Things to Remember
Many insurance companies offer green discounts including paperless billing and green vehicle discounts.
Some insurance companies have made greater efforts than others toward carbon reduction.
MetLife is the first insurance company to have achieved carbon neutrality.
Carbon reduction, paperless billing, and car insurance discounts for customers that make green choices – all are hallmarks of auto insurance companies that care about the planet. If that's important to you, we have the details you need to choose a sustainable insurer.
We chose the best auto insurance providers for green living based on sustainable actions as a company as well as for how each company rewards customers for their environmentally sound choices.
If how a company treats the planet is as important to you as how that company treats you as a customer, our rankings will tell you where the top auto insurance companies stand on both.
Top 12 Auto Insurance Providers for Green Living
What makes a company green can vary depending on the industry, but across the board, it means the company makes operating in a sustainable manner a priority. When it comes to insurance companies, it also means it's easier for customers to do the same.
To rank the top car insurance companies for their green practices, we looked at each company's commitment to the reduction of its carbon footprint and other impact using a green initiatives score.
That score was calculated based on the company's stated practices. We then looked at the number of discounts they offer to customers for green vehicles and paperless options.
Finally, because finding a good auto insurance company that will have your back in an accident is just as important, we looked at each of the best companies' reputations based on customer reviews.
Below you'll find the top-ranked 12 green auto insurance companies to support your sustainable lifestyle.
#12 – Travelers
Green Initiatives Score: 1 out of 4
Green Discounts: 2, up to 13% off
Customer Rating: 4.08
Travelers auto insurance offers customers both a green vehicle discount as well as a paperless billing discount to reduce rates and help you reduce emissions at the same time. Travelers also offers green discounts and credits on home insurance if you're looking to bundle.
As a company, it is also dedicated to reducing its carbon footprint, but we weren't able to easily confirm what specific goals have been set or whether Travelers is achieving them.
Still, the uncommon green vehicle discount (at 10 percent) and the company's solid reputation with customers earn Travelers a spot on our list.
#11 – The Hanover
Green Initiatives Score: 2 out of 4
Green Discounts: 1, 2% off
Customer Rating: 3.87
The Hanover has committed to the reduction of emissions, water usage, and energy consumption as part of a multi-year strategy to reduce its carbon footprint. The company has laid out specific goals and has a plan to achieve them.
Although there's no green vehicle discount, The Hanover does offer a discount for paperless billing. Additional discounts on the company's home insurance policies make it a good choice for bundling your coverage to get green options on both.
#10 – State Farm
Green Initiatives Score: 2 out of 4
Green Discounts: 1, 2% off
Customer Rating: 4.1
State Farm is the biggest insurance company in the nation by a pretty big margin and its high customer rating is part of the reason why.
The only green discount currently available on State Farm car insurance is the paperless billing discount, but there are other reasons State Farm makes the list.
Two of the company's hubs are LEED (Leadership in Energy and Environmental Design) Gold certified, and more than 80 percent of State Farm buildings have an Energy Star rating of 75 or higher.
State Farm has also taken steps toward the elimination of single-use plastics and provides employee shuttles and ridesharing services to reduce emissions.
#9 – USAA
Green Initiatives Score: 2 out of 4
Green Discounts: 1, 3% off
Customer Rating: 4.73
USAA is consistently a top-ranked insurance company with customer ratings that put it ahead of the pack. Coverage with the company is only available to military members and their families, but USAA still manages a spot as one of the biggest in the country.
USAA auto insurance customers can get a paperless billing discount, but no discount for owning a green vehicle. The company does have a number of clear and targeted green initiatives, including recycling water for its landscaping and a vanpool program.
It also boasts the largest Energy Star certified financial office building in the country at the San Antonio headquarters among several other LEED-certified buildings.
#8 – Esurance
Green Initiatives Score: 2 out of 4
Green Discounts: 2, amount NA
Customer Rating: 4
Esurance came on the insurance scene a few decades back waving the green flag; it was part of the company's marketing. One of the first insurance companies to be paperless, Esurance is a pioneer in environmentally friendly auto insurance. They still offer a paperless billing discount and a green vehicle discount.
Esurance is one of the few companies that offers a discount for green vehicles, and its policy documents have always been paperless.
Esurance auto insurance started a trend in the industry and continues to engage in efforts to reduce its carbon footprint. It's now a subsidiary of Allstate, a company we'll run into a little higher up on our list.
#7 – Nationwide
Green Initiatives Score: 2 out of 4
Green Discounts: 2, up to 7% off
Customer Rating: 4.02
Nationwide sits a little higher on our list due to the company's very specific goal of reducing its carbon footprint by 26 percent by 2026. Since the initiatives were started in 2010, Nationwide has already reduced its footprint by 21.1 percent.
Nationwide auto insurance policies offer customers both paperless documentation and paperless billing discounts in an effort to reduce paper consumption.
It has earned a solid reputation and as one of the biggest companies in the country can help you insure everything from your motorcycle to your dog with pet insurance.
#6 – Progressive
Green Initiatives Score: 2 out of 4
Green Discounts: 2, up to 12% off
Customer Rating: 4.06
Progressive Insurance started working toward a greener company future in 2009 and has since reduced its carbon emissions per one million policies in force by 61 percent. That's a lot considering the company has more than 20 million policies in force.
Progressive has a stated goal of reducing emissions by another 10 percent by 2022.
Paperless policy documents and paperless billing are both options, and Progressive auto insurance gives customers discounts for both. Its reputation has moved this once-upstart company into position as the third-largest auto insurance company in the U.S.
#5 – Farmers
Green Initiatives Score: 2 out of 4
Green Discounts: 3, 5% or more off
Customer Rating: 3.99
Farmers is the first company on our list to offer three green discounts. Farmers auto insurance customers can get both paperless discounts as well as a green vehicle discount of 5 percent. Any vehicle that is not powered by gasoline alone qualifies, but it's not available in all states.
Among the company's eco-friendly initiatives are a goal of becoming single-use plastic-free. They also have programs to recycle coffee pods and use environmentally friendly food containers in their office buildings. Farmers also has green discounts on home insurance policies, if you're looking to bundle.
#4 – Allstate
Green Initiatives Score: 2 out of 4
Green Discounts: 3, up to 25% off
Customer Rating: 4
Allstate lands high on the list thanks to its three available green discounts that include a discount of 10 percent for green vehicles. That's a pretty big discount on top of the many other price-reduction options offered on Allstate auto insurance.
Allstate has also set concrete goals for emissions reduction and has met them each year, including a 14 percent reduction reported in 2019. The company set a goal in 2010 of reducing energy use by 20 percent, and met that goal six years early, in 2014.
#3 – The Hartford
Green Initiatives Score: 2 out of 4
Green Discounts: 3, 3% or more off
Customer Rating: 4.13
The Hartford offers a smaller green vehicle discount than some other companies at 3 percent, but combined with the other available discounts including paperless documents and billing, it adds up.
When it comes to making concrete goals for reducing its impact, The Hartford is on top of its game. The company has a goal of reducing its carbon footprint by at least 2.1 percent each year, intends to have 100 percent of its on-campus company vehicles be electric by 2022, and completely eliminate the use of styrofoam.
They're also reducing use of non-recyclable and non-biodegradable products by 20 percent and reducing both energy and water use by 15 percent each.
#2 – American Family
Green Initiatives Score: 3 out of 4
Green Discounts: 2, amount NA
Customer Rating: 4.04
American Family Insurance hasn't achieved carbon neutrality yet, but the company has pledged to get there by 2030. A big part of that goal has been on-site production of renewable energy as well as purchasing renewable energy. That pledge puts American Family ahead of much of the pack in our list.
Although company offices provide electric vehicle charging for employees, there's no green vehicle discount available. AmFam does offer paperless policy documents and paperless billing discounts.
#1 – MetLife
Green Initiatives Score: 4 out of 4
Green Discounts: 2, amount NA
Customer Rating: 4.02
It's no surprise that MetLife lands in the number one position because the company has been taking its responsibilities to the planet very seriously.
MetLife was the first insurance company to achieve carbon neutrality in 2016 and is the only company on our list that holds that distinction.
MetLife auto insurance offers two paperless discounts, for both billing and policy documents, but no green vehicle discount.
Full Study Results: Top Companies Ranked for Green Living
Wondering where your insurance company lands on the eco-friendly list? The chart below ranks each insurance company on green initiatives, green discounts, and company reviews from Clearsurance. Not all companies were ranked, only those with at least one green discount available.
Some insurance companies may have eco-friendly initiatives that aren't publicized. We graded them on information that was readily available. It's notable that of the top three insurance companies in the U.S., GEICO is the only one not on our list.
Frequently Asked Questions: Choosing the Best Insurance Provider
Do you have questions about insurance companies and eco-friendly initiatives? Check for your answers below.
#1 – Which insurance company is best for auto?
The best insurance company for your auto insurance depends on your needs, budget, and where you live. Things like which insurance company is best at paying claims can balance higher rates, so make sure to look at the whole picture when comparing.
The best car insurance in California won't be the same as the best choice in New York, but starting with the big names is a good jumping off point. What are the best 10 insurance companies? Well, for green living, you'll find them listed above.
#2 – Which is the best insurance company for home and auto?
If it's important to you to choose a green insurance company while still getting the best rates on both home and auto insurance, most of the companies listed above can help you. Bear in mind that some companies, like Progressive, don't write their own home insurance policies. They may place you with a company that doesn't meet your green living standards.
The best home insurance companies aren't always the ones with the best auto insurance reviews, so bundling isn't always the best choice.
Methodology: Ranking Auto Insurance Providers by Eco-Friendliness
We started our search for the most eco-friendly insurance companies with a list of the top insurance companies in the nation, then removed any that don't offer any green discounts. We based this on what is listed on each provider's website.
From there, we researched each company's stated efforts toward carbon footprint reduction and other eco-friendly initiatives on the company websites. We scored each company on a scale of 0-4 as follows:
No information found: 0 points
Reducing carbon footprint, no specific goals listed: 1 point
Reducing carbon footprint, specific goals: 2 points
Carbon neutral pledge, specific date to achieve: 3 points
Carbon neutral (achieved): 4 points
Finally, we used customer reviews on Clearsurance to provide us with a ranking for customer service for each company.