Hallmark Auto Insurance Review (2021)
Hallmark auto insurance is offered through agents working with companies including Erie Insurance, Travelers, and Progressive. They are a Virginia-based agency serving seven states.
Company Details
Address: 1308 Devils Reach Rd. S-303
City: Woodbridge
State: Virginia
ZIP Code: 22192
Phone Number: 703-491-8060
AM Best Rating: No rating
Company Rating
( reviews)
Things to Remember...
Hallmark Insurance Group is located in Virginia, but serves other states as well
Hallmark Insurance Group offers insurance products for both commercial and personal use
Hallmark Insurance Group auto policies include the standard coverage of property, liability and medical
If you're considering Hallmark Insurance for your auto coverage needs, you probably have some questions. What you may not have is the time to research each company on your list. We've done that for you.
This Hallmark auto insurance review will focus on the Hallmark Insurance Group located in Woodbridge, Virginia. The company offers products to both businesses and individual consumers. Before you get a Hallmark auto insurance quote, get to know all about the company's reputation and coverage. It's all right here.
Ready to compare the best auto insurance companies? Start your search for the best auto insurance rates by entering your ZIP code above.

Cheap Auto Insurance Rates With Hallmark
There are often many benefits to choosing a small, local insurance agent for your insurance needs. For one, these agents often act as brokers, meaning that they have more leeway when it comes to working with various insurance companies to customize a policy that is right for you.
Smaller companies are often more personalized when it comes to customer service, as well. The auto insurance market is very competitive, and reputation is one thing that smaller companies can use to their advantage since they are able to provide service on a more personable level.
You can take a look at the table below to get an idea of what you might pay for auto insurance, depending on how much coverage you decide to buy. The table shows the average annual rates based on coverage levels.
Average Auto Insurance Rates by Coverage
| Coverage Types | Average Annual Auto Insurance Rates | Average Monthly Auto Insurance Rates |
| --- | --- | --- |
| Comprehensive coverage | $150.36 | $12.53 |
| Collision coverage | $299.73 | $24.97 |
| Liability coverage | $516.39 | $43.03 |
| Total Full Coverage Cost | $954.99 | $79.58 |
As an independent insurance agency, Hallmark Insurance Group offers products through Erie Insurance, The Hartford, Travelers, Progressive, and GMAC.
As a consumer, you can shop through these auto insurance companies directly, or you may be able to receive a cheap car insurance quote with an agent or by shopping online right now with our free tool.
What is Hallmark's availability by state?
Hallmark Insurance Group, which is within the larger Hallmark Financial Services company, is located in Woodbridge, Virginia, but they do provide insurance services outside of the state, as well. The company serves all of the following areas:
Virginia
Maryland
Washington D.C.
West Virginia
North Carolina
New York
Tennessee
If you live in any of the above areas, you should be able to get an auto insurance policy through the Hallmark Insurance Group. You can learn more by mail at the following company address:
Hallmark Specialty Personal Lines
P.O. Box 250209
Plano, TX 75025
Contact your local office for a Hallmark insurance agent appointment to talk to someone in person.
Auto Insurance Coverages Offered by Hallmark
Hallmark Insurance Group offers insurance products for both commercial and personal use. Commercial insurance products include auto and liability insurance. Hallmark Financial commercial auto may be offered through different companies.
Worker's compensation insurance is available as well as other commercial products. More details can be found by contacting a Hallmark Insurance agent.
Personal products available through Hallmark Insurance Group include auto, homeowners, health, and life insurance. There is also insurance available for motorcycles, renters, and recreational vehicles.
Hallmark Insurance Group auto policies include the standard coverage of property, liability, and medical.
Property coverage consists of both collision and comprehensive insurance coverage. Collision handles damage that occurs if you were to have an accident with another vehicle or object. Comprehensive takes care of damages that come as a result of anything other than a collision. Since both of these are wrapped into the package, it is unknown if you would be able to have collision or comprehensive without having both.
Liability auto insurance coverage protects you in the event that you are at fault in an accident that causes damage or bodily harm to another driver. The insurance company covers the medical and property damage that occurs to the other party.
Medical coverage handles your medical expenses that come as a result of an accident. This may also include rehabilitation and funeral expenses. Hallmark also offers medical malpractice insurance as well.
What are Hallmark's bundling options?
Many of the auto insurance providers that the Hallmark Insurance Group works with do offer different bundling options. Bundling your insurance refers to purchasing multiple policies from the same company.
For example, you can purchase your auto insurance policy as well as your life insurance from the Hallmark Insurance Group, if you choose. Most insurance companies offer a discount of anywhere from 5 percent to 25 percent if you choose to bundle.
Check out the video below to learn about the pros and cons of bundling your insurance policies.
Many companies offer multi-car discounts, also. You can think of this as a way of bundling, as well, but in this case, you are buying auto insurance for multiple vehicles. Auto insurance companies offer up to a 25 percent multi-car discount on combined policies.
What are the discounts offered by Hallmark?
Since Hallmark Insurance Group works with various auto insurance providers, your discount options through the company depend on what each provider has to offer, but many discounts are standard throughout the industry.
The table below shows some of the most common auto insurance discounts available, an estimate of how much money each can save you, as well as the companies that offer the discount.
Standard Auto Insurance Discounts Offered by Major Companies
Discounts Offered
Average Percentage
of Savings
Auto Insurance Companies Offering
Discounts
Low mileage/Low usage discount
Up to 20%
State Farm, Allstate, Travelers, Nationwide, Progressive
Defensive driving discount
10%–15%
State Farm, GEICO, Allstate, Travelers, Nationwide, Progressive, Farmers
Safe driver discount
10%
State Farm, GEICO, Allstate, Travelers, Nationwide, Progressive, Liberty Mutual
Military and federal employee discount
8%–15%
GEICO, Esurance, USAA
Good student discount
5%–25%
State Farm, GEICO, Allstate, Travelers, Nationwide, Progressive, Liberty Mutual
Senior/Mature driver discount
5%–10%
GEICO, Allstate, Liberty Mutual
Homeowner discount
3%
State Farm, GEICO, Allstate, Travelers, Nationwide, Progressive, Farmers
As you can see, it is always a good idea to check with your insurance provider to see what types of discounts you may qualify for as they can save you a lot of money on your auto insurance.
What programs are available from Hallmark?
The Hallmark Insurance Group offers a wide variety of services. You can take a look at the table below to see the services available from the company based on insurance policy type.
Hallmark Insurance Group Policies by Type
| Insurance Type | Available Insurance Policies |
| --- | --- |
| Auto, Home, and Personal Insurance | Auto Insurance, Boat and Marine Insurance, Condominium Insurance, Flood Insurance, High Net Worth Coverage, Homeowners Insurance, Motorcycle Insurance, Pet Insurance, Renters Insurance |
| Business Insurance | Business Interruption Insurance, Business Owners Package Insurance, Commercial Umbrella Insurance, Hotel and Hospitality Insurance, Manufacturers Insurance, Professional Liability (E & O) Insurance, Surety Bonds, Workers' Compensation Insurance |
| Group Benefits | Group Disability Insurance, Group Life Insurance, Group Dental Insurance, Group Long-Term Care (LTC) Insurance, Group Vision Insurance, Flexible Spending Accounts, Health Savings Account |
| Life and Health Insurance | Individual Life Insurance, Affordable Care Act, Individual and Family Health Insurance, Individual Dental Insurance, Individual Vision Insurance, Final Expense Insurance |
Now that you've learned all you need to know about Hallmark, let's take a look at their policies for cancellation and filing claims.
Keep reading to learn more.
Canceling Your Hallmark Auto Insurance Policy
Any changes to your Hallmark Insurance Group policy, including cancellations, must be done in writing, but you can start the process online by submitting a request for a policy change on the company's website.
Keep reading to find out more about how to cancel Hallmark insurance policies and filing claims.
Is there a cancellation fee with Hallmark?
The Hallmark Insurance Group does not charge a cancellation fee if you need to cancel your policy.
Is there a refund from Hallmark?
Whether or not you can get a refund on your policy depends on the type of policy and when you choose to cancel. If you choose to cancel a refundable policy in the middle of the policy cycle, you will receive roughly half of what you paid, assuming that you only paid for that cycle.
Since refund amounts may vary and depend on a variety of factors, it is always best to check with your insurance agent to see what factors apply to you.
How do you cancrk with Hallmark?
What should you do if you need to cancel your policy?
You can cancel your policy at any time simply by contacting your auto insurance agent and letting them know that you'd like to cancel your policy. Your agent will let you know when the changes will take effect and whether or not you are entitled to a refund of any policy premiums you have paid in.
When can I cancel my Hallmark policy?
All insurance policies, other than workman's compensation policies, through the Hallmark Insurance Group, have a standard cancellation period of 30 days. Workman's compensation policies have a 45-day cancellation period.
If, for some reason, you require a longer cancellation period, the company is able to extend the cancellation period up to 60 days on your policy if needed.
How to Make a Hallmark Auto Insurance Claim
For the convenience of customers, Hallmark Insurance Group has website access available in English and Spanish. You are able to file an insurance claim online or call the claims number. You can also have your Hallmark insurance agent login to the system to report the claim for you.
Watch the video below to get an idea of what you can expect during the claims process.
Hallmark Insurance Group provides all of the necessary forms and information for you to make adjustments to your auto insurance policy directly on the website.
The website indicates 24-hour customer service, but this is related to the forms on the website. The actual hours of operation are Monday through Friday, 9 a.m.–5 p.m. Anything outside of that time requires an appointment with an agent.
How to Get an Auto Insurance Quote Online with Hallmark
The Hallmark Insurance Group makes it relatively easy to get an auto insurance quote. You can start the request online by visiting their website and clicking on the "Get Secure Quote" button.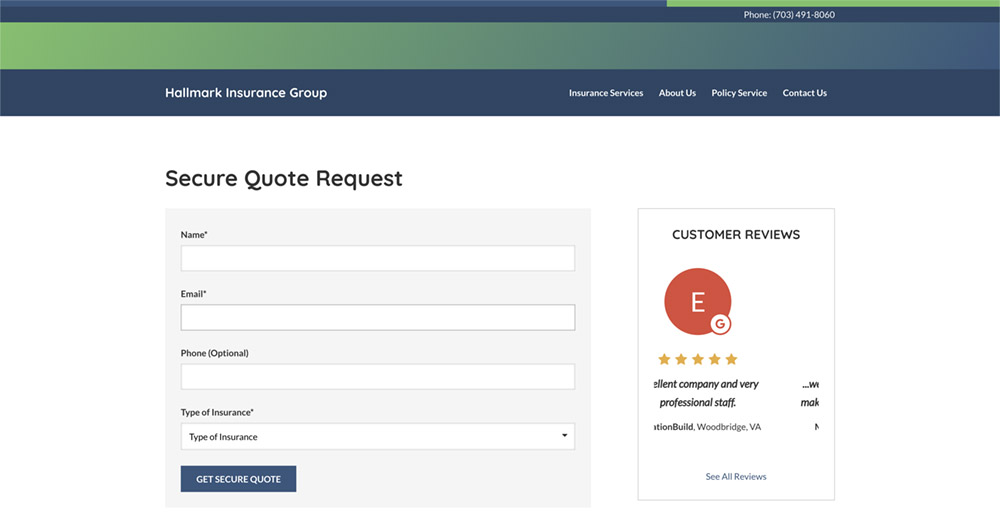 Once you have done this, enter your information into the online form, and you will be contacted by an agent to discuss which auto insurance rates are available to you.
Hallmark: Auto Insurance Ratings
The Hallmark Insurance Group is an independent insurance agent located in Woodbridge, Virginia. Being a small company, it does not have listed ratings with any of the major insurance rating systems like AM Best.
You can take a look at the video below to see how different groups rate auto insurance providers and find out which groups you can go to to find reputable rating information such as JD Power, &P Rating, and the Better Business Bureau.
The Hallmark Insurance Group website does offer its own review system where customers can rate the company. Based on this review, the company rates 4.9 stars out of a possible five stars based on 11 rated reviews. You can check out what their customers have to say by visiting the company website.
There is information available regarding the various products on the agency's website, as well. This information is not comprehensive, however.
If you are interested in insurance products through the Hallmark Insurance Group, you may need to call to have any details or questions answered by an agent.
Hallmark: Auto Insurance History
The Hallmark Insurance Group has been doing business in Woodbridge for 25 years. The owner and insurance agent for the company, Mike Goldberg, has over 30 years of experience in the industry. Hallmark insurance careers appear to be long-lasting.
How is Hallmark's online presence?
The Hallmark Insurance group does provide its customers with a website where they can request a quote, file a claim, and do a variety of other insurance-related tasks.
You can also use the Hallmark website to request an ID card, a certificate of insurance, or a policy change. It is important to note, however, that all policy changes must be confirmed in writing.
Is Hallmark involved in the community?
The Hallmark Insurance Group prides itself on putting its customers and its community first.
Hallmark Insurance Group is an independent insurance agency in Woodbridge, VA, with the customer in mind. They have relationships with many insurance companies, allowing you to get the right coverage with the best price.
The company is active in the community, with most of its charitable work and donations going to the Knights of Columbus. It is also a member of the Independent Insurance Agents of Virginia.
Hallmark Auto Insurance: The Bottom Line
Now that you know all that you need to know about purchasing your auto insurance policy from a small, local agent, specifically from the Hallmark Insurance Group, we hope that you will feel more confident in purchasing your policy.
Which part of this guide was the most helpful for you?
With just your ZIP code and the FREE tool here, you can compare several online auto insurance quotes now. Enter your ZIP code below to get started.
Frequently Asked Questions: Hallmark Insurance Group
In this section, we answer some of the most commonly asked questions about Hallmark Insurance Group auto insurance policies. Some of the answers may have been covered in part or in full in the guide above.
#1 – Does the Hallmark Insurance Group offer SR-22 insurance?
If you have had more than your fair share of traffic citations, automobile accidents, and/or auto insurance claims, you may be considered a high-risk driver. Normally, high-risk drivers are required to purchase SR-22 insurance, which is not available through all companies, so it may take some looking around to find coverage.
Both Progressive and Geico, two of the companies that offer auto insurance coverage through the Hallmark Insurance group, offer SR-22 auto insurance. There may also be other companies that do, as well, so it would be best to contact Hallmark Insurance Group directly to see what rates they have to offer.
The filing fee to get SR-22 insurance is only $15–$35, but the increase in rates for SR-22 insurance when compared to rates for drivers without any driving violations on their records is definitely not pocket change.
Rate increases for driving violations that result in a driver being forced to carry SR-22 insurance can be as much as $541 a month.
#2 – What kinds of questions should I be prepared for when purchasing my auto insurance policy?
When you apply for an auto insurance policy, you will be asked a series of demographic questions such as your name, age, sex, etc. You will also be asked a variety of other questions aimed at assessing your risk as a driver.
Some of the things the insurance company will want to know about are your driving record, the type of vehicle you are insuring, and whether or not you have had any tickets or accidents in the past.
Once this information is collected, the insurance company uses this data to assess your risk as a driver and to determine your policy rates. This process is known as the underwriting process. By using this method of risk evaluation, auto insurance companies are able to reduce their chances of losing money on issued policies. Through this process, the insurer can determine your risk factors and decide if they want to insure you, and if so, at what rate.
#3 – Are there benefits to using an agent to purchase auto insurance?
While it is possible to purchase your auto insurance policy directly instead of through an agent, there are some possible downsides to doing so.
First of all, if you choose to go with a local agent, you will get the advantage of a more personalized service. This experience is just not possible when you purchase directly from a large company.
With a local agent, it is quite possible that you may speak to the same person about your policy every time.
Many people believe that buying directly from the company can save them money by cutting out the figurative "middleman," but this theory fails to take into account the large marketing budget that these companies use for direct marketing. This can even out the playing field when it comes to price, meaning that a local agent can often offer you the same prices as you could get by buying directly from the company.
#4 – How does adding drivers to my auto insurance policy affect my rates?
Adding another driver to your auto insurance policy means that your car will be spending more time on the road since it is a shared vehicle. That alone is enough to raise your rates, but adding someone else to your auto insurance policy also means that your rates will be affected by that driver's perceived risk, as well.
For example, adding a teenager to your policy can raise your auto insurance rates drastically since teenage drivers are inexperienced, and auto insurance companies see them as high-risk drivers while adding your spouse might not raise your rates quite as much.
There are restrictions as to who you can add to your auto insurance policy. Most companies will only allow you to add people in the same household to your automobile insurance policy. Always check with your auto insurance provider to see who you can add to make sure that whoever is driving your vehicle is covered on the policy.
#5 – Why would my provider cancel my auto insurance policy?
Your auto insurance provider may cancel your policy if you do any of the following:
fail to pay your auto insurance premium
get your driver's license suspended or revoked
lie during the application process
If you are found to be a high-risk driver, your auto insurance company can also choose not to renew your policy.
#6 – Does Hallmark work with Freeway Insurance?
No. Hallmark Insurance Group doesn't offer coverage through Freeway Insurance.
#7 – Is Hallmark good for commercial auto insurance?
Hallmark offers a range of options for commercial coverage, but the right company for you depends on a lot of factors. Rates will vary from company to company, and Hallmark loss runs done by each company may impact rates on business insurance. Talk to an agent for details.
Hopefully, you've found this Hallmark Financial Services car insurance review helpful. Happy shopping.