The How-To Car Insurance Guide for Different Driver Types [Expert Tips and Savings]
Most drivers over 60 pay $1,677.62 less than the national average for car insurance while teens pay $4,340.18 above the average.
UPDATED: May 4, 2022
Fact Checked
Free Car Insurance Comparison
Compare Quotes From Top Companies and Save
Secured with SHA-256 Encryption
UPDATED: May 4, 2022
It's all about you. We want to help you make the right coverage choices.
Advertiser Disclosure: We strive to help you make confident auto insurance decisions. Comparison shopping should be easy. We are not affiliated with any one auto insurance provider and cannot guarantee quotes from any single provider. Our partnerships don't influence our content. Our opinions are our own. To compare quotes from many different companies please enter your ZIP code on this page to use the free quote tool. The more quotes you compare, the more chances to save.
Editorial Guidelines: We are a free online resource for anyone interested in learning more about auto insurance. Our goal is to be an objective, third-party resource for everything auto insurance related. We update our site regularly, and all content is reviewed by auto insurance experts.
UPDATED: May 4, 2022
It's all about you. We want to help you make the right coverage choices.
Advertiser Disclosure: We strive to help you make confident auto insurance decisions. Comparison shopping should be easy. We are not affiliated with any one auto insurance provider and cannot guarantee quotes from any single provider. Our partnerships don't influence our content. Our opinions are our own. To compare quotes from many different companies please enter your ZIP code on this page to use the free quote tool. The more quotes you compare, the more chances to save.
UPDATED: May 4, 2022
Fact Checked

Perhaps you've spent time serving this country. Or you're the parent of a bright-eyed teenager learning what it's like to get behind the wheel for the first time. Maybe you're strapped for cash, waiting for the next financial breakthrough. Or, you've had one too many violations, and now you're struggling to find coverage.
When it comes to the types of drivers looking for cheap auto insurance, they tend to fall into one of two categories — those who have typical needs, and those with a special set of circumstances.
But for some, it doesn't stop with coverages. Trying to understand and fulfill certain legal requirements can bring a unique set of challenges.
It's for these reasons we've created this in-depth, comprehensive guide.
In looking at auto insurance policies for special groups of drivers, we're going beyond the typical factors insurers consider when setting policies. We're zeroing in on the critical car insurance information they need to drive with the best coverage possible.
These groups include:
Through the course of this guide, we'll examine everything from coverages, to legal requirements, and to best rates. We're also including savings tips for each group, as well as an in-depth list of common car insurance discounts.
Keep reading to begin your journey in understanding car insurance policies for special populations. You can also begin shopping rates by entering your ZIP code into our free car insurance comparison tool.
Car Insurance for High-Risk Drivers
There's no way around it.
If you're driving a vehicle in the U.S., you must be insured.
Given that car insurance is a legal requirement, since you have to have auto insurance in almost every state, one would assume that obtaining coverage would be pretty cut and dry.
But that isn't always the case.
For drivers who are considered high-risk, finding a provider that is willing to insure them can be challenging. Sometimes insurers just aren't willing to take a gamble on their past record, or on the amount they anticipate paying out in claims.
But the truth of the matter is this — high-risk drivers can get car insurance. What will be key is understanding the risks, and knowing your options.
What is a High-Risk Driver?
Insurers tend to consider the following drivers as high-risk: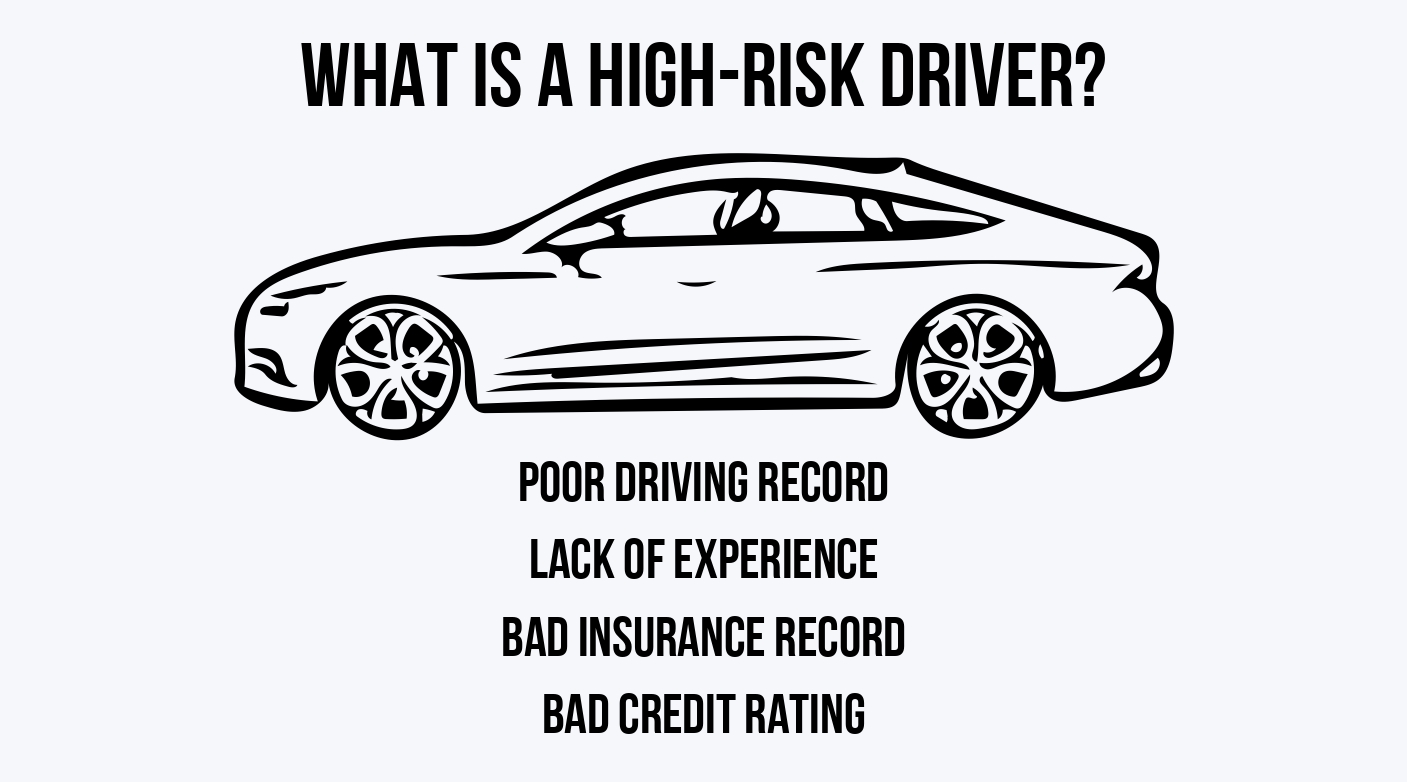 A poor driving record can include having multiple accidents or traffic violations, as well as DUI/DWI convictions. This can also extend those who have been convicted of driving without a valid license.
Inexperienced drivers, or newly licensed drivers, are considered high-risk because of their tendency to end up in crashes.
Drivers who have a bad insurance record include those who've allowed their policies to lapse, or have had numerous violations for non-payment
According to the Insurance Information Institute (III), your credit score is "a statistical tool that predicts the likelihood of your filing a claim and the likely cost of that claim." As a result, drivers with poor credit are often assessed higher rates. This practice, however, is illegal in California, Massachusetts, Michigan, and Hawaii.
Read on to find out what types of drivers need high-risk auto insurance coverage.
Getting Insurance as a High-Risk Driver
One thing high-risk drivers tend to have in common is higher-than-normal rates.
Case in point — we compared the average rates among drivers with various driving records:
It's plain to see that the rates between drivers with clean records and those with driving violations are drastic, particularly among those with DUIs. In fact, drivers who have had one DUI are paying the steepest prices with Liberty Mutual Auto Insurance ($7,613.48), Allstate ($6,260.73), and Travelers Auto Insurance ($5,741.40).
We also compared the average rates among drivers with good, fair, and poor credit:
In looking at each of these providers, we see one consistency — an increase in rates as credit scores go from good to poor.
Once again, drivers with Liberty Mutual are paying the highest average rates across the board, with drivers with poor credit paying a staggering $8,802.22 annually. Drivers with poor credit are also paying steep rates with Allstate Auto Insurance ($6,490.65) and Travelers ($5,160.22).
Can I find affordable auto insurance with my high-risk driving record?
We've got everything you need about finding the best cheap high-risk auto insurance rates below where we cover assigned risk, non-standard, and SR-22 coverage options.
Assigned Risk Car Insurance
Finding traditional car insurance can be difficult for those deemed as high-risk. So much so, many will be refused by multiple insurance providers. When that happens, drivers will need to seek different forms of insurance. It is for this reason most states have some form of assigned risk coverage.
Assigned risk is where regulators require insurers to pool together to provide coverage for high-risk drivers who have difficulty finding coverage. In fact, many state programs will require that drivers attempt to gain insurance from several companies before applying.
Drivers can find the assigned risk pool for their state by visiting the Automobile Insurance Plan Service Office (AIPSO) website and searching under "Plan Sites." By selecting your state, you'll be led to a page displaying your state's options, as well as the next steps in how to apply.
Non-Standard Auto Insurance
A non-standard policy is another cheap insurance option to provide coverage for high-risk drivers that standard auto insurance will not cover. Non-standard auto insurance caters specifically to the highest-risk drivers — including those who have had multiple car accidents, multiple violations, DUIs and DWIs, poor credit, or little driving experience.
For some drivers, non-standard insurance will be beneficial as many insurers will not consider your credit rating as a factor
The III goes on to note that some non-standard insurance will be able to sell you more comprehensive coverage than what you'd receive under an assigned-risk plan. To learn more about non-standard insurance, contact an insurance agent or reach out to your state's insurance department.
What is an SR 22?
Some high-risk drivers, particularly those with a DUI or DWI conviction, will have to have an SR-22 added to their insurance.
An SR-22 is a certificate that ensures that drivers who are considered high-risk are covered with the state's minimum liability requirements.
SR-22's are usually the result of a court order and are filed directly by an insurance company with the state's Department of Motor Vehicles.
In Florida and Virginia, certain high-risk drivers will need to obtain an FR-44. This is more severe than an SR22, as it requires drivers to have much higher amounts of liability insurance.
The good news? SR-22s and FR-44s are not meant to remain on your record forever. The standard period of time is usually one to five years, depending on your circumstances.
What are some high-risk auto insurance companies that offer cheap rates?
Each companies risk analysis will be different and even the state/city you live in will make a difference. Our best advice to this question: shop around so that you get multiple quotes from multiple providers to find the best policy for you.
Do I need a high-risk auto insurance company?
If you have had several automobile accidents that were your fault, are a DUI offender or are an inexperienced driver such as a teenager, you may be wondering if you need high-risk auto insurance.
High-risk auto insurance is for new drivers and people who have a history of risky driving.
An auto insurance company considers these drivers more expensive to insure because the likelihood of them filing a claim is greater than for ordinary drivers.
There are three basic types of drivers that insurance companies are usually willing to insure, and each type can use a comparison site to find the lowest cost for auto insurance coverage.
The preferred customer with a good driving record
The standard customer who is the average vehicle owner
The non-standard customer who is the greatest risk for the insurance company
The type of drivers that need high-risk auto insurance coverage are nonstandard customers. are If a motorist has a long history of accidents and claims, they may be refused coverage completely.
Some factors that contribute to high-risk auto insurance are more serious than others. If you have just one of the following on your record in a 12 month period, you will be considered high risk by almost any insurance company.
Numerous moving violations convey the possibility of an automobile accident
A DUI conviction may cost you your license as well as make you a high-risk customer
Being in a hit and run accident
Negligent vehicular injury
Driving while under the influence of drugs
Reckless driving
Suspended license
Auto insurance canceled
Medical conditions that could affect your ability to drive
People over 70 years old
Does cheap comprehensive auto insurance for high-risk drivers exist? We've covered in the sections below.
Tips for Finding Cheap Insurance as a High-Risk Driver
There are a number of strategies experts recommend high-risk drivers can adopt to improve their driving record (and even save some money along the way):
Take a defensive driving course to shore up your skills. Beyond that, you can look for classes that are eligible for discounts on your car insurance premium.
Repair your credit by paying off debts. This will not only help show insurers that you are financially responsible, but this can lead to lower premiums.
Buy a safe car. Staying away from sportier cars or cars with bigger engines can aid in the temptation to engage in riskier behaviors. Additionally, if insurers see your car as safe, you may be entitled to lower rates.
Never drink and drive. Always have a designated driver in place.
Take extra care to drive safely and obey traffic laws.
Remain consistent in paying for your insurance coverage, never allowing it to lapse. Not doing so can result in serious consequences, including license suspension or revocation.
Look for discounts. Your status as a high-risk driver doesn't exclude you from discounts. This includes discounts tied to your occupation, multi-car policies, bundling policies, low-mileage, and more. For your convenience, we've included a listing of potential car insurance discounts at the bottom of this article
Free Auto Insurance Comparison
Enter your ZIP code below to view companies that have cheap auto insurance rates.
Secured with SHA-256 Encryption
Car Insurance for Military Members
Any man or woman who has served our country knows it all too well — the long deployments, the frequent moving, and ever-changing situations.
In spite of the unknowns that can come with life in the military, it's important that certain things remain constant, including reliable car insurance.
But for many, questions remain — especially when it comes to discounts, and how to handle coverages when away.
The good news? A number of tried and true strategies exist, including those that can lead to big savings.
Auto Insurance: Military Deployment & Living Overseas
Without a doubt, deployments are stressful times for military personnel and their families. What they shouldn't have to worry about are the cars that they leave behind. In fact, what our servicemen and women should focus on are the homecomings and reunions that await them:
Thankfully, there are car insurance options for military members overseas.
Military Deployment and Car Insurance
It's obvious — military members could choose to simply maintain their current levels of car insurance. While this may be the easiest option, it's not the most cost-efficient, especially if your car won't be used while you're away. Fortunately, several options exist to help ease anxiety and cut costs:
Cancel your coverage. For many, this will be ideal unless you are financing your car and the bank requires you to maintain coverage.

Be sure to let your insurer know when you're leaving, and when you're returning (so your coverage doesn't lapse).
Many companies will require documentation of your deployment and return.
Contact your state DMV to see if you need to submit an affidavit of non-use to avoid the penalties of having a non-insured car

Reduce coverages. Since you won't be driving your car, consider decreasing your coverages to the state's minimum requirements. You may, however, want to consider keeping comprehensive coverage to protect your car from unexpected events (such as fire, weather, and vandalism).
Remove yourself from the policy. This is an option to consider if you're on a policy with multiple drivers. Speak to your insurer to see if this can be done on a temporary basis.
Store your car and get storage insurance. In this scenario, you would be canceling liability coverage and maintaining comprehensive coverage.
Some Things to Consider When a Vehicle is Left Behind
Many states enforce traffic laws that prohibit uninsured and unregistered cars from being parked on public streets. Those that are found in violation often get towed and impounded at great expense to the owner.
Luckily, there are many resources available to assist military employees with both insurance and transportation.
Military members who need to leave their vehicles in their home areas are often allowed to park the vehicles at a military base while they serve abroad.
Since some members choose to suspend car insurance coverage while deployed, this option can protect their vehicles from impoundments.
Some Things To Consider When a Vehicle is Brought Along
Other military members may elect to bring their vehicles along with them on deployment. Some military branches provide free transshipment services for service members.
In such cases, the individual in question would simply need to bring their insurance coverage paperwork along with them to show proof of insurance in their new location.
Car Insurance for Veterans and Immediate Family Members
Active members are not the only ones eligible for discounted military rates. Veterans who have put in their time may also qualify for special pricing and discounts. In fact, it is typical for U.S. veterans to receive discounts ranging from 10 to 20 percent, so you'll want to make sure your insurer knows of your time served.
Some insurance companies, like USAA, will also extend coverage to immediate family members of military personnel. In USAA's case, that includes widows and "un-remarried former spouses of USAA members who joined USAA before or during the marriage." Be sure to check with your insurer to learn more.
Does cheap military auto insurance exist? We've got you covered in the next two sections.
USAA Car Insurance Rates
As a provider that exclusively serves members of the military community, USAA has earned a strong reputation for its service and its low car insurance rates.
Below, we're comparing USAA's average rates across varying levels of coverage to the top ten car insurance providers:
USAA not only offers the lowest average rate at $2,537.30, but it's also the only provider to have an average rate in the two-thousand dollar range. The next-closest in price is Geico with an average rate of $3,215.01.
Finally, it should also be noted that USAA's average rate is more than one-and-a-half times lower than the average rate of all ten companies.
Saving Money on Military Insurance
There are a number of ways you can save money on your car insurance as a military member or veteran.
Because car insurers use location as a determining factor for setting rates, consider keeping your car on a military base. Military bases are known to be secure facilities with lower instances of crime — both important factors that can help keep your rates low
As we mentioned earlier, you'll also want to consider reducing coverages, as well as raising deductibles.
Finally, don't forget to explore discounts, particularly those tied to the military. Below is a list of car insurance providers who offer military discounts:
Allstate
Esurance
Geico
Farmers
Liberty Mutual
MetLife
Safe Auto
Safeco
State Farm
The General
USAA
Car Insurance for Seniors and the Elderly
Experts say it's simple — the number of older drivers is growing. Senior and elderly drivers keeping their licenses longer, and they're covering more miles than ever.
In fact, 2017 statistics show that whether they're in their 60s, 70s, or 80s, the number of older licensed drivers in the United States is in the millions.
The chart below illustrates the number of older drivers in the U.S. in 2017:
When we consider the number of older drivers on the road, two major concerns arise — safety and the cost of car insurance. But by taking a closer look at both risk and rates, we can begin to paint a clearer picture of best practices for older drivers.
How Age Affects Car Insurance Rates
According to the III, drivers who are 55 and older tend to be more courteous and are more likely to adhere to speed limits and traffic laws. Retirees will often drive far fewer miles than the average commute, likewise reducing risk on the road. As a result, many insurance companies offer discounts to drivers over 55.
When you change your employment status from employed or business owner to retired, your rate could decline for that simple update. This isn't just a goodwill gesture; it's because of risk changes.
Studies show that retirees tend to be better drivers because they are happier and less stressed. They also have the choice not to drive in stressful conditions if they don't want to.
However, as drivers advance in age, so do impairments such as vision and hearing. And, statistics from the Insurance Institute for Highway Safety reveal a troubling trend — older drivers have some of the highest rates of vehicle fatalities among all age groups, and in some cases surpassing teens.
You can see this illustrated in the table below, which pulls from 2017 motor vehicle crash data per 100,000 people:
It isn't until drivers are over 70 that they may start to see rate increases. However, age doesn't have to be a barrier to prime premiums, and saving doesn't have to be an impossibility.
Saving Money on Car Insurance for Senior and Elderly Drivers
You may be wondering how car insurance could cost less for seniors. We turned to Quadrant data to compare the average rates among the top car insurance providers, and focused on married male and female drivers ages 60 and up:
USAA and State Farm offer the lowest average rates for older drivers at $1,449.42 and $1,873.89 respectively.
State Farm charges the same average rate for male and females ($1,873.89). However, USAA's rates are slightly higher for females — by 87 cents, to be exact.
On the flip side, the highest average rates can be found with Liberty Mutual at $3,562.77, and with Allstate at $2,952.01. In the case of both insurance companies, male drivers are paying higher average rates than their female counterparts.
Tips on Cutting Car Insurance Costs
Older drivers looking to cut costs have options:
Consider usage-based insurance, specifically, pay-per-mile insurance. This could be especially ideal for older, retired drivers who have cut down on their mileage dramatically.
Drop certain coverages. If you're driving an older car, you may decide you can go without optional coverages like comprehensive or collision.
Raise your deductible. Increasing your deductible can lower your monthly costs, but will lead to higher out-of-pocket costs in the wake of a car crash or collision.
Get a newer car. Trading in a newer car for an older one can help reduce your rates. Insurance companies are more likely to offer lower rates if your car is equipped with modern safety features.
Reduce the number of cars you're driving. As an example, if you and your spouse are retired, the two of you may be able to share a car. Reducing the number of cars in your household will likely lead to reduced rates.
Retirees will also be able to change their driving status to a pleasure rating.
If you used to commute in your car or drive it to business meetings, you need to update how your car is classified. Instead of being a commuter or a business vehicle, it'll be classified with a pleasure rating.
No work means no commute and that translates into savings. Commuters pay more for their insurance coverage because they have to be on the road during peak hours where drivers are stressed and in a hurry. These conditions mean that drivers are exposed to more accidents. When your usage is changed, your rates can drop by as much as 10 percent.
Discounts for Senior and Elderly Drivers
When it comes to discounts for senior and elderly drivers, here's what you need to know — the law is on your side.
According to the American Association of Retired Persons (AARP), premium discounts are mandated by 34 states and Washington D.C. for older drivers who complete "a classroom-based, state-approved driver-improvement course."
Additionally, 22 states and Washington D.C. mandate discounts to older drivers who take defensive driving or other drivers' education courses online
In order to demonstrate to insurance providers that you continue to be a safe and competent driver, enrolling in driving lessons can improve your chances of receiving affordable car insurance.
Courses help educate seniors about new safety issues and laws that some elderly people might not be familiar with, and typically offer insights on how aging and various kinds of medication might affect someone's driving.
Seniors who have completed these lessons are more likely to receive lower car insurance rates as a result.
Keep in mind, in states where discounts are not mandated, insurance companies will voluntarily provide discounts. The III reports that these discounts generally apply to liability insurance coverages, but will vary state by state.
Older drivers looking to take these courses have resources with the AARP Driver Safety Program, as well as AAA. Drivers looking for additional options can contact their insurer to see which courses are eligible for discounts.
Finally, our research revealed the following companies offer discounts to seniors (discount listed when available):
21st Century
Allstate (10 percent)
Esurance
Farmers
MetLife (10 percent)
The General (ages 55+, five percent)
The Hanover (listed as "pleasure use," five percent)
The Hartford
USAA
When Should Older Drivers Stop Driving?
At the end of the day, car insurance discounts and money-saving tips are irrelevant if an older driver poses a risk to others, and themselves.
For many, broaching this subject will be uncomfortable. But if you're not sure whether you or a loved one should be driving, don't be afraid to act and seek guidance.
The III recommends this resource from The Hartford, a downloadable brochure that addresses the signs and signals that it may be time for seniors to stop driving. Similar resources can be found with the AARP and the AAA.
Why do new older drivers pay more than experienced older drivers?
Age is one of those things that you can't change. Unfortunately, if you want to drive into your golden years, you'll pay the price because drivers in your age group tend to lose some of their driving skill in retirement.
Being an older driver isn't the only reason your rates will be high, you'll also pay the price because you're an inexperienced older driver.
For some companies, age and experience are premium rating factors that go hand-in-hand. Other carriers will consider age and experience differently because not all people test for their license at 16. Like you, a lot of the population wait until later in life to get licensed.
Experience is generally a good thing. Since experience works in all drivers' favors, it doesn't help at all to be a senior driver who also isn't getting credit for years of licensing experience.
Without these credits, you'll be paying a high-risk rate similar to the rate that a teen driver with no actual behind-the-wheel experience pays.
Low-Income Car Insurance
Thirty million.
It was the number of uninsured drivers in the United States in 2012, according to a study conducted by the Federal Insurance Office of the U.S. Department of Treasury. As for the group most likely to be uninsured? Researchers say that designation goes to low-income drivers.
Knowing that drivers are forgoing car insurance in order to make ends meet is a concern. But to those who are getting by on low incomes, affordable car insurance may seem elusive.
However, options do exist, including low-cost plans and smart ways to save.
Car Insurance as a Percentage of Income
Experts say the average U.S. household spends about two percent of its annual income on car insurance. However, the keyword is average, as the cost of premiums will vary from consumer to consumer, and percentages will become higher for those with lower incomes.
In fact, a Consumer Federation of America study revealed that residents living in certain low-income ZIP codes were paying disproportionately high rates compared to their neighbors. Additionally, higher rates are often associated with areas of high crimes, like theft and vandalism.
We compiled a list of the states where residents are paying the lowest and the highest percentages of their income toward car insurance, as of 2014:
North Dakota and New Hampshire top the list of states whose drivers are paying the lowest percentage of their income toward car insurance, at 1.5 and 1.65 percent respectively.
Drivers in Michigan and Louisiana are paying the highest percentage of their income toward car insurance, at 3.71 and 3.61 percent respectively. But keep in mind that in spite of these higher percentages, the disposable income among drivers in Michigan and Louisiana is significantly lower than those in North Dakota and New Hampshire.
State-Run and Low-Cost Car Insurance Programs
Certain low-cost insurance programs exist to help low-income residents obtain car insurance. As of now, three states offer low-cost insurance programs — California, New Jersey, and Hawaii.
We're breaking down each below:
California's Low-Cost Insurance Program
California's Low-Cost Insurance Program was established in 1999 to provide income-eligible drivers liability coverage at affordable rates.
To qualify, applicants must be within 250 percent of the Federal Poverty Level. They must also:
Have a valid California Driver's License
Own a car worth $25,000 or less
Have a good driving record
Be at least 16 years old.
Basic liability coverages provided under the plan include:
$10,000 bodily injury or death per person
$20,000 bodily injury or death per accident
$3,000 property damage liability per accident
The plan also offers Uninsured Motorist-Bodily Injury and Medical Payments as additional coverages. It does not include comprehensive or collision and would need to be purchased separately. To learn more, visit this site.
New Jersey's Low-Cost Insurance Program
New Jersey's Special Automobile Insurance Policy (SAIP) is a medical-only coverage option. It is available to drivers who are eligible for Federal Medicaid with hospitalization and comes at a cost of $365 a year.
According to their site, this plan covers "emergency treatment immediately following an accident and treatment of serious brain and spinal cord injuries up to $250,000. It also provides a $10,000 death benefit."
Keep in mind that not all Medicaid programs qualify for this policy. You will need to consult with your insurer directly to see if your form of Medicaid is eligible.
Visit the State of New Jersey site to learn more about the state's SAIP and eligibility requirements.
Hawaii's Low-Cost Insurance Program
According to the state's Department of Human Services, Hawaii residents who receive Supplemental Security Income (SSI) benefits or financial assistance may qualify for free no-fault insurance assistance.
Others who may be eligible for assistance include those who are part of the state's Aid to Aged, Blind, and Disabled program (AABD). Qualifications include:
Be at least 65-years-old or older, or meet the Social Security Administration's definition of disabled or blind
Most are not eligible for Social Security Benefits
Have a countable income below 34 percent of the federal poverty level
Have resources less than $2000 for an individual and $3000 for a couple
To learn more about eligibility, and to apply, head to this site or try calling the Public Assistance alone, available 24/7, at 855-643-1643
Low-Income Auto Insurance Savings Tips
Even if you aren't able to participate in a state-run program, there are still several ways you can save on your rates:
If you can, reduce the number of cars you own. Having fewer cars on your policy is a sure way to help cut down rates.
Shop for older, less expensive cars that will cost less to insure.
Consider removing comprehensive or collision coverage if your car is older.
Look for discounts — such as multiple policies, anti-lock brakes, anti-theft devices, reduced mileage, safety features, advanced payment, or EFT payments.
Consider usage-based insurance if you're a safe driver, or pay-per-mile insurance if you don't drive frequently.
Don't let your insurance lapse — even if you're short on cash. While letting your coverage lapse may be tempting on a tight budget, you're breaking the law and risk having your license suspended and paying hundreds in fines. Finding cheap auto insurance for a suspended driver can be challenging.
Free Auto Insurance Comparison
Enter your ZIP code below to view companies that have cheap auto insurance rates.
Secured with SHA-256 Encryption
Car Insurance for Teen Drivers
For the teenage driver, there's no feeling like it.
Holding your first set of car keys, putting them into the ignition, and driving off into a newfound sense of freedom.
While young, novice drivers lack no excitement in getting behind the wheel, what they do lack is experience. In fact, research shows that inexperience is the number one reason why teens end up in fatal crashes. With the statistics stacked against them, car insurance companies are taking note and charging accordingly.
But here's what you need to know — insuring your teen driver doesn't have to break the bank. Cutting costs begins with becoming more informed and heeding expert advice.
Teens as High-Risk Drivers
When it comes to teenage drivers, the numbers don't lie. Statistics continually prove why insurance companies consider teens to be high-risk:
Distracted driving — which can include texting, eating, loud music, or interacting with other passengers — was the reason behind nearly 300 deaths among teens ages 15 to 19 in 2017.
The Centers for Disease Control and Prevention reports that between 2009 and 2014, a third of all crashes involving 16 and 17-year-olds occurred during nighttime hours.
When it comes to seatbelt use among all age groups, the rate is lowest among teens.
Speeding — which often goes hand-in-hand with reckless driving — was a factor in nearly a third of all crashes involving teenage drivers in 2107
As for teens and impaired driving? Statistics point to one in ten high school students who drink and drive.
– Saving on Car Insurance for Teen Drivers
The truth of the matter is this— young drivers can expect to pay some of the highest premiums among all age groups. The key for families will be in shopping rates and comparing companies.
However, drivers with learners' permits often don't add to parents' rates. It's shocking to learn that a learner driver probably won't cost you money in additional premiums.
There's a reason for this goodwill gesture.
Since teens have to be supervised by you, they will be on their best behavior. Teens also tend to drive better with a permit because tickets and accidents can delay their ability to get an unrestricted license.
There's no guarantee that adding a learner driver to the insurance plan will be free, but this is standard practice with most of the respected insurers.
Let your agent know a teen in your home has their permit, ask if they need to be listed, and then verify if you need to pay additional premiums for the added protection.
There are companies that will charge you a flat fee until the teen is licensed. Once your teen is licensed, rates will be more expensive. We've compiled the average premiums for male and female drivers ages 17 to 24 among the nation's top ten insurers:
Whether drivers are male or female, the company charging the highest rates is Liberty Mutual (male— $13,718.69, female —$11,621.01) and the company charging the lowest rates is USAA (male — $5,385.61, female — $4,807.54).
The car insurance company with the highest average rate among both gender groups is Liberty Mutual at $12,669.85. The company with the lowest average rates among both genders is USAA at $5,096.58.
The good news? There are a number of proven, cost-cutting strategies you can put into practice:
Add your teenage driver to an existing policy. Experts say that the majority of the time, this will prove to be the least expensive option for families.
Save by bundling policies. Insurers are known for giving discounts to customers with multiple policies. Consider building home and auto insurance.
For the teen who doesn't drive frequently, consider pay-per-mile insurance. This ensures teens will only be charged for the miles they drive (plus a monthly base rate).
Consider raising your deductibles. Raising your comprehensive or collision deductibles will likely result in lower premiums. However, if you get into an accident, your out-of-pocket expenses will be higher.
Look for discounts tied to young drivers. This includes good student discounts (typically requiring a "B" average or better), driver's ed courses, and long-distance college students who don't have their cars with them. Here's a look at which providers provide each of these discounts:
Remember, you can never underestimate the value of shopping around for the best rates. Begin discovering your money-saving options by entering your ZIP code into our free comparison tool below:
Why do young males pay more for auto insurance?
You may have noticed in the rates earlier than males pay more than females for car insurance. There are a few reasons why young males pay the most expensive auto insurance premiums these days.
Historical statistics prove young males have certain characteristics that most auto insurance companies consider risky which results in increased auto insurance premiums.
Young male teen drivers between the ages of 16 and 20 represent a significant number of consumers seeking auto insurance for the first time which is why car insurance companies place their numbers so high. Let's take a look at some of the reasons why male drivers pay more. While females also participate in these activities, insurers believe males to be the worst culprits.
Thrill-Seeking Behaviors
Young male drivers seek thrills by way of speeding. They take more risks than young female drivers do; that risky behavior contributes to their high car insurance premiums.
In fact, the California Department of Motor Vehicles, explains how speed, combined with inexperience behind the wheel, plays a role in fatal accidents each year.
They have a tendency to be much more overconfident because they have a driver's license and assume they can handle emergency situations. This overconfidence leads to worse behavior, including violating the more dangerous traffic laws.
Young male drivers often disobey traffic signals and run through red lights. They also tailgate more frequently.
All of these negative behaviors have placed them in the worst category when it comes to car insurance companies and they judge them all the same.
Rather than looking at them individually, most male drivers between 16 and 20 are perceived as the highest risk.
Even inexperienced male drivers over 30 are not quoted the same rates as their young counterparts because, although they may not have as many years behind the wheel, their age makes them much more responsible.
Seat-Belt Use
Young male drivers are also less likely to use seat belts, assuming airbags will cushion the blow of a head-on collision and that side impact airbags will take care of the rest.
Unfortunately, airbags giving you full protection is a myth that many believe to be factual. In actuality, the airbags are to be used in tandem with seat belts, not as a replacement.
Less than 20 percent of young male drivers use seatbelts regularly, and out of that small number, only about 10 percent use them correctly.
This lack of safety measures is another reason why they pay the price when it comes to car insurance. The car insurance industry takes all of the statistics provided by the various traffic and safety reports and uses this data to compile their data.
If young male drivers began to exercise even the most basic safety procedures, they would see the averages drop substantially.
Over a period of two to five years, the number of fatal crashes resulting from the failure to use seatbelts would decrease and have a significant impact on the car insurance industry's rate calculations.
Number of Passengers
Young male drivers often carry more passengers than young female drivers. In 2010, the state of New Jersey created a law called, Kyleigh's Law, named after a 16-year old teenager who was killed by another teen driver.
While the law does not directly address the issue of having too many passengers in a vehicle, it does help police officers identify drivers under the age of 21 with just a glance at their license plate.
Many other states around the country are beginning to create similar laws in order to bring awareness to these types of tragedies. If they are successful, it will not only save lives but will also help decrease how much teens pay for car insurance.
In the past, it was hard to determine the age of a driver with more than one passenger in the vehicle, especially after dark; however, with these types of laws in place, safety can take a step into the forefront.
Alcohol Consumption
Teen boys with facial hair can pass as older and are usually the purchasers of alcohol for their friends. They also become the designated drivers more often than teen girls do. When inexperience and alcohol come together, the results are often devastating.
According to the National Highway Traffic Safety Administration, out of the number of teen drivers killed in fatal car accidents in 2006, approximately 31 percent were found with a high BAC or Blood Alcohol Content of more than twice the legal limit.
Unfortunately, these statistics continue to rise each year, which is one of the main reasons why car insurance companies assess high rates for young drivers ages 16 to 20.
Over the past few years, many states have instituted programs directed towards this particular age group, using social media outlets like Facebook and Twitter as their primary platform.
These same states have also started imposing much higher fines for alcohol vendors who continue to sell their products to underage drinkers.
Level of Concentration
Have you ever heard of women being multi-taskers? Well, to some extent, this is true. Most women can complete more than one task at a time, whereas men are more focused on completing one task at a time.
The same can be said for male teen drivers. While distracted driving is certainly a concern for all car insurance companies, female teen drivers are less likely to lose control when an unforeseen object appears on the road.
In March 2012, the AAA Foundation for Traffic Safety conducted an in-car video study that found that male drivers were about twice as likely to turn around in their seats and were also more likely to communicate with people outside of the vehicle.
Not surprisingly, using a cellphone while driving is also a major distraction and is a significant factor in crashes.
Texting while driving, however, carries the same weight of distraction since the driver's eyes are temporarily removed from the driving path and drawn towards the cell phone. This distraction is one of the reasons why so many states have placed bans on texting while driving.
Car Type
Young male drivers are also the main purchasers or receivers of sports cars. Car insurance companies charge more for these types of vehicles, and when additional modifications come into play, the rates can increase even more.
Instead of purchasing a sleek, fast supped-up vehicle, a parent should look for an older model sedan with extended safety features. Young drivers need a reliable means of transportation for the first few years that they are driving, but they should also be safe.
When the time comes to pay a visit to the local car insurance agent, one of the first questions will be regarding the type of vehicle they drive.
If teenagers plan to buy a sports car, be prepared to spend at least twice as much as for a sedan or compact car.
Young male drivers have the ability to control their rates if they make smart decisions and begin to recognize that driving is a privilege that can be easily taken away if the laws are not obeyed.
Can teenagers have their own car insurance?
Teenagers can buy their own policies, but due to their limited time on the road, insurance providers make assumptions about the level of skill and experience, which are indicated by the higher premiums that teenage drivers often encounter.
If teenagers are acquiring a policy, they will have to be prepared to handle the higher premiums that come along with their young age and higher risk status.
Insurance providers use these premiums to offset the potential that teenagers will be involved in a claim situation. It's important to remember that many providers have the same mentality when it comes to young drivers.
Therefore, shopping around for quotes from different providers is a smart idea, but teenagers will likely experience the same higher rates across the board. Although, the high rates tend to decrease as teenagers grow older and gain more experience behind the wheel.
As well, buying a policy on auto insurance as a student driver or teenager can allow them to select the coverage that meets their needs and budget.
Selecting their own coverage will also provide some excellent real-world experience when it comes to:
Managing their bills
Creating a budget
Learning to work with insurance providers
This experience can come with higher insurance costs due to a teenager's age or driving record since teenagers will not be on a plan with their parents or guardians. On the other hand, teenagers may decide to hold off on buying a policy until they are a little more established in their adult lives.
There are benefits to waiting as well, such as multi-car discounts and lower premiums, which parents or guardians have worked towards over the years.
Just remember that teenagers will not be the decision-maker for coverage and will be relying on someone else to make sure their policy remains active.
Car Insurance for College Students
From earning a high school diploma to pursuing a degree.
Indeed, attending a college or university marks a significant milestone for any student. And with this milestone come new financial challenges, like tuition, housing, books, and car insurance.
Here's the deal — as long as the college student is under the age of 25, their rates will remain higher than normal. Understanding the tricks to the trade — like whether your student should remain on your policy, or knowing what coverages they should have— will be key in keeping rates affordable.
Should I keep my college student on my policy?
Whether your college student should remain on your policy will largely depend on where they live, who owns the car they're driving, and how they choose to commute. That being said,
Rates will usually be more cost-effective when college students can remain on their parents' policies.
When it comes to younger drivers, especially those that are high school or college-aged, historical data clearly shows that drivers in this age group have a much higher probability of getting into motor vehicle accidents.
Insurance companies use this data in order to ensure that the coverage being provided to drivers is priced appropriately. Insurance companies are like all businesses, and their main concern is to turn a profit.
They give drivers that are seen as lesser of risk much lower-priced premiums because these drivers help them earn greater profits. So if college-aged drivers are on a parent's policy, the price will be lower than if college students purchased insurance themselves.
This is because the parents' low risk helps balance out the college student's high risk.
Here are some scenarios to consider:
If your student is attending a local college or university and they're still living with you, you should keep them on your policy.
If your student is attending a college or university that is at least 100 miles from home and they are not taking a car, you can still keep them on your policy and possibly receive a discount.
If your student is attending a college or university with a car titled (or jointly-titled) in your name, they may be able to stay on your policy. Check with your agent.
If your student is attending a distant college or university with a car titled in their name, they will likely need to purchase their own policy. Keep in mind, that as a student takes a car to college, insurers may adjust rates based upon where the vehicle will be, and if it will need a new registration
Insurers will differ in how they provide coverages. Therefore, it's always wise to not only speak to an agent but to shop rates to ensure you're getting the best deal possible.
The greater the amount of car insurance that are being looked at, the higher the likelihood of finding an insurance policy at the least expensive price.
So searching through 10 insurance quotes will give you a better chance of finding cheaper insurance policies then only searching through 3 insurance quotes.
When will a college student who is still on your policy be covered?
You might be surprised at home many different scenarios where your teen might need coverage to drive a car when they are away. You can't keep an eye on your college student all the time, so you don't truly know if they will be driving.
As much as you'd like to trust your children, it's always possible that they are doing things they aren't telling you.
Even though the intention is innocent, if something happens while they are driving a non-owned car, that innocent joyride can turn into a nightmare.
Here are scenarios where your college student will be covered if you keep them on your policy:
They drive a friend's car while they are away at school
They have to drive someone else's car because of an emergency near the campus
They return home and drive your vehicles or their friends' vehicles in your local area
You have to take a step back and assess the whole situation so that you can fully comprehend why it's so important to approach the insurance topic the right way.
Students who are away at college are usually still dependents. When you have a dependent who drives, it always put you at risk.
If you're paying for room and board or you're helping your child pay for college tuition, they are financially dependent on you, and this can work against you if there's ever an accident.
When parents make the mistake of removing their children too soon, college students won't have any liability protection to pay for claims made by other drivers. They also won't be entitled to having the insurance company cover the cost of legal defense.
Suggested Coverages for College Students
Beyond having the minimum car insurance requirements, parents may want to consider some additional coverages for their students:
If your student suddenly finds themselves on the side of the road with a flat tire or a mechanical issue, knowing they have roadside assistance will offer them peace of mind.
If your student's car is out of commission due to a collision or event that is covered by your insurance, rental assistance or coverage may come in handy to ensure they're still able to get to and from class.
For unexpected events — like theft, vandalism, or hail damage — comprehensive insurance becomes worthwhile.
Finally, if your student hits another car or another object, collision coverage will be what kicks in to help cover the damage done to their car. Otherwise, that would come out of pocket.
Tips for Saving Money on College Student Drivers
Discounts will be a key strategy in saving money on car insurance for college students. And with college students, some of the more prominent discounts available to them are the same ones available to teens — the Good Student discount, and the Distant Student discount (sometimes referred to as "Resident Student" or "Student Away").
Remember, with the Good Student discount, insurers typically require a 3.0 GPA or better. With the Distant Student discount, insurers are typically looking at students who are attending a college or university at least 100 miles away, and they aren't bringing their cars with them.
Another possible discount to consider — the military. If you're enlisted in the military, the National Guard, or part of an ROTC program, it's possible your insurance company may extend an additional discount. Be sure to check with your agent to learn more.
And of course, college students can always seek out the same traditional discounts other drivers are entitled to, such as safe driving, claim-free, or VIN etching.
Shopping around can also save college students money. Although most insurance companies traditionally charge college students more expensive policies, they each use their own methods for determining exactly how much those charges will be.
There is no one set standard being used by all insurance companies. This is beneficial to college students.
If every car insurance company charged the same amount, there would be very little that could be done.
However, since every company charges a different amount, students have the opportunity to shop around for the least expensive insurance coverage available. This is the best way to find the cheapest auto insurance around.
Car Insurance for Immigrants and Non-U.S. Citizens
Some come in pursuit of the American Dream. Some come to join relatives or to begin a new chapter. And others come to escape poverty, or war-torn countries. Whatever the reason, one thing is for certain —
The United States is welcoming more immigrants than any other country in the world.
In fact, the Pew Research Center reports that immigrants make up 13.6 percent of the country's population.
With an influx of immigrants comes an influx of motorists. And with that comes a very important question — how do non-U.S. residents go about getting car insurance?
The answer is simple. The journey to gaining car insurance for non-U.S. residents must begin with obtaining a valid driver's license.
Getting a U.S. Driver License
First thing's first — immigrants will need to begin by determining what residency requirements are in place for getting a driver's license in their state. They will also need to find out what documentation is required by their state of residence to get a license. Drivers can learn more by consulting with their state's Department of Motor Vehicles.
According to the National Conference of State Legislatures, 13 states, as well as Washington, D.C., have enacted laws that enable unauthorized immigrants to get a driver's license.
This is contingent upon them being able to provide specific documents, "such as a foreign birth certificate, a foreign passport, or a consular card and evidence of current residency in the state."
The states are California, Colorado, Connecticut, Delaware, Hawaii, Illinois, Maryland, New Mexico, New York, Nevada, Utah, Vermont, and Washington.
Once you have a license, you will need to focus on gathering the necessary documentation needed to obtain car insurance. This will often include your driver's license, personal identifiers like your address and date of birth, and vehicle information.
International Driving Permits (IDP)
Foreign nationals who plan to visit the U.S. for shorter trips and wish to drive will also need to ensure that they're in compliance with the state's driver's license requirements. This is where International Driving Permits (IDP) comes in.
According to AAA, an IDP is "a valid form of identification in 150 countries worldwide and contains your name, photo and driver information." In some states, driving with a valid foreign license will be acceptable as long as you're in the country for a limited amount of time. But for others, a foreign license in conjunction with an IDP is required.
The United States does not issue IDPs to foreign nationals. Rather, they need to be obtained from the country that issued the foreign national's license before coming to the U.S. Once obtained, an IDP is usually good for up to a year, and is recognized in more than 150 countries.
For foreign nationals looking to rent a car during their visit, know this — many rental agencies will require an IDP along with your valid foreign license. Once you rent a car, you should be able to purchase insurance through the same company.
Can illegal immigrants get auto insurance?
Illegal immigrants can get auto insurance. In 2003, the state of New Mexico allowed illegal immigrants to obtain driver's licenses. The rationale behind passing the law is that illegal immigrants will otherwise drive without a license.
Drivers must pass a written test and behind-the-wheel test to obtain a state-issued license. While most states continue to deny illegal aliens the right to a driver's license, some auto insurers offer auto insurance to illegal aliens.
When an insured driver is hit by an illegal alien without a driver's license or auto insurance, the legal driver is often forced to pay for some damages out of his own pocket. Auto insurance sold to illegal aliens protects other drivers from illegal aliens.
Which auto insurance companies will sell coverage to illegal immigrants?
Some auto insurance companies including Alliance United, Bristol West, Farmers Group, and Infinity P&C sell auto insurance to illegal aliens. Their reason to do so doesn't concern a moral judgment of illegally living in the United States.
Rather, the auto insurance companies realize that the driving public benefits when more drivers, rather than less, have auto insurance. And, yes, it makes them money. It's not illegal to purchase auto insurance, even without a driver's license
According to Alliance United (which reports that about 5 percent of the company's revenues come from auto insurance premiums paid by illegal aliens in California), illegal alien drivers report few minor accidents.
Auto insurance policies sold to illegal aliens in the United States (thought to be about 15 million people) are considered a growth market by some insurance companies.
About 40 insurance companies sell auto insurance to illegal alien drivers in California. In 2007, Alliance United insured about 2,500 illegal alien drivers.
They pay approximately 20 percent higher premiums than other high-risk drivers. About 33 million vehicles are registered by the California Department of Motor Vehicles.
"All insurance companies are targets for fraudulent auto insurance claims," says Brian Duffy, the chief executive officer of Alliance United.
Alliance United and other insurance companies selling to uninsured illegal aliens may be at higher risk for fraudulent auto insurance claims than others selling to the standard insurance market.
Why should illegal immigrants be allowed to buy auto insurance?
There are several reasons that many people feel that illegal immigrants should be allowed to purchase auto insurance.
According to Kevin Kalley, author of America Out of Order:
About 30 percent of prisoners in the United States' prisons are illegal aliens
About $3 million is spent by U.S. courts to imprison illegal aliens every day
In 2006 70 percent of cars registered in the State of Florida were driven by uninsured motorists
Costs of auto insurance increase as uninsured drivers, like illegal aliens, pay a single insurance payment to register the car, then let the policy lapse until the next registration date approaches.
Illegal aliens in the United States are usually here to work. In order to work, most must have reliable transportation. Illegal aliens purchase cars and often drive them without licenses.
The press reports many car accidents with illegal alien drivers result in an offer to pay off the driver's damages in cash, if that person has the funds to do so.
The drivers don't want the legal headaches of police reports or potential jail time that driving without a license entails. Having auto insurance in some states allows the unlicensed illegal alien driver to get off with a more lenient ticket or fine.
Auto insurance companies offering auto insurance to illegal aliens help to offer other drivers financial protection demanded by law. Illegal immigrants pay hefty auto insurance rates and are naturally considered high-risk drivers. They aren't playing by U.S. Immigration rules. They usually don't have a driver license!
Other financial institutions, such as Bank of America, offer secured credit cards to illegal aliens without a social security card or other forms of identification. Credit cards are usually secured by an amount equal to the cardholder's spending limit.
Saving on Car Insurance for Immigrants and Non-U.S. Citizens
Once you have a license, you can begin the process of getting car insurance.
The most important thing you can do is shop rates to ensure that you're getting the best deal possible.
Be aware that as a new resident, some companies will classify you as a new and inexperienced driver and therefore, may assess you higher rates. As you're contacting providers, see if they will credit you for prior driving experience.
If you're living with a relative, discuss the possibility of being added to their policy. This could help reduce rates, as well as open the door for multiple-policy discounts.
Speaking of discounts, be sure to look for those you can apply to your premium.
Free Auto Insurance Comparison
Enter your ZIP code below to view companies that have cheap auto insurance rates.
Secured with SHA-256 Encryption
Car Insurance for Drivers with Physical Disabilities
The CDC estimates that one in four adults in the United States has a disability. Experts go on to say that the most common type of disability is mobility, which impacts one in seven adults.
For many drivers with physical disabilities, cars will have to be modified or adapted to meet their needs. With those changes come a unique set of circumstances — including how to insure their vehicles.
Fortunately, drivers with modified cars can still receive top-notch coverage — for their cars and for their modifications.
The Americans with Disabilities Act and Car Insurance Rates
Let's begin with this simple fact —
It is illegal for car insurance companies to assess higher rates solely because of a disability.
These protections come thanks to the Americans with Disabilities Act (ADA), passed in 1990 to prevent insurers from exercising discriminatory pricing practices.
The only times a driver's medical records could become a driving-related factor are:
The driver is involved in a car crash that brings to light a suspected or known medical condition that could increase the risk of future incidents.
A family member reports concerns to the police department or the Department of Motor Vehicles (DMV) regarding a loved one's ability to safely operate a car.
A police officer reports concerns regarding an individual's ability to drive due to a known or suspected medical condition.
A physician reports a diagnosed medical condition to the DMV. Medical practitioners are required to report their concerns if a patient suffers from a condition that poses a risk to other motorists or themselves while driving.
Several types of reports are available that help insurance companies determine whether there are any connections between risky driving conditions and medical conditions.
However, while disabilities are rarely driving-related factors, drivers with physical disabilities may experience higher rates as a result of the modifications done to their cars.
Modifying and Adapting Vehicles for Physical Disabilities
According to the National Highway Traffic Safety Administration, adaptive equipment for your car can range from $50 to the tens of thousands — especially when purchasing a new car that's been modified.
Some typical modifications for drivers with disabilities can include:
Wheelchair ramps and lifts
Pedal extenders
Steering knobs
Amputee rings
Push-pull hand controls
Transfer seats
Adjustable seats and belts
Car Insurance Coverage for Modified and Adapted Vehicles
If you plan on making modifications to your car as a result of a disability, it's important that you first notify your insurer. Not doing so can negatively impact your rates once it's time to renew.
Next, you'll need to speak to your insurer about additional coverages for your modifications. This will ensure that items are covered in the instance of a collision.
Some options will include:
Adaptation coverage. This will specifically cover modifications done on the car.
Equipment insurance. This will cover items that will be transported in your car, such as oxygen tanks, walkers, and wheelchairs. This may be covered by your homeowner or health insurance.
Mobility insurance. This insurance comes into play if your car is involved in a claim, and you need to rent a car. Some companies may not provide a rental that accommodates the needs of a physically disabled driver without this insurance.
Saving Money for Drivers with Physical Disabilities
Here's what you need to know— drivers with physical disabilities who are making modifications to their cars may be eligible for rebates. In fact, some automakers offer as much as $1,000 in reimbursement costs.
You can learn more about these savings opportunities by visiting the Adaptive Driving Alliance page or by visiting the Vantage Mobility page.
Car Insurance for Married, Domestic Partnership, and Single Drivers
Married individuals, as well as parents and children, often share the benefit of a joint auto insurance policy. Most companies offer this same benefit to any individuals living at the same address. This could be roommates, parents and adult children. Even unmarried couples living together could combine auto insurance policies.
These types of policies are fairly new and have only come into play over the last several years.
Even though it seems like this has been the case for a while, auto insurance companies tend to go the traditional route because, legally, it is easier to define.
So let's take a look at car insurance for drivers based on relationship status.
Car Insurance for Married Drivers
Many factors are considered when determining insurance premiums. Often times, there are discounts you can take advantage of. When it comes to car insurance there are some great perks to being married.
Insurance companies tend to smile upon married couples because accident statistics show that married couples are less likely to get into an accident resulting in an injury than those who are single.
Married couples are also associated with being more responsible and stable as their priorities change to caring for more than just themselves. By just being married you could see your rates lower drastically.
However, there may sometimes be reasons married couples want separate policies. It's not always in your best interest to combine your policies after marriage. There are some instances where you may want to keep your policies separate.
Credit history is an area that insurance companies look at when determining rates. Paying bills and driving doesn't seem to go hand-in-hand, but to the insurance company, it signifies your level of responsibility.
Insurance companies are looking for a high credit score, meaning you pay your bills on time, apply for credit in a responsible fashion, and keep your credit card balances low.
If you have a 760 credit score but your spouse is working with a 300 credit score, then you may want to think about having separate policies.
In a combined policy, the insurance company will take the average of both you and your wife's credit scores when determining rates. In this case, it would lower the overall score and you could possibly be facing higher premiums with a combined policy.
Driving records can also have a major effect on car insurance rates. Serious convictions such as a DUI can make it difficult for drivers to even find insurance companies that want to cover them.
Many drivers with prior convictions have to deal with insurance companies that specialize in high-risk drivers, which usually means no discounts and extremely high rates.
If the person you love has a bad driving record, it stands to reason that you would question if your spouse has to be on your car insurance policy? If you or your spouse has had a DUI conviction on your record, it's probably best to split the policies instead of combining them and making you both suffer. The best way to separate these policies is to assign the driver with the DUI with the car that is the least expensive to insure.
What if my spouse and I are separating?
If you and your spouse are separating or going through a divorce, then you may not have to have your spouse listed on your car insurance. These situations often require you and your spouse to determine who is keeping which vehicle, and this will mean changes to the insurance coverage.
When this type of marital status change happens, speak to your insurance provider as soon as possible to update your policy.
Notifying your insurance provider quickly about these changes is important to avoid conflicts or disputes.
For instance, if the divorce proceedings are not amicable, one spouse may attempt to sever all ties and finances. This severance could include canceling insurance policies immediately, which may leave you without protection.
In the situation that you and your spouse are separated, but have not gone through the divorce process yet, it's still important to speak to your provider. They can often provide you additional guidance on what steps you should take to protect yourself and how to resolve any disputes amicably.
Car Insurance for Drivers in Domestic Partnerships
Different insurance companies have different names for policies that are shared by individuals who are not married to each other. Some popular names for these types of policies are:
Domestic Partner Insurance
Non-Married Insurance
Roommate Insurance
Non-Relative Insurance
A few insurance companies have started policies called Engaged Couple Policies. This is for couples who may or may not live together. You have to be getting married within 12 months of the engagement.
If that does not happen, the amount of the auto insurance discount you received for the time you were engaged will be added to your account.
If you don't know what your insurance company calls the policy, or aren't sure what to ask for, you can just explain your living situation to the insurance company and they can tell you what policies they have that would match. The most critical thing is that you live at the same address.
Besides living at the same address, there are a few other things necessary for this type of policy to work. Generally, the vehicle needs to be registered in the same name as the name on the lease or mortgage papers.
In some cases, you may have one person who owns the home while the other person owns the vehicle. In this case, both individuals will have to provide proof of residency.
Also, the person with the better driving record will need to be the main person on the policy.
If both drivers have an equally good or equally bad driving record, you can decide who the main person should be based on age and gender.
If both people are over the age of 25, it does not matter who the main person is. If one person is over 25 and the other is not, the older person should be the main person on the policy. If both people are under the age of 25, the woman should be the main person on the policy.
This is due to the fact that people ages 16-25 have higher auto insurance premiums and males in this category have even higher premiums than females in this category.
However, you need to remember that the main person on the policy is the one who will be held financially responsible if the premium is not paid and is the one who can make changes.
What are some of the problems with domestic partnership insurance?
The main problem with this type of auto insurance policy is what to do when the two people on the policy no longer live together. At least in a marriage situation, people live together and stay together until a divorce. A divorce is legal and the insurance policy can change based on the legal date of the divorce.
In the case of domestic partners, engaged couples, or roommates, breakups or a change in living arrangements is not a legal situation.
Both individuals may have a different version of events or a different timeline as to when the relationship or living arrangements changed.
The main holder of the policy is the one who can make changes, so this can be difficult if that person does not do the right thing or make the change in a timely manner. It is hard to legally define or defend these types of arrangements.
Car Insurance for Single Drivers
A single adult is anyone who is not married and is over the age of 18. This includes college students, senior citizens, and single parents. Yes, single parents also fall into the category of a single adult.
Having children does not take away that status. Statistics prove that women are safer drivers than men are, and single moms are no exception.
Single males under the age of 25 will find themselves paying much higher rates. Most will have to wait until they are over the age of 25 to see their insurance rates start to decrease.
Single adults over the age of 25 are, more often than not, married and starting a family. Insurance agencies view drivers over 25 years old to be safer drivers and more stable in their driving habits.
There are also many factors that insurance agencies use to determine what your insurance rates will be. There are never any guarantees. Depending on your particular situation, some single adults can find insurance policies for as low as $50 a month.
Your geographic location, your age, your sex, the type of vehicle you drive, your driving history, the type of vehicle being insured, and bundling your policies can all affect your auto insurance rates.
The Insurance Information Institute (III) gives a detailed breakdown of these factors. A single adult who is engaged may sometimes qualify for a married discount with some insurance agencies.
Your insurance rate as a single adult could change if your insurance agent is aware that you plan to be married in the near future. Each agency is different, but it would not hurt to inquire.
Car Insurance Discounts
Below is an in-depth listing of the types of discounts that are available through various insurance providers. While not every company will offer every discount listed, this can serve as a helpful tool in what savings you can look for as you shop rates:
Free Auto Insurance Comparison
Enter your ZIP code below to view companies that have cheap auto insurance rates.
Secured with SHA-256 Encryption
The Bottom Line
No matter how unusual, complex, or stressful your circumstances may seem, remember this — reliable car insurance coverage is doable. For some, it will take a little bit of legwork, or may even require seeking non-traditional coverage.
But at the end of the day, the law of the land speaks volumes. As long as drivers must be insured, options will exist to ensure that you are compliant.
Rather than allowing anxiety to cripple the process, breathe easy. Use this guide to come up with a list of those you need to contact — whether that's your insurer, an agent, your state's insurance department, or the DMV. Stay on top of your list until all of your questions have been answered.
Finally, always remember the power of comparing rates. Even if you've been with your insurer for years, your situation may require a change in order to get the most affordable rates.
You can begin your journey to the best coverage for your car by using our free online comparison tool. Start by entering your ZIP code here.
Related Articles
Can I get auto insurance at 17?
Can I find affordable auto insurance with my high-risk driving record?
Free Auto Insurance Comparison
Enter your ZIP code below to view companies that have cheap auto insurance rates.
Secured with SHA-256 Encryption