Three Keys to Cheap Teen Auto Insurance
Free Auto Insurance Comparison
Secured with SHA-256 Encryption
UPDATED: Oct 19, 2021
It's all about you. We want to help you make the right coverage choices.
Advertiser Disclosure: We strive to help you make confident auto insurance decisions. Comparison shopping should be easy. We are not affiliated with any one auto insurance provider and cannot guarantee quotes from any single provider. Our partnerships don't influence our content. Our opinions are our own. To compare quotes from many different companies please enter your ZIP code on this page to use the free quote tool. The more quotes you compare, the more chances to save.
Editorial Guidelines: We are a free online resource for anyone interested in learning more about auto insurance. Our goal is to be an objective, third-party resource for everything auto insurance related. We update our site regularly, and all content is reviewed by auto insurance experts.
Things to Remember...
Teens are expensive to insurance once they start driving
A lack of driving experience causes them to be a consider higher risk
Teen driver safety is something on every parent's mind
There are ways to lower teen auto insurance rates
As any parent of a teen driver will tell you, cheap teen auto insurance is almost an oxymoron. However, there are ways to reduce the high cost of insuring a teen driver.
Teen drivers are at the highest risk of being in an accident and of causing a fatality. They also get more tickets than other age groups, which accounts for the higher insurance costs.
Keep reading for tips for reducing the cost of insurance for teens.
We make it easy to get auto insurance quotes FREE when you put your ZIP code in the box!
#1 – Add to Parents' Insurance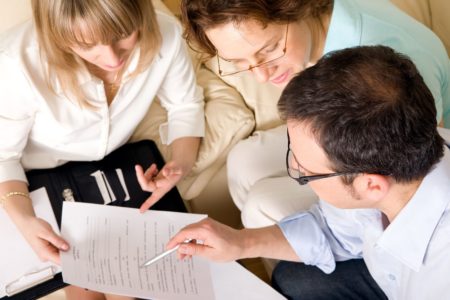 If you're contemplating getting your son or daughter his or her own policy, check with your agent to see how much it would be to add the teen to your current insurance.
It is usually cheaper to add a driver to the parents' policy. Even if you're planning to have the teen pay for his own insurance, he can pay you for the difference to add him to the policy.
Part of the way a company decides how much to charge for a particular policy is by evaluating how high of a risk the drivers are.
If a teen is on his own policy, then the whole policy is considered a high-risk one. However, when the teen is added onto his parents' policy, he will benefit from having much lower risk drivers on the same policy.
He can also benefit from some of the discounts his parents enjoy. If the teen has his own car, then adding it to the policy will mean a multi-car discount for the teen's car as well as the parents' vehicles.
There also might be a discount on the account because the parents pay online. All of these can help keep the price of insuring a teen driver down.
Free Auto Insurance Comparison
Enter your ZIP code below to view companies that have cheap auto insurance rates.
Secured with SHA-256 Encryption
#2 – Find a Good, Cheap Car
If you really want to minimize the amount of insurance, your new teen driver will cost you, then don't get him his own car.
Add him as a secondary driver to the family cars than to put him as the primary driver of any vehicle. The risk is lower because someone else is driving the car most of the time.
This isn't always practical, however. If your teen does have his own car, there are still ways to keep insurance on him and the car down.
Primarily, you and your teen need to find the right kind of car for him to drive, ideally a safe car that won't tempt him to speed.
Obviously, the more expensive the car is, the more you'll pay in insurance for it. After all, it will take more money to replace it.
Keep in mind that insurance companies consider almost every two-door car a sports car, SUVs, and trucks might seem like a good option, but remember that they have a higher rate of rolling so aren't considered as safe as cars.
With this vehicle, you'll still pay more than if he didn't have a car of his own, but you'll pay far less than with any other vehicle.
Even in used cars, you can look for safety features that will lower the cost even more, since insurance companies offer discounts for them. Things to look for are airbags, anti-lock brakes, and stability control.
For more information about car safety features, see Consumer Report's article on them.
#3 – Look for Discounts
In addition to the discounts your teen's car can get, your teen can help lower his insurance costs by qualifying for discounts of his own.
If he is a good student, which usually means a 3.0 GPA, or all As and Bs, he can qualify for a good student discount with nearly every car insurance company.
Some experts suggest using this as incentive for the teen to do well in school.
You can also enroll your teen in an extra safety course that can earn him a discount that is similar to a defensive driving discount for adults.
These courses are designed to further educate new drivers about safe driving with the goal of reducing the number of accidents, which claim our young people every year.
Upon completion, let the insurance company know and you should get a discount.
Once a teen goes off to college, you might be able to reduce the premium under certain circumstances.
Liability is Important
Even though you're looking for the best ways to save on car insurance for your teen driving, resist the temptation to carry only the minimal amount allowed by your state.
The Insurance Information Institute (III) says that when you add a teen driver is the time to increase your liability insurance, not decrease it.
Even though you might save money in the short term, you could pay for it later. Drivers under the age of 20 are three times more likely to be involved in an accident that results in a fatality.
The higher risk of accidents at this time means that you need liability insurance now more than ever.
That's why the III suggests raising your liability to at least 100/300.
They even suggest looking into an umbrella liability policy that pays up to a million dollars after your car insurance liability is topped out.
Free Auto Insurance Comparison
Enter your ZIP code below to view companies that have cheap auto insurance rates.
Secured with SHA-256 Encryption
Emphasize Safety
Even if your teen is the most responsible person around, the National Safety Council advises parents to preach safety constantly through the first years they have their license.
Since inexperience is the primary reason teens have more accidents, the NSC encourages parents to have the teen practice with you, even after he has a license and not merely a learner's permit.
Since more driving is the only cure for inexperience, it makes sense for the parents to see that he has as much practice in a safe environment as possible.
Many states have adopted a graduated licensing program, which gradually allows teens full driving privileges.
First, there is the learner's permit stage, when a driver, who usually needs to be 21 or older, must be in the front seat. Then after a period of months with the permit, the teen gets a provisional license.
With this license, he can drive on his own, with certain restrictions. The NSC advises parents who live in states where there is no gradual licensing to adopt the same rules for their teens.
Studies have shown that states with this type of procedure have seen a reduction in teen accidents as much as 40 percent.
Start your search for these quotes now with our FREE comparison tool!