Safest Highways by State (2019 Ranking)
Washington DC has the lowest number of highway deaths in the nation, which the IIHS attributes to consistently wearing seat belts and following speed limits.
Free Auto Insurance Comparison
Secured with SHA-256 Encryption
Do you know how many people were killed in car crashes in the U.S. in 2017?
It's not exactly a fun fact to carry around. 40,231 . . . That's how many lives were tragically cut short in traffic accidents on American roads in 2017—up 15 percent compared to 2015.
On the brighter side, preliminary estimates are showing 2018 to have 231 less traffic fatalities than the year prior. That's not anything to celebrate since it's still far too many, but it will mean something if we can shave off a couple of hundred deaths each year. That's the very least we should all aim to do.
Ever notice how watching the news can be both scary and depressing? Most of the headlines cover tragic deaths, serious injuries, and criminal behavior. The above video is no exception; three children hit by a vehicle and killed at their bus stop.
We usually do the same in this industry – focus on the bad: traffic deaths, the deadliest car defects, dangers to beware of. But, in this article we're going to focus on the good: the areas in the U.S. with the Safest Highways.
Regardless of where you live, surrounded by the safest or deadliest roads, car insurance is required by law and will protect your investments. Use our free tool to compare a few different policies offered by top providers in your area.
Here's what we cover in this annual study:
Safest Highways Across America
For the second year now, our team of expert analysts conducted an in-depth study using 6,363 data points across seven years to determine which highways in our nation are the safest. This ranking is based on six main categories explained in detail, here.
In efforts to both emulate the good and learn from their mistakes, let's find out the strengths and weaknesses of the ten areas with safe roads that are saving lives.
This countdown will start at 10 and end with the grand finale: the part of our country that's home to the highways proven to be the best of the best.
#10 – Maine
Best Ranking: (Tie) Interstate Speeding Fatalities and Highway Death Rate (1st)
Worst Ranking: Highway Bridges Obsolete or Deficient (43rd)
Did you know there were bridges currently being driven on in the U.S. that needed a person to manually crank them open? Surprise, surprise!
Maine has just that, and it won't be updated for at least another year.
Maine still today – in 2019 – has bridges that are driven on and heavily relied on day in and day out that were built 88 years ago!
Clearly Maine needs to invest serious time and funding into improving its old bridges before they are a danger to all those using them.
"There is nothing more fundamental than the work the government does to provide for the safe and efficient movement of people and goods…But in the last 20 years, we have seen a decline in the investment we make in our transportation infrastructure, and it has already had a detrimental effect on our state." – Bangor Daily News
Fortunately, Maine has some impressive statistics that outshine its neglected bridges. "The Pine Tree State" not only has the lowest number of speeding deaths on its interstates, but it also has the lowest highway death rate in the entire country!
#9 – Wisconsin
Best Ranking: Highway Death Rate (2nd)
Worst Ranking: Failure to Wear Seat Belts (33rd)
Wisconsin has some of the safest highways in the country with the second-lowest death rate – just under Maine. The problem is that this low traffic fatality count is giving passengers and drivers alike a false sense of safety.
Every year from 2009 to 2016, Wisconsin has had significantly lower rates of seat belt use than the national average.
Let's take a look at how "The Badger State" compares to the state ranked first (Oregon), for seat belt use:

Individuals who aren't buckled up are 30 times more likely to be ejected from the vehicle and die in a crash. Thankfully, Wisconsin leaders are spreading awareness of these dangers with the above eye-opening commercial along with the lifesaving message for online viewers:
"Do you always wear your seat belt? No matter where you're seated in a vehicle? Check out this commercial that shows the importance of buckling up: every ride. In every seat."
#8 – Rhode Island
Best Ranking: (Tie) Interstate Speeding Fatalities and IIHS Death Rate (3rd)
Worst Ranking: Highway Bridges Obsolete or Deficient (51st)
Rhode Island has not just one, but two best categories it is ranked in the top three in the nation. Both ranking factors directly represent less traffic deaths: those caused by speeding and overall death rate by population.
Those distinguished rankings could end soon if things don't improve, however. For five straight years, Rhode Island has the most dangerous bridges in the United States.
Shocking fact: Rhode Island had a bridge in full operation for nearly 20 years (finally shut down in 2015) that was labeled "structurally deficient" in 1996!
Here's the five-year trend for the bridges across "Little Rhody:"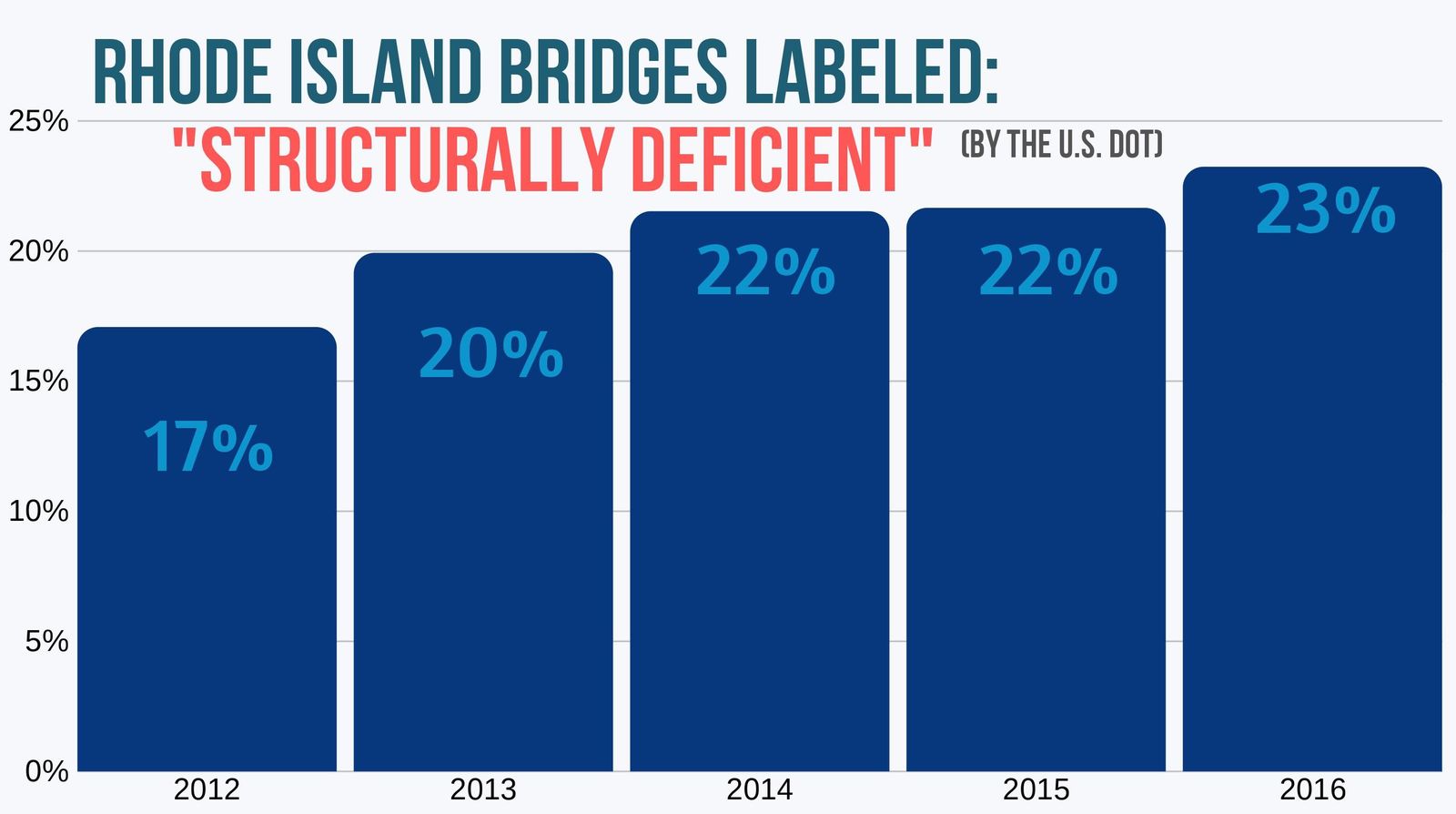 The governor of Rhode Island, Gina Raimondo, speaks frankly about this serious statewide safety issue:
"Peoples' lives are at stake. We need money. You know, there's hundreds of bridges that are structurally deficient. It will cost hundreds of millions of dollars to fix that, and that's why I am calling on the General Assembly to work with me to fix this problem."
Again we see a case of a low car crash death rate translating into lackadaisical safety practices.
#7 – Oregon
Best Ranking: Failure to Wear Seat Belt (1st)
Worst Ranking: Highway Federal Funding (33rd)
As you can see in the above news report released July 2014, lack of funding for highway repairs has been a major problem in Oregon for quite awhile.
Five years ago ODOT reported they were $110 million short for projects that were in progress and since then, matters have only gotten worse.
"Democratic and Republican leaders have warned for years that roads are crumbling, bridges would fall like matchsticks in an earthquake and that traffic bottlenecks drain commuters and freighters of valuable time and fuel. Something must be done." – The Oregonian
The good news: Neglected highways haven't meant an increase in traffic fatalities in Oregon (yet). Drivers in "The Beaver State" are the best in the nation at wearing their seat belts, which has proven to save lives and minimize injuries when collisions occur.
#6 – Hawaii
Best Ranking: Interstate Speeding Fatalities (6th)
Worst Ranking: (Tie) Highway Bridges and Federal Funding (35th)
Hawaii has a bad combination of weaknesses: neglected bridges and a lack of funding to fix them.
When the federal funding runs dry, state leaders use the insufficient savings they do have to come up with temporary, cheaper fixes. This creates a never-ending cycle of road work and road closures.
Curious what allows Hawaii to still have the safest highways despite these serious problems? It boils down to two words: Safe Drivers. Only two states managed to score in the top ten in four out of the six total categories in this nationwide study and Hawaii was one of them:
Hopefully, adequate federal funding will be sent to reward the safe drivers who are single-handedly keeping their island afloat in the top ten for safest highways!
#5 – Vermont
Best Ranking: Highway Federal Funding (4th)
Worst Ranking: Failure to Wear Seat Belt (35th)
Vermont State Police's warning in the above video is essential for even the best drivers (and their passengers):
"On average, 37 percent of all people killed in car crashes were not buckled or buckled properly. Your chances of surviving a horrible crash without a seat belt: poor. Please buckle up. Everyone, every trip. You might save a life."
It's good that Vermont residents are being educated by such campaigns because seat belt use in "The Green Mountain State" has fallen under the national average for five straight years now.
There's one area of this annual study, however, that Vermont is excelling at: Highway Federal Funding. Vermont is the only state in this countdown to rank in the top five for this category. Here's how Vermont's highway funding (4th place) compares to the state ranked 51st:
Just pocket change? The dollar amounts depicted in the above graph are for every state resident.
Even with smaller state populations – Vermont's is 624,594 – these seemingly insignificant dollar amounts reach into the millions fast.
58 cents for every state resident gets to a nice savings for highway repairs . . . nine cents on the other hand, not so much.
#4 – Iowa
Best Ranking: Highway Bridges Obsolete or Deficient (8th)
Worst Ranking: IIHS Death Rate (25th)
Iowa has done an excellent job of maintaining its highway bridges. Here's a five-year trend showing the remarkably low number of bridges across the state the U.S. DOT has found to be "Structurally Deficient":
What has us worried though, is the state's high traffic fatality rate. In the above news clip you can hear Iowa State Patrol's Sergeant Ludwig speak out on the preventable traffic deaths across his state:
"It's not just a number. It's somebody's loved one. It's a life. 395 people in the state and the year's not even over with. A lot of these are predictable, but they are definitely preventable."
What makes all these deaths "predictable"? Top reasons: distracted drivers – usually by their phones – and motorists driving too fast.
Hopefully, Iowa drivers will do their part to keep the highways in their state some of the safest in the nation.
#3 – Delaware
Best Ranking: (Tie) Interstate Speeding Fatalities and Highway Death Rate (4th)
Worst Ranking: IIHS Death Rate (29th)
In the car insurance industry, we can't help but stress over and over to our readers that it only takes one – just one wrong move. It only takes one fleeting moment in time to make someone's world come crashing down.
On July 6, 2018, 44-year-old Alvin Hubbard Jr. made, quite possibly, the biggest mistake of his life while driving on the state highway, Delaware Route 1, when he killed a man and four young girls.
After hearing the above heart-wrenching story, we were relieved to discover it was not a common occurrence on Delaware highways.
Both Delaware's speeding fatalities and highway death rate landed in the top four (for the lowest) in the nation this year. It's no surprise Delaware scored so well in both categories since we consistently find that less speeding correlates to fewer deaths.
Since all of our rankings are based on population, it doesn't matter how big a state is; we compare them by equal factors.
While keeping that in mind, take a look at how Delaware (ranked 4th for both) compares to Texas, ranked 51st – dead last – for speeding and 44th for highway deaths:

You practically need a magnifying glass to see Delaware's total interstate speeding and highway deaths on the above graph. Want to know why that's the case? Not just once, but four full years Delaware had under five traffic fatalities in one of our six ranking categories:
Check out the below chart – under 10 fatalities in both categories for five straight years!
Keep it up Delawareans and you'll earn your state a spot on this countdown again next year!
#2 – Minnesota
Best Ranking: Highway Death Rate (3rd)
Worst Ranking: Highway Federal Funding (36th)
As you can see in the above local news report, federal funding doesn't always go to the highway repair projects that will create the most safety improvements.
It's a sad reality in America: money-generating state projects often take priority even over repairs that are guaranteed to improve safety and save lives.
What makes matters even worse for Minnesota, is that they don't have enough federal funding as it is. So, when they have the money to spend, it needs to go to the projects that will save the most lives!
Here's how Minnesota (ranked 36th) compares to the state ranked 1st in our Highway Federal Funding category:

Alaska is getting up to 65 cents per state resident more in federal funding for highway repairs than Minnesota. Remember, those loose change amounts add up fast!
Even though Minnesota has 4,778,058 more state residents who bank 25,825 more vehicle highway miles annually, in 2016 Minnesota only received $167,429 more in federal funding for its roadwork compared to Alaska!
The good news? Despite the lack of federal funding coming in for its highway repairs, Minnesota motorists have managed to maintain an impressively low highway death rate.
From 2012 to 2016, in the 141,749 vehicle highway miles Minnesotans drove, there were only 141 fatalities, awarding the state one of the lowest highway death rates in the nation: 0.99 traffic fatalities for every 1,000 highway miles traveled.
#1 – Washington D.C.
Best Ranking: IIHS Death Rate (1st)
Worst Ranking: Highway Bridges Obsolete or Deficient (37th)
In the Fox News clip above reporting on the 55,710 dangerous U.S. bridges in serious need of repair, Washington D.C.'s Arlington Memorial Bridge (built in 1932) was one of the prime examples.
Here are the reasons Mark Aesch, CEO of TransPro, listed as to why bridges that cause daily safety hazards are often neglected across our nation:
Lack of Prioritization – "money spent on the wrong projects"
Inefficient Contracting – "almost 30 percent of the money we put into bridges goes to funding bureaucracy"
Lack of Resources – "there's a lot to take care of, and we simply don't put enough money into it"
"We're too busy debating where people are going to go to the bathroom rather than actually fixing the bridges that people are going to be able to use to take their kids to school."
Despite having 4-16 percent of its bridges labeled "structurally deficient," the District of Columbia managed to have the safest highways in the entire country.
How did D.C. accomplish this prestigious title you wonder? Safe driving, consistent seat belt use, following the speed limit, and earning 25 cents per resident in Federal funding all contributed to D.C.'s success this year!
In fact, Washington D.C. ranked in the top ten in the nation in four out of the six categories of our study:
According to the Insurance Institute for Highway Safety (IIHS), Washington D.C. had the lowest death rate in the nation in both 2015 and 2016. There's no greater achievement than having the lowest number of preventable traffic deaths.
Free Auto Insurance Comparison
Enter your ZIP code below to view companies that have cheap auto insurance rates.
Secured with SHA-256 Encryption
What makes these highways the safest in America?
As you can see in the above NBC news clip, Iowa had to get creative to grab the attention of their motorists. Iowa's DOT started using clever electronic messages over their state highways such as:
"Your mom called, are you buckled?"
"Nobody relishes a pickled driver"
"Mash potatoes, not your head, buckle up"
"Shift happens, especially in work zones"
And, my personal favorite:
"Get your head out of your apps, drive safely"
And, guess what? It worked! Now states across the country are following Iowa's lead and coming up with their own witty messages to get their drivers to buckle up, slow down, and watch the road instead of their phones.
So, what makes the above 10 areas successful at keeping their highways safe? WORK! It requires continual effort that runs across multiple avenues for true, consistent success, which is why our study is based off of six categories across seven years.
With our detailed analysis, we were able to determine what the 25 states with the safest highways have in common. The below scores are the individual state rankings added up. The highest rankings are the best (1=best) therefore, the lowest total scores are the greatest common strengths:
Listen up, government! The greatest strength among the states in America with the safest highways is – by far – Federal funding for highway repairs. Clearly, money is a key component to keeping highways safe!
The other categories which the states with the safest highways have in common are low death rates by population and low death counts by highway miles traveled.
There's no better goal than keeping your state's traffic fatality totals low!
Do your part to save lives each time you drive, then check back here to see if your state makes the safest highways top-10 list on our next round.
What weaknesses threaten our nation's highways?
So far in this article we have focused on the states with the best rankings (safest highways), but since a lot can happen in a year, we also wanted to take a look at the states ranked the worst. Now you can learn what problems have the ability to flip a highway from safest to deadliest.
Below you can see the common weaknesses among the bottom 25 states in this study. The scores depicted in the below graph are the individual state rankings added up. The lowest rankings are the worst (51=worst) therefore, the highest total scores are the greatest common weaknesses:

"Winning" by 125 ranking points more than any other category is speeding.
Driving over the speed limit is the fastest way to make a highway deadly.
The two category runner ups are the death rate by population and total highway deaths by vehicle miles traveled.
Bottom line: speeding creates deadly highways and those deadly highways claim lives – and fast. Slow down!
Free Auto Insurance Comparison
Enter your ZIP code below to view companies that have cheap auto insurance rates.
Secured with SHA-256 Encryption
Ranking Methodology
The above ranking was determined by collecting and interpreting over 6,000 historical facts pertaining to highways across all 50 states and the District of Columbia from 2010 to 2016.
The detailed crash stats and highway data was organized into the following six main categories:
Speeding Fatalities per Mile of Highway
Percent of Individuals not Wearing Seat Belts
Highway Bridges Rated Obsolete or Deficient
Highway Deaths per 1,000 Highway Miles Traveled
Federal Aid Funding for Highway Improvements
Insurance Institute for Highway Safety Death Rates
In all six categories, the 51 areas each received a ranking: 1 = Best and 51 = Worst
Those six rankings were added up to give each area a final score: Lowest Scores = Safest Highways
Every statistic in our study is backed by the following leading resources for these national traffic topics:
Safest Highways by State (Complete Rankings + 7-Year Trend)
– All 50 States and D.C. (New 2019)

– Fatalities per 1,000 Miles Driven over 7 Years (New 2019)

– Federal Funding for Highways over 7 Years (New 2019)

– IIHS Death Rate over 7 Years (New 2019)

Looking for the best rates on car insurance? Use our Free Tool below to get started comparing rates!