How Senior Auto Insurance Could Cost Less
By keeping track of current rates and savings offered by auto insurance companies, your senior auto insurance could cost less than what you are currently paying. Check with your auto insurance provider to see what savings they may offer senior drivers and then compare those rates with the other auto insurance companies in your area.
Free Auto Insurance Comparison
Secured with SHA-256 Encryption
UPDATED: Dec 10, 2021
It's all about you. We want to help you make the right coverage choices.
Advertiser Disclosure: We strive to help you make confident auto insurance decisions. Comparison shopping should be easy. We are not affiliated with any one auto insurance provider and cannot guarantee quotes from any single provider. Our partnerships don't influence our content. Our opinions are our own. To compare quotes from many different companies please enter your ZIP code on this page to use the free quote tool. The more quotes you compare, the more chances to save.
Editorial Guidelines: We are a free online resource for anyone interested in learning more about auto insurance. Our goal is to be an objective, third-party resource for everything auto insurance related. We update our site regularly, and all content is reviewed by auto insurance experts.
Here's what you need to know...
Factors used to establish insurance prices for people younger than 55 are still used to dictate rates for seniors
Many companies offer a variety of discounts to aid seniors in finding cheaper insurance rates
Many insurance providers will offer senior-specific discounts, so inquire about varying deals a company offers the senior citizen demographic
Seniors are considered a different driver type than your average adult driver
Finding affordable auto insurance can be a hassle, and as you get older, that can become even more complicated. Because senior citizens are viewed as a high risk to insurance companies, insurance premiums tend to be a bit more expensive.
Thankfully, there are a few ways to ensure you have the lowest possible auto insurance available for seniors.
Factors used to establish insurance prices for people younger than 55 are still used to dictate rates for seniors. However, because circumstances and living situations may be different for the senior community. There are some things to consider before making a decision regarding your auto insurance policy.
Many companies offer a variety of discounts to aid seniors in finding cheaper insurance rates. There is also a myriad of safe driver courses that can help reduce premium prices as well. In addition, there are even some insurance companies that specialize in senior auto insurance policies.
To find great prices and quotes on auto insurance, simply enter your ZIP code in the FREE box located at the top of this page!
Tips for Finding Affordable Senior Auto Insurance
For starters, the first tip is applicable for anyone that happens to be shopping around for auto insurance. Because the auto insurance industry has become very competitive, shopping around for policy prices can be incredibly useful.
Many companies offer a variety of discounts and every insurance company will calculate prices a little differently, so getting quotes from a large group of insurance providers can guarantee finding the cheapest premium available.
Once you start hunting for auto insurance, you will start to see the vast array of companies out there. Some of the most common insurance companies that provide specific policies targeted at the senior demographic is The Hartford, which is an affiliate of AARP.
Although they are not the only company that specializes in senior auto insurance policies, they are one of the best.
Free Auto Insurance Comparison
Enter your ZIP code below to view companies that have cheap auto insurance rates.
Secured with SHA-256 Encryption
Common Discounts
Outside of shopping around for insurance quotes, there are also a few other ways seniors can take control of their premium prices. Another option when shopping for insurance is to consider the variety of discounts each company offers.
Many insurance providers will offer senior-specific discounts, so inquire about varying deals a company offers the senior citizen demographic. For example, many companies will offer a flat discount, sometimes up to 10% for customers over the age of 50. Most of the time this is called a mature driver discount.
However, most insurance companies will also increase premium rates after a person has reached the age of 70 or 75.
Because of this, insurance companies view drivers older than 70 as high risk. Even though you may get incredibly low insurance prices between the ages of 50 and 60, as you age your rates could go up.
Another discount that many companies offer involves taking a mature driver safety course. Despite the fact that you may have been driving for a while, statistics show seniors as a high-risk group.
Because of this, many insurance providers will provide great discounts to customers who meet a certain age group and take a mature driver safety course. Sometimes, the discount can be as high as 10 percent.
For many seniors, the thought of taking a class on something you have been doing most of your life is appalling. However, if it means reducing costly premium prices because of your age, the benefit far outweighs the costs.
Other Discounts
A different discount that many people are unaware of is a retiree discount. Some insurance providers will actually give retired customer anywhere between a 5-10 percent discount. Even if you only work part time, if you meet certain age criteria, you could still receive a retiree discount.
Contact your insurance agent to find out more details. If your current insurance company does not offer a retiree discount, you may want to shop around for new prices when your policy is up for renewal.
One final discount to consider asking about is a low-mileage discount. As many senior drivers do not record nearly as many miles on their vehicle as they used to, it would be wise to inquire about discounts for drivers who record a low amount of mileage.
If you are only driving your vehicle to the grocery store, doctor's appointments, or anywhere else locally, you may qualify for a low-mileage discount.
Again, most insurance providers offer a wide range of senior discounts, but sometimes companies will not provide you the discounted figures unless you ask. Be vigilant in hunting for the lowest price via discounts. It could save you a lot of money in the long run.
For more senior discounts on auto insurance, check out SeniorDiscount, a website that lists a variety of senior discounts from all over the web.
What Vehicle Do You Drive?
Another factor that could help save seniors a bunch of money on car insurance is considering what car you drive. For many seniors, they have been driving the same vehicle for a while. If this happens to be the case, there are a few things to consider.
First, if your vehicle happens to be fairly old, or has a low market value, it may be wise to drop certain coverage from your policy. For example, collision and comprehensive coverage both are based on the market value of your vehicle.
If your vehicle is cheaper and older, this coverage may actually be costing you more than your vehicle is worth. Dropping these coverage options can save a lot of money.
In addition, many insurance companies will offer lower premium prices to customers whose vehicles are considered low risk. Many vehicles, like minivans and smaller SUVs, will yield the lowest insurance prices. Vehicles like sports cars, because they have a high risk for theft and accidents, will create the highest prices.
If you happen to have a vehicle that is high risk, or are in the process of buying a new vehicle, ask your insurance company about how much the vehicle would cost to cover. For further information about high or low risk vehicles, the Highway Loss Data Institute offers articles and research on vehicles risk factors.
Free Auto Insurance Comparison
Enter your ZIP code below to view companies that have cheap auto insurance rates.
Secured with SHA-256 Encryption
Deductibles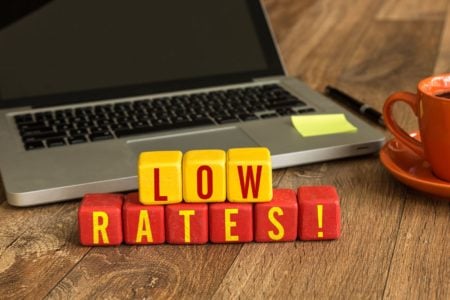 Another great way to keep premium rates low is to consider raising the deductible price on your policy. Many senior citizens are functioning on fixed budgets, so knowing how much you have to pay out of pocket for repairs can be pretty straightforward.
If this is the case and you can afford more out-of-pocket expenses, raising the deductible on your policy can help lower premium costs.
This is the case with any insurance policy, but because of a typical senior's living situation, it could be far easier to manage a higher deductible.
Driving History and Safety
One final factor to consider is your driving record or history. The best way to keep insurance rates low is to keep your driving record clean. Being diligent in keeping your driving skills sharp can help prevent accidents and tickets.
As you begin to age, be sure to check in with your doctor about conditions that could adversely affect your ability to drive a vehicle. As a group, seniors are among the highest demographic involved in accidents, which means they also are among the highest group to file claims regarding accidents.
For an insurance company, this means seniors are high-risk clients. Understanding what is on your driving record and maintaining a clean record are great ways to keep insurance prices low.
In addition to receiving discounts for taking a mature driver safety course, it would also be useful to take the course simply as a refresher.
Most seniors are dealing with medical issues that impact driving, so taking a safe driver's course is smart. It may seem ridiculous, but issues like dementia, diabetes, and vision loss all can affect safe driving habits.
It may also be useful to simply refresh yourself on the basics of safe driving, as it probably has been a while since you took your driver's license exam!
If you are unsure what your driving record looks like, many DMVs offer driver records for a minimal fee.
Check with your local DMV to see how much it costs to acquire your own driver record. Sometimes, errors do occur and can be fixed.
Every insurance company uses driving records to dictate premium prices. If there is a mistake with your record or an outstanding ticket, it could be costly to not fix those errors.
Many community centers and local colleges offer courses, and they are relatively inexpensive, usually costing anywhere between $10-30.
Finally, knowing the basics of how auto insurance is calculated can also help you find ways to reduce your premium. The Insurance Information Institute offers educational materials for clearing up the mysteries of auto insurance.
Fantastic quotes on car insurance are only a click away when you enter your ZIP code in the FREE search box below!