The Ultimate 70's Road Trip Playlist
FREE Auto Insurance Comparison
 Secured with SHA-256 Encryption
Compare quotes from the top auto insurance companies and save!
Whether it's your first road trip or you're a seasoned traveler, every journey behind the wheel and across the state (or country!) requires good music. You can't rely on the radio for such important matters.
Thanks to Spotify, you can take your music wherever your travels take you. We've been covering the top songs of each decade and compiling them into road trip playlists you can access anywhere, anytime.
Get in the groove with our 70's playlist featuring some of the most iconic sing-along hits of the time including the Bee Gee's "Stayin' Alive", "Bohemian Rhapsody" by Queen, "Ziggy Stardust" by David Bowie, and so many more.
Before you go, make sore you check out your car insurance coverage. Do you have roadside assistance? Emergency medical coverage?
Road trips require special coverage to make sure you're covered across state lines and in any of the events that may occur while you're traveling. Enter your zip code on our site to compare free quotes before your next trip!
1. Dancing Queen – ABBA
Young and sweet, only seventeen. We hope this dancing queen has the right car insurance coverage for teen drivers. Maybe she even qualifies for a Good Student discount?
2. Gimme! Gimme! Gimme! – ABBA
3. Y.M.C.A. – Village People
4. Blame It on the Boogie – The Jacsons
5. Let's Groove – Earth, Wind & Fire
6. We Are Family – Sister Sledge & Jade
7. Play That Funky Music – Wild Cherry
8. That's The Way (I Like It) – KC & The Sunshine Band
9. Le Freak – CHIC
10. Disco Inferno – The Tramps
11. Hot Stuff – Donna Summer
12. You Sexy Thing – Hot Chocolate
13. I'm So Excited – The Pointer Sisters
14. Brick House – Commodores
15. Rock the Boat – Hues Corporation
16. Hotel California – Eagles
17. Bohemian Rhapsody – Queen
18. Stayin' Alive – Bee Gees
This disco sensation enjoyed a solid gold month on the Billboard 100 chart when it debuted in 1977, and in 2009, it made it into Rolling Stone's "500 Greatest Songs of All Time" issue.
19. Rocket Man – Elton John
20. Don't Go Breaking My Heart – Elton John & Kiki Dee
21. Roxanne – The Police
22. Video Killed the Internet Star – The Buggles
23. Go Your Own Way – Fleetwood Mac
24. Easy – Commodores 
25. Miss You – The Rolling Stones
26. T.N.T.- AC/DC
27. The Boys Are Back in Town – Thin Lizzy
28. Back Magic Woman – Santana
29. Ziggy Stardust – David Bowie
30. Boogie Wonderland – Earth, Wind & Fire
31. I Will Survive – Gloria Gaynor
32. Lady Marmalade – Patti LaBelle
33. Boogie Shoes – KC & The Sunshine Band
34. Sunny – Boney M. 
35. I Got You (I Feel Good) – James Brown 
36. Kung Fu Fighting – Carl Douglas
As hard as it is, we encourage you to fight the urge to karate chop throughout the entire song and keep both hands on the wheel.
37. Boogie Nights – Heatwave
38. Disco Inferno – The Trammps
39. Do Ya Think I'm Sexy – Rod Stewart
40. Car Wash – Rose Royce
41. The Groove Line – Heatwave
42. Get Up and Boogie (That's Right) – Silver Convention
43. Everybody Dance – CHIC
44. D.I.S.C.O. – Ottawan
45. Rapper's Delight – The Sugarhill Gang
46. Boogie Oogie Oogie – A Taste of Honey
47. The Logical Song – Supertramp
48. (Don't Fear) The Reaper – Blue Oyster
49. Jolene – Dolly Parton
50. Transmission – Joy Division
51. Sultans Of Swing – Fire Straits
52. Highway to Hell – AC/DC
53. Up Around the Bend – Creedence
54. Carry on Wayward Son – Kansas
The unofficial Supernatural theme song, "Carry on My Wayward Son" will get you through the longer stretches of your trip.
And if you happen to drive an Impala like Dean, you may want to consider some classic car insurance coverage before you hit the highways.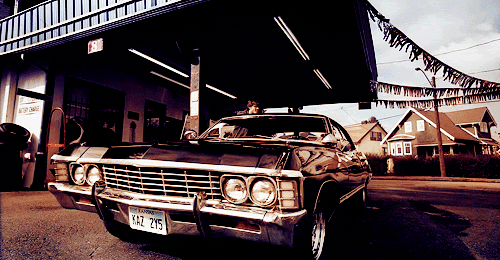 55. Hollywood Nights – Bob Seger
56. Love Train – The O'Jays
57. Got to be Real – Cheryl Lynn
58. If I Can't Have You – Yvonne Elliman
59. I Give You a Rendez-Vous – Patrick Hernandez
60. Shining Star – Earth, Wind & Fire
61. Jive Talkin' – Bee Gees
62. My Girl – The Temptations 
63. Soul Man – Sam & Dave
64. It's A Shame – The Spinners
65. Drift Away – Dobie Grey
66. He's the Greatest Dancer – Sister Sledge
Are you ready for new coverage?
You should review your car insurance rates at least once a year. Figures change, and companies are looking for new ways to up the competition and save drivers money.
You may find a new insurer that offers you even more benefits for less money, and there's only one way to find out.
Enter your zip code below to compare car insurance quotes now, so you can rest assured that your insurer has your back at home or on your next cross-country getaway.
FREE Auto Insurance Comparison
Compare quotes from the top auto insurance companies and save!
 Secured with SHA-256 Encryption