The Ultimate 00's Road Trip Playlist
From Gwen Stefani and Lady Gaga to NSync and the Killers, we have a 2000s road trip playlist that will keep you singing - and staying awake - while driving.
Free Auto Insurance Comparison
Secured with SHA-256 Encryption
UPDATED: Oct 28, 2021
It's all about you. We want to help you make the right coverage choices.
Advertiser Disclosure: We strive to help you make confident auto insurance decisions. Comparison shopping should be easy. We are not affiliated with any one auto insurance provider and cannot guarantee quotes from any single provider. Our partnerships don't influence our content. Our opinions are our own. To compare quotes from many different companies please enter your ZIP code on this page to use the free quote tool. The more quotes you compare, the more chances to save.
Editorial Guidelines: We are a free online resource for anyone interested in learning more about auto insurance. Our goal is to be an objective, third-party resource for everything auto insurance related. We update our site regularly, and all content is reviewed by auto insurance experts.
Things to remember...
The 2000s were an experimentive time that saw a shift in music many of us still love to listen to today
Our ultimate 2000s playlist is free on Spotify so you can listen to it anytime and jam to it on your next road trip
Part of going on a road trip is checking your car insurance and making sure you have the proper coverage for an out-of-state excursion
The 2000s were a weird time; entering a new millennium meant everything from fashion to music was due for a mega transformation, but the flux and flow left traces of the 90s prominent for years.
If you're ready to get a blast from the past, check out our Ultimate 00's Road Trip Playlist. There's something for everyone, from the biggest Britney fan to the former emo kids.
Before you rock out, make sure you review your car insurance to ensure your current coverage is ready for your next epic road trip.
Enter your zip code above to check out local rates right now and make sure you're paying a fair amount for your current coverage!
https://open.spotify.com/embed/user/73j313gx494cmmi31vg7gzvmi/playlist/1MzHj5rTEDEnbsE8VMLKWT
The Ultimate 00's Road Trip Playlist
Relive the millennium's wild early start with the hottest tracks of the first decade.
1. Just Dance – Lady Gaga
2. Hollaback Girl – Gwen Stefani
Where we all learned how to spell "bananas".

3. Survivor – Destiny's Child
4. Get The Party Started – P!nk
5. Hey Ya! – Outkast
6. Toxic – Britney Spears
This chart-topper was Britney's fourth top 10 U.S. single since her debut at 16. It was named one of the best singles of the new millennium by some of the music industry's top publications like Rolling Stones and Pitchfork.
7. Don't Cha – The Pussycat Dolls
8. Gold Digger – Kanye West, Jaime Foxx

9. Don't Stop the Music – Rihanna
10. In Da Club – 50 Cent
11. Tipsy – J.Kwan
12. Rock Your Body – Justin Timberlake
13. Boom Boom Pow – The Black Eyed Peas
14. Lady Marmalade – Christina Aguilera, Lil' Kim, Mya, P!nk
15. Bye Bye Bye – *NSYNC
https://www.youtube.com/embed/Eo-KmOd3i7s
16. Crazy in Love – Beyonce, JAY-Z
17. Drop it Like it's Hot – Snoop Dogg, Pharrell Williams
18. Feel Good Inc. – The Gorillaz
19. Pumped Up Kicks – Foster the People
20. Kids – MGMT
21. Mr. Brightside – The Killers
COMIN' OUT OF MY CAGE AND I'VE BEEN DOIN' JUST FINE
22. Seven Nation Army – The White Stripes
23. 1985 – Bowling for Soup
24. Sugar, We're Goin' Down – Fall Out Boy
25. The Anthem – Good Charlotte
26. Misery Business – Paramore
27. I Write Sins Not Tragedies – Panic! at the Disco

28. Newport Living – Cute is What We Aim For
29. Crazy – Gnarls Barkley
30. Heads Will Roll – Yeah, Yeah, Yeahs!
31. Shut Up and Let Me Go – The Ting Tings
32. Sexyback – Justin Timberlake
33. My Humps – The Black Eyed peas

34. Yeah! – Usher, Lil Jon, Ludacris
35. Hot in Herre – Nelly
36. Milkshake – Kelis
37. Sensual Seduction – Snoop Dogg
38. Umbrella – Rihanna, JAY-Z
39. Opps! I Did It Again… – Britney Spears
40. TiK ToK – Kesha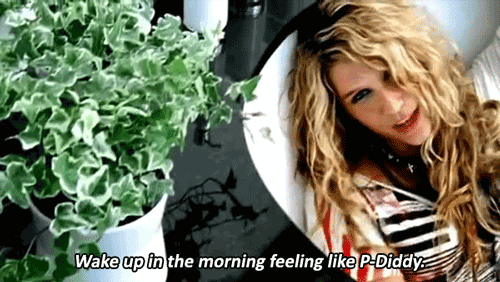 41. SOS – Rihanna
42. Promiscuous – Nelly Furtado, Timbaland
43. Fergalicious – Fergie, will.i.am.
44. Bootylicious – Destiny's Child

45. Buttons – The Pussycat Dolls
46. Pon De Replay – Rihanna
47. One, Two Step – Ciara, Missy Elliot
48. Paralyzer – Finger Eleven
49. I Believe in a Thing Called Love – The Darkness
50. Hot N Cold – Katy Perry

51. I Kissed a Girl – Katy Perry
Katy's debut single made waves as it addressed the subject of bisexuality openly, which was rare if not completely unheard of in mainstream pop music at the time.
Perry admitted that, a decade later, she'd rewrite the song and approach the subject differently today. It makes sense, since the track is about one girl's experimental night with another, and in 2018, we're much more comfortable talking about our sexualities, so we don't have to use other people "just to try it".
52. Right Round – Flo Rida
53. Lose Control – Missy Elliot, Ciara, Fat Man Scoop
54. Bad Romance – Lady Gaga
55. Morning After Dark – Timbaland, Nelly Furtado
56. Low (feat T-Pain) – Flo Rida

57. No Air – Jordin Sparks, Chris Brown
58. Suga Suga – Baby Bash, Frankie J
59. How You Remind Me – Nickelback
We know you love to hate them. Actually, we don't. Why does everyone hate Nickelback so much? The National Public Radio took a crack at solving the mystery, which proposed overexposure, changes in public taste, and repetitiveness as plausible causes.
60. It's Not Over – Daughtry
61. Home – Daughtry
62. Kryptonite – 3 Doors Down
63. Wish You Were Here – Incubus
64. So I Need You – 3 Doors Down
65. Stellar – Incubus
66. Drive – Incubus
57. Dani California – Red Hot Chili Peppers
68. Lying is the Most Fun a Girl Can Have Without Taking Her Clothes Off – Panic! at the Disco

69. Thnks fr th Mmrs – Fall Out Boy
70. Check Yes, Juliet – We The Kings
The most romantic song for every middle schooler in 2007.

71. This Ain't a Scene, It's an Arms Race – Fall Out Boy
72. Here it Goes Again – OK Go
You know, that song with the treadmill music video you still think about trying to recreate sometimes at the gym.

73. I Don't Care – Fall Out Boy
74. The Curse of Curves – Cute is What We Aim For
75. Sk8r Boi – Avril Lavigne
76. Complicated – Avril Lavigne
77. Since U Been Gone – Kelly Clarkson
78. Potential Breakup Song – Aly & AJ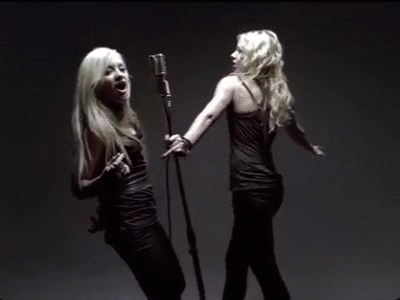 Many of us had experience with heartbreak beyond homeroom crushes when this song came out, but as adults trying to navigate the brutal online dating scene in our 20s, Aly & AJ (who recently made a comeback) offered us some solace in their boppy breakup anthem.
79. Mercy – Duffy
80. Rehab – Amy Winehouse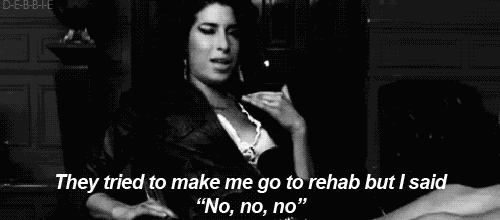 81. Back to Black – Amy Winehouse
82. Lights – Ellie Goulding
83. So Yesterday – Hilary Duff
84. Tangled Up in Me – Skye Sweetnam
85. Overdrive – Katy Ross
One of the best tracks from one of the 00's best movies, Mean Girls. Turn up the volume and take yourself back to high school. And remember, on Wednesdays, we wear pink.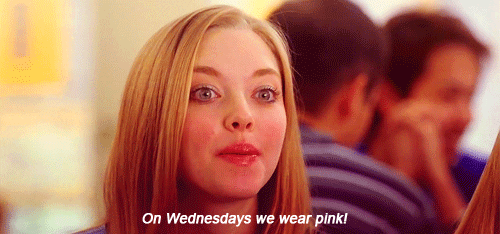 86. Hook Me Up – The Veronicas
87. 4Ever – The Veronica
88. Burnin' Up – The Jonas Brothers
89. 7 Things – Miley Cyrus
90. Come Clean – Hilary Duff
Forever emblazoned upon the hearts of Laguna Hills fans everywhere.

91. Unwritten – Natasha Beddingfield
92. Beautiful Soul – Jesse McCartney
93. Rush – Aly & AJ
94. Here We Go Again – Demi Lovato
95. Lovebug – The Jonas Brothers
96. Catch Me – Demi Lovato
97. Pieces of Me – Ashlee Simpson
98. On the Way Down – Ryan Cabrera
99. Absolutely (Story of a Girl) – Nine Days
100. Dirty Little Secret – All American Rejects
101. Stacy's Mom – Fountains of Wayne
102. Beverly Hills – Weezer
103. Teenagers – My Chemical Romance

104. The Kill – 30 Seconds to Mars
105. Miss Murder – AFI 106. Move Along – All American Rejects
107. The Middle – Jimmy Eats World
108. Just the Girl – The Click Five
109. Too Little, Too Late – JoJo
110. With You – Jessica Simpson
111. A Thousand Miles – Vanessa Carlton
112. Lucky – Britney Spears
Because what better way to end a long journey into the past with a bit of luck for the future?